A 51-year-old Dublin man has been found guilty in the UK of possessing a disguised firearm.
Thomas Kavanagh was convicted after a two-day trial in Stoke-on-Trent of having a "10,000-volt" stun gun disguised as a torch at his home in Staffordshire on 12 January.
Kavanagh has lived in the UK for 15 years and told officers the stun gun had been brought by one of his sons during a school trip and that he had later confiscated it.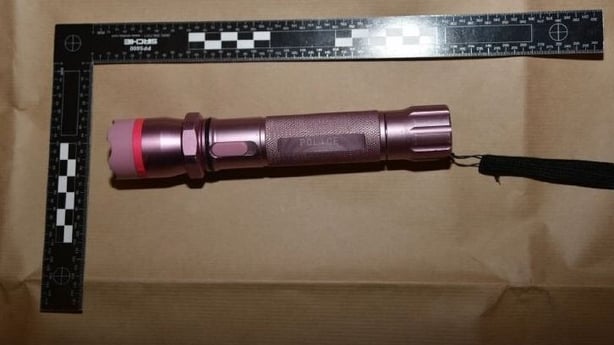 The conviction comes following a joint operation involving the Garda Drugs and Organised Crime Unit and the UK National Crime Agency.
Assistant Garda Commissioner John O'Driscoll, who is in charge of Special Crime Operations, said today that cooperation is ongoing with the NCA and gardaí anticipate further success in the agencies' joint efforts to tackle international organised crime groups.
Kavanagh, described in court as a prestige car dealer, had been arrested at the international arrivals hall at Birmingham Airport after getting off a plane following a family holiday to Mexico.
His arrest was part of a wider investigation into money laundering and drugs and firearms supply in the UK and Ireland.
The stun gun was then found during a search of his home on a shelf above some kitchen wall units.
We need your consent to load this rte-player contentWe use rte-player to manage extra content that can set cookies on your device and collect data about your activity. Please review their details and accept them to load the content.Manage Preferences
Originally from Dublin, Kavanagh has lived in the UK for the last 15 years in an £800,000 heavily fortified mansion with bulletproof glass, with a £130,000 Audi R8 Spyder parked on the driveway.
It took the police longer than usual to force their way in and they found an "array of weapons", most of which were legal, scattered about but also a disguised firearm - a stun gun disguised as a torch.
Kavanagh is well-known to gardaí as a senior figure in the Kinahan crime gang.
He is a brother-in-law of David Byrne, who was shot dead at the Regency Hotel three years ago, the murder that escalated the ongoing Hutch-Kinahan feud that has so far cost 18 lives.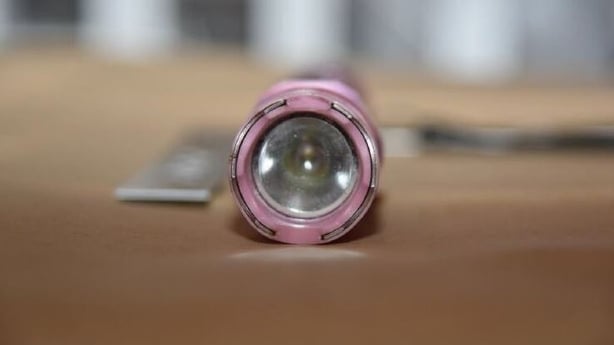 Opening the case on Tuesday, prosecuting barrister Simon Davis told jurors that Kavanagh had already accepted "simple possession" of the banned weapon.
But he added that the defendant denied a further offence of having a disguised stun gun and that it would be for jurors to decide whether they considered it to be deliberately made to look like a torch.
Mr Davis said: "We say it is a stun gun, disguised as a torch - it had the appearance of a torch."
The lawyer told jurors that in interview, Kavanagh had told officers he had taken the stun gun "off one of the kids when they were messing about with it, and had thrown it on top of kitchen units".
Kavanagh told officers that another family member had brought the stun gun back to the house after buying it while holidaying in "China, Spain or France".
When the stun gun was sent off for analysis, a scientist concluded its high-voltage discharge was "in the region of 10,000 volts".
Kavanagh, who declined to give any evidence in his defence, will be sentenced on 2 September and was given bail to attend the next hearing.
The lead investigator for the NCA Peter Bellis also confirmed the wider investigation into drugs money laundering and firearms was continuing.
He said these weapons were extremely dangerous and that was why they were prohibited in the UK.
An Irish national was today found guilty of possessing a disguised firearm. The weapon was found by NCA officers during a search of his home. Kavanagh was arrested at Birmingham Airport as part of a wider investigation into drugs & firearms supply. More: https://t.co/pnaKSsjlQM pic.twitter.com/Y40hOCmf3o

— National Crime Agency (@NCA_UK) July 11, 2019
Additional reporting: PA