A seven-year-old girl who was severely brain damaged at birth has settled her case against the HSE for €6m.
The High Court heard claims that Faye Walsh from Letterfrack, Co Galway, could have been saved from brain injury if she had been delivered minutes earlier.
She has severe cerebral palsy and needs round-the-clock care after suffering a lack of oxygen at birth.
Her case against the HSE began last week but a settlement offer was approved by the High Court today.
Through her mother Martina, she had sued the HSE and two consultant obstetricians over the management and circumstances of her birth at University Hospital Galway on 15 August 2011.
However, the case against Dr Una Conway and Dr Declan Egan of Brooklawn Practice, Galway West Business Park, was struck out.
They had denied the claims. The settlement with the HSE was made without admission of liability.
Approving the settlement today, Mr Justice Kevin Cross paid tribute to the girl's parents for the care they had given their daughter to date.
He said the money would enable Faye to be looked after "in so far as money can be used" for this.
The court was told the money will be lodged in court and used for care, therapy and aids for Faye and to further adapt her home.
Her family had been receiving some assistance with her care, but this was withdrawn when she reached the age of six, the court was told. Her parents have been providing 24-hour care to her since she was born.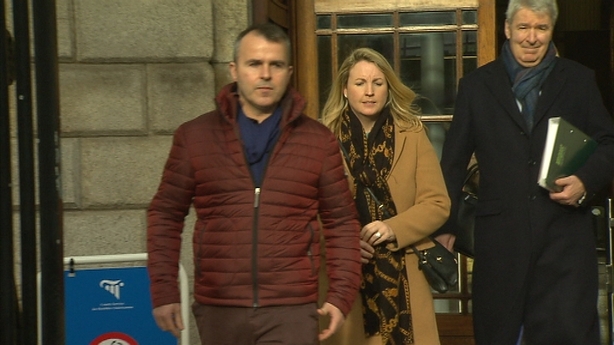 The family's solicitor Michael Boylan said they were happy with the settlement, which would enable Faye to get the care and therapeutic services she needs.
However, he said they were disappointed that they had to fight the case in court and that liability had not been admitted by the HSE.
At the opening of her case last week, the court was told Mrs Walsh wanted a private obstetrician at the birth because she had one previous birth by caesarean section and had suffered serious abdominal injuries in a road accident in 2008.
Her lawyers told the court it was their case that if a consultant obstetrician had been present earlier, a decision would have been made to deliver the baby sooner and she would have been saved from ten minutes of oxygen deprivation.
It was discovered after the birth that Mrs Walsh's womb had ruptured - a recognised risk in vaginal deliveries after a C-section.
The HSE denied negligence and pleaded a vacuum-assisted delivery of the baby was reasonable. It also claimed delivery was not unreasonably delayed.
It was claimed, despite alleged requests by Mrs Walsh and her husband, that her private obstetrician was not called to the hospital when or after Mrs Walsh went into labour about 11pm on Sunday 14 August 2011.
The court heard the on-call hospital obstetrician was summoned to the hospital from his home around 4.30am on 15 August.
An obstetric registrar was also called and applied a vacuum cup to the baby's head. The on-call obstetrician, who was noted to be present at 4.50am, completed the delivery of the baby at 4.55am.
Faye was born in very poor condition and required immediate resuscitation.
She has spastic quadriplegia, is non verbal, a full-time wheelchair user and will require 24-hour care for the rest of her life, the court heard.
Most of her care is provided by her parents and she is a "happy, content and smiling child" who gets on well at her community primary school and loves the TV cartoon Peppa Pig, the judge was told.