A 31-year-old man has gone on trial at the Central Criminal Court charged with murdering a 54-year-old man in north Dublin last year by viciously and savagely beating him to death, a court has heard.
Anthony Walsh, of no fixed address, admits killing father-of-three, Dermot Byrne on 16 July 2017 at North Street in Swords, Co Dublin, but he denies murdering him.
He has pleaded guilty to stealing a bank card, keys and a lighter from Mr Byrne.
Prosecuting counsel, Vincent Heneghan, said the prosecution case was that Mr Walsh savagely beat and attacked Mr Byrne and intended to kill or cause serious injuries to him.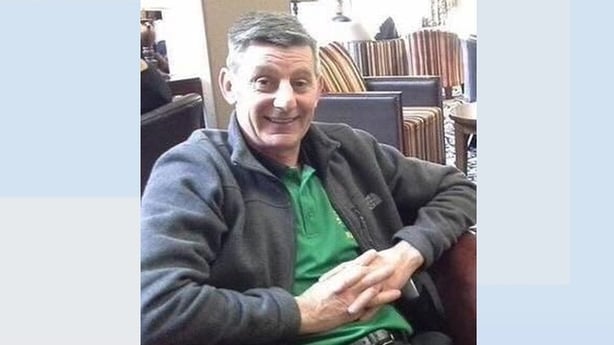 He said the jurors would hear evidence that significant force had been used to inflict more than 100 injuries on Mr Byrne.
The court heard Mr Byrne died from a traumatic brain injury after suffering blunt force trauma to his head and neck, thorax and abdomen, complicated by the inhalation of blood and being intoxicated.
Mr Walsh admits that he unlawfully killed Mr Byrne and that he removed his property and clothing and took it away with him.
He has pleaded not guilty to murder but guilty to manslaughter.
The court heard Mr Byrne had been drinking in Swords on the afternoon and evening of 15 July 2017.
He had been refused entry to the Harp bar at the Carnegie Hotel in the early hours of 16 July and went to a petrol station to try to buy cigarettes.
He was described as being highly intoxicated.
Mr Byrne and Mr Walsh met for the first time shortly after 2am outside the hotel.
Mr Walsh had been asked to leave the bar shortly beforehand.
The prosecution says Mr Byrne tried to pull a cigarette from Mr Walsh's mouth.
Mr Walsh's friends convinced him to walk away but he was followed by Mr Byrne who grabbed Mr Walsh's jacket and jumper.
Door staff grabbed Mr Byrne and held him until Mr Walsh had left the area.
Mr Byrne then walked off in the same direction as the accused man.
Mr Heneghan said no one had witnessed the assault but at 2.50am a retired garda on his way home from an evening out discovered Mr Byrne's body.
He had been stripped of his clothing and was surrounded by blood.
Paramedics could not revive him and he was pronounced dead after 6am.
Later that day, the court heard, Mr Walsh met his parents and confessed to them that he had killed someone. He was arrested later that evening.
Mr Heneghan said it was the prosecution case that Mr Byrne had been savagely beaten to a pulp at the hands of Mr Walsh.
Defence lawyers made a number of admissions on Mr Walsh's behalf.
Defence Counsel Fiona Pekaar said he admitted unlawfully killing Mr Byrne and removing and taking away his property and clothes.
A jury of six men and six women is hearing the trial before Ms Justice Eileen Creedon, and it is expected to last for two-and-a-half weeks.