A judge at the Central Criminal Court has described the lack of sentencing guidance for rape cases as "somewhat bizarre".
Ms Justice Úna Ní Raifeartaigh made the comments during the sentencing of a man for the repeated rape of his granddaughter between 2002 and 2004.
She imposed a five-year prison sentence on 74-year-old Christopher Redmond from Rathvilly Drive in Finglas, after noting he had a profound cognitive impairment that is slowly worsening.
His granddaughter, Leanne Murphy who is now 23, was between seven and nine when the attacks took place.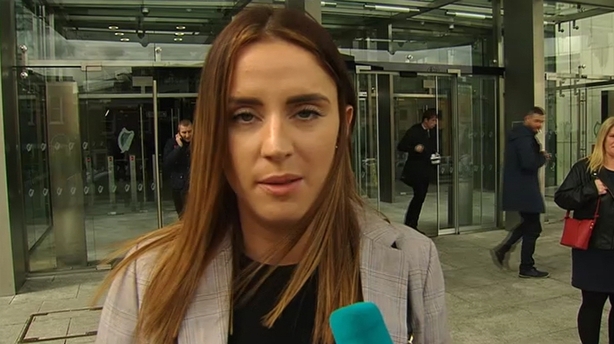 She waived her anonymity to allow Redmond to be named. And afterwards she encouraged other victims to come forward.
The court heard the attacks took place at the Tolka Valley pitch and putt club on Ballyboggan road in Finglas where Redmond worked.
Ms Murphy went to gardaí in 2012. Redmond denied the charges but was convicted following a trial in February.
Ms Justice Ní Raifeartaigh said the offences deserved a sentence of 15 years, but she reduced this to ten years because of Redmond's lack of previous convictions and his age.
She reduced it further to five years because of Redmond's progressive cognitive impairments. This condition did not go back to the time of the offending.
Before she imposed her sentence, Ms Justice Ní Raifeartaigh said the courts had no information about sentencing in past cases, and "this may seem astonishing".
She remarked that there was very little in the way of guidance for judges in terms of actual figures.
One judge's substantial sentence could be four years, and another's could be 14 she said.
She said it was somewhat bizarre that an area that was so sensitive had so little in the way of guidance for a trial judge.
The sentencing of rape offences was highly unregulated and this was a policy matter that had been much discussed, she said.
In a victim impact statement delivered to an earlier sentencing hearing, Ms Murphy said she grew up feeling scared, confused and vulnerable as a result of her grandfather's offences.
She began self harming aged ten and was drinking heavily as a teenager.
She said she had turned into an angry person and would never know the person she could have been.
Ms Justice Ni Raifeartaigh said Ms Murphy's statement was a searing depiction of the effects of the violation of the physical and psychological integrity of a child.
She praised Ms Murphy's courage in getting into the witness box during the trial and told her that neither she, her parents nor her siblings should take any responsibility for the abuse by Redmond.
Outside court, Ms Murphy said she felt she had got justice and felt free as a result. She thanked all those involved in the case and encouraged other victims of sexual abuse to come forward.