The family of a woman who was killed in a Waterford psychiatric hospital has been awarded €37,400.
The award was made at Waterford Circuit Court this afternoon.
Maria O'Brien, 55, died on the grounds of St Otteran's Hospital on 5 September 2014 after being attacked and stabbed more than 100 times by Paul Cuddihy.
Cuddihy, aged 39-years-old and from Waterford city, was subsequently charged with murdering Ms O'Brien but was found not guilty by reason of insanity.
He was committed to the Central Mental Hospital in Dundrum.
Family members sued the Health Service Executive for failing to protect Ms O'Brien, who had been living in a building on the grounds of St Otterans.
The family was awarded the maximum allowable at the Circuit Court (€35,000), along with a further €2,400 for ancillary costs.
The HSE has apologised to the family.
After the court case, Ms O'Brien's son Patrick Halley called for protocols to be put in place for patients such as Cuddihy who express a violent nature.
He said that hospitals may have their own internal policies but that external protocols need to be considered.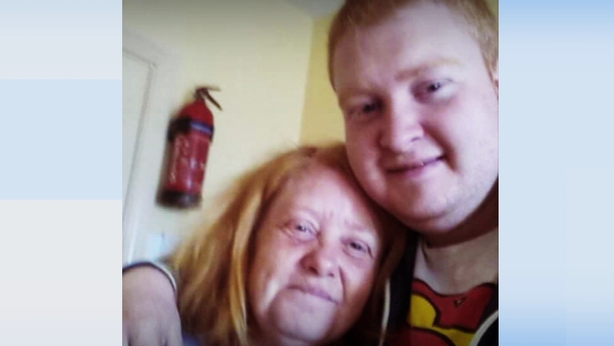 Mr Halley said his mother was a very loving, caring person who would not harm a fly.
The family's solicitor Emmet Halley said the HSE had indicated at an early stage they wanted to resolve the case and that they had sent a letter to the family.
During the hour-long hearing, barrister David Bulbulia, instructed by Mr Halley, told Judge Alice Doyle that a disagreement between Ms O'Brien and Cuddihy led to her being stabbed repeatedly.
The court heard that Cuddihy was a paranoid schizophrenic who had not been taking his medication and had being displaying symptoms of psychosis prior to the attack.