A man has been sentenced to life in prison after being found guilty of murdering his baby son almost five years ago.
John Tighe, 40, of Lavallyroe, Ballyhaunis, Co Mayo, had denied murdering six-and-a-half-month-old Joshua Sussbier Tighe on 1 June 2013, the day after the baby's mother announced on Facebook that she was in a new relationship.
The nine women and three men on the jury took seven hours and 32 minutes to find Tighe guilty of murder.
The decision came shortly after Mr Justice Patrick McCarthy directed them that they could return a majority verdict with which ten or more of them agreed.
We need your consent to load this rte-player contentWe use rte-player to manage extra content that can set cookies on your device and collect data about your activity. Please review their details and accept them to load the content.Manage Preferences
The baby's mother Natasha Sussbier told the court that Joshua's death had shattered her heart into a million pieces.
During the trial, Tighe claimed his son's death was a tragic accident.
He said he was changing his baby son's nappy on 1 June 2013 when he went to the toilet and left him unattended.
He told gardaí his son must have put a baby wipe in his mouth and choked on it.
Tighe rang a doctor but by the time he arrived Joshua was dead.
The court heard there was an egg-shaped wad of tissue in the back of the baby's throat.
The jury's verdict of guilty of murder was unanimous. Tighe was sentenced to life in prison.
---
Victim impact evidence - Natasha Sussbier
The court heard victim impact evidence from Joshua's mother, and Tighe's former partner, Natasha Sussbier.
Ms Sussbier said when John telephoned her on 1June 2013 to tell her Joshua was dead, her life, her world and her heart shattered into a million different pieces.
When she saw her son's lifeless body lying on a rug in Tighe's house, she said she had never experienced such heartbreak, pain and anger before.
She held his hand and told the court she could still feel his "soft, perfect" but "so, so cold" hand in hers.
She felt disgusted that her bundle of joy was being buried under the ground and a huge part of her died when they let her son down into the ground. She said she had been left traumatised.
Ms Sussbier said she got back with Tighe and things were okay, but she said she always had questions at the back of her mind about what had happened to her boy. She said she did not want to believe it was possible that Tighe had killed him.
She told the court she should have copped on, but she said Tighe convinced her that the social workers were full of lies.
They went on to have a baby girl, but she said she became worried and scared for her little girl and felt she could not trust him. She became scared of Tighe but he was trying to turn her against everyone. But she said she soon copped on that something sinister must have happened and ended the relationship.
Ms Sussbier said her world fell apart again when Tighe was charged with murder. She felt she could not grieve properly for Joshua, as she had so many questions about what happened and her grief for her little boy had been based on a lie.
She said she visited his grave every day and asked him for help in accepting what she had heard.
Tighe took her flesh and blood away from her, she said, and she would probably never get over it.
She said she had been dragged to hell and back and would always question herself about how someone could be so heartless and lie to her about something so serious.
She said she was only 17 when she met Tighe and 18 when she gave birth, and she felt her age influenced how much control he had over her. She said she had to live with the horrific way her baby died. She said she would never accept it, but would have to learn to live with it.
Ms Sussbier said she had been in court to hear all the evidence and had to listen to her baby dying twice as the call to West Doc was played in court.
She said she could not get the sound of Joshua taking his last breaths out of her head. She wanted to get closure and justice for Joshua and wanted him to rest in peace with the angels. Nothing would bring him back, she said, but she would always love and miss him.
Tighe attempted to talk to his former girlfriend as she left the stand, but she shook her head and refused to talk to him.
---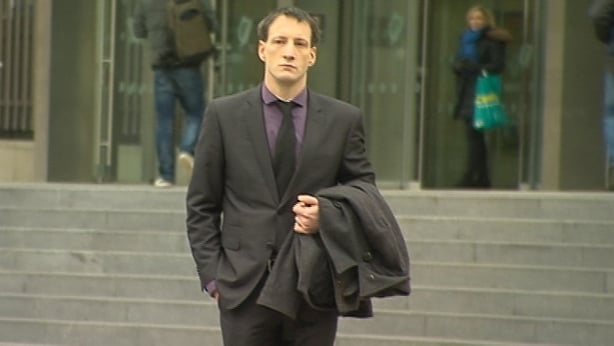 Inconsistencies in Tighe's evidence
Prosecuting lawyers told the jury there were at least ten significant inconsistencies in Tighe's version of events.
They said these, combined with the medical evidence in relation to the object in the baby's throat, meant that what happened was murder, not a simple accident.
The egg-shaped wad was made up of two tissues and measured 5cm by 3.5cm.
The medical evidence was that the object could not have found its way into the position it was found in the child's throat accidentally and could not have been put there by the baby himself.
Senior Counsel Paul Murray also pointed out to the jurors how calm Tighe was at points during his telephone call to West Doc and how neat the scene was in the photos the jury had seen, despite Tighe's claim that he had been trying to save his dying baby.
Defence lawyers said there was an entirely innocent explanation for what was a tragic event. They said Tighe had rung doctors to try to get help to save his son.
They said the prosecution's motive for the killing did not make sense as they said Tighe had known about Joshua's mother's new relationship before it was posted on Facebook.
Senior Counsel Micheál O'Higgins said that if Tighe wanted to kill his own baby, he surely would have selected a more straightforward method of death.
He said the prosecution had failed to prove that Tighe intended to kill or cause serious injury to his baby.
He had repeatedly told gardaí he loved his son and did not deliberately hurt him.
They suggested the baby had put the wad in his mouth and that it had been forced further into the baby's throat by Tighe's efforts to get it out, following "botched" advice by the nurses on the phone.
The jurors were given the option of finding Tighe guilty of murder, not guilty of murder but guilty of manslaughter or acquitting him.
They took just over seven-and-a-half hours to unanimously find him guilty of murder and reject Tighe's "innocent explanation".