Evidence presented in the rape trial of two Ireland and Ulster rugby players does not come close to proving the guilt of Stuart Olding, his defence barrister has told a court.
In his closing submission, Frank O'Donoghue said the burden of proof lies with the prosecution.
He said the evidence "does not come remotely near the required standard to render you sure" that Mr Olding committed the offence.
Directing his remarks towards the jury of eight men and three women at Belfast Crown Court, Mr O'Donoghue also warned they must decide the case on reliability of evidence, not the credibility of the complainant.
He said: "If, on the evidence, you cannot be sure, then it is your duty to acquit.
"We, the court, the jury, must never be party to any miscarriage of justice. We must avoid that at all costs."
Mr Olding, 25, from Ardenlee Street in Belfast, denies raping a woman at a house party in June 2016.
His team-mate, Paddy Jackson, 26, from Oakleigh Park in the city, also denies rape and sexual assault.
Two others are also charged with offences connected to the alleged rape.
Blane McIlory, 26, from Royal Lodge Road in Belfast, denies exposure, while Rory Harrison, 25, from Manse Road, Belfast, denies perverting the course of justice and withholding information.
---
Warning: This report contains some graphic details
---
The prosecution alleges that Mr Olding forced the woman to perform a sex act, the court was told.
However, Mr O'Donoghue suggested: "Mr Olding has made the case that the act was entirely consensual."
The lawyer invited jurors to "study the evidence" in order to "root out" inconsistencies.
He said: "Do not judge the book by its cover. Do not assume that because an account appears plausible it must therefore be true."
Mr O'Donoghue told jurors there were more than a dozen questions police should have asked.
The lawyer told the court that when the evidence is studied it demonstrates that the woman has "no reliable memory" of being forced to perform a sex act.
The police investigation was flawed, the barrister suggested.
He put it to the jury: "You have an ABE (achieving best evidence) interview devoid of detail on the allegation that was an assumption of force. And a police force that never truly studied what's being said and what questions needed to be asked.
"If you look at the evidence in chief it is of necessity completely devoid of relevant and essential detail."
Mr O'Donoghue also said it was of "hopeless quality".
He said the investigation of the woman's allegations against Mr Olding was "at best poor" and "at worst, virtually non-existent".
Mr Olding has told the truth and is a reliable, credible witness, Mr O'Dononghue said.
The barrister claimed the account provided to police and to the court during the high-profile rape trial "proves" his innocence.
The lawyer said: "He has never shied away from telling anyone who would listen what happened."
Mr O'Dononghue urged the jury to "do justice" in the case and acquit Mr Olding.
Drawing his statement to a close after about two hours, he said his client "welcomed" the chance to be heard by a jury.
"Finally, that someone might listen to him and decide what he told was the truth, warts and all.
"The reality is there was no rape by Stuart Olding. There is no case here.
"There was no force used. There was consent on both sides at that time. Perhaps a matter of regret now, to all parties, but such is life.
"Stuart Olding is innocent in this charge. I implore you to do your duty."
'Inconsistencies and contradictions'
In his closing submission, Arthur Harvey QC, representing Blane McIlroy, who denies exposing himself to the alleged victim, said lies were built on lies.
"What had she to gain from telling an untruth?" he asked.
"The simple thing, in literature as in life, is that lies do not start off necessarily as a malicious intent to cause harm to others, but lies build on lies.
"If you have a sense that you are about to be shamed on a network which your friends access, your first reaction is 'how do you deal with that shame' and mostly it is 'how do I save face'.
"And that's the reaction she had because she said that in her ABE (achieving best evidence) interview. She was mortified because of her foresight as to what the consequences would be."
The lawyer said that the momentum of the woman telling her friends about the alleged rape led to the complaint being made to police.
And, pressing the point further, he added: "What had she to gain? The answer is her reputation."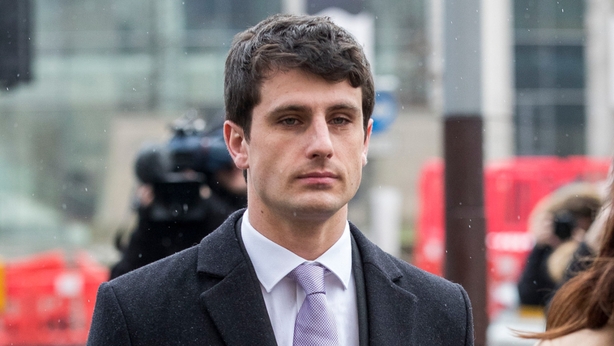 Mr Harvey spent almost two hours addressing the jury of eight men and three women who have listened to eight weeks of evidence presented at Belfast Crown Court.
Drawing his speech to a close, he said: "When you look at the facts in relation to Mr McIlroy in this case you could never be satisfied beyond a reasonable doubt. Almost the reverse.
"There is neither a hook nor a hinge upon which you could hang any doubt upon his innocence."
Earlier, the barrister outlined a "volume of inconsistencies and contradiction" in accounts the woman gave to friends, medics, police and in court.
She was an "unreliable" witness, he suggested, providing "a variety" of answers and "narratives" about what went on in the bedroom of Paddy Jackson's house during the early hours of 28 June, 2016, the court was told.
"Which is true?" asked Mr Harvey. "Is it the last account? Is it the middle account? Or is it the first account?"
By contrast, the defence counsel claimed Mr McIlroy had been truthful.
"Mr McIlroy has told the truth. The truth is simply not compatible with the account of (the complainant)," said Mr Harvey.
Referencing prosecution allegations that Mr McIlroy had "delivered the wrong lines" after allegedly concocting a cover-up with his friends a day after the alleged assault, the lawyer said: "What is wrong here is that the theory is full of paradoxes."
It was unlikely anyone would risk incriminating themselves just to protect their pals, he suggested.
"What rational, reasonable, sensible, intelligent individual would present himself in the police station to give an account before he knew what any of the allegations are specifically against him.
"To incriminate himself in a potentially much more serious charge?
"Quite simply it does not bear examination," said Mr Harvey.
Earlier, the court was told that when McIlroy walked into the police station on 30 June, 2016, his life changed.
He was unaware of the legal system and how it worked, jurors were told.
Mr Harvey said: "His life changed and it changed irrevocably. There is nothing that can bring back the last 20 months of his life. There is nothing that can restore the last 20 months of his life. He has come before you, a young man.
"For three years he had been studying in the United States. He was one semester, three months short of completing his degree. He has been unable to complete it.
"He's not looking for sympathy. He is looking for his legal entitlement."
The case has been adjourned until tomorrow.