A former RTÉ television producer, who pleaded guilty to two child sexual abuse offences, has been sentenced to 18 months in jail by a court in Leeds.
Kieran Creaven pleaded guilty to the offences and admitted attempting to meet up or communicate with a 13-year-old girl following grooming and trying to incite a girl to engage in sexual activity.
The offences took place between 17 July and 18 November last year.
The 55-year-old was arrested after he was detained by a group calling itself Predator Exposure.
The group communicated with him online and pretended they were a 13-year-old child when in fact they were adults.
Even though Creaven was not actually in contact with a child, he believed he was.
UK legislation allows for the purpose of prosecuting these offences, with a child to be defined as a person under 18 or a person depicting a child.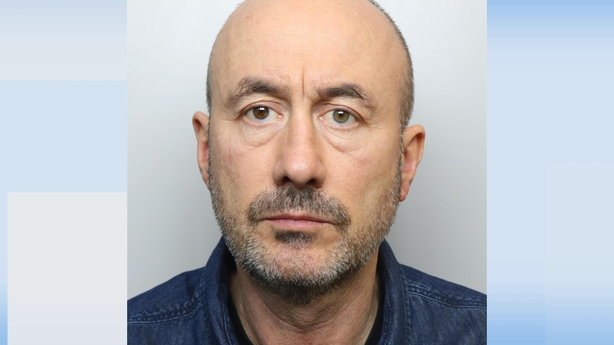 The court heard Creaven contacted a fake profile of a 13-year-old girl last July set up by a care worker in Leeds.
He said he worked in the television and film industry to impress her, sent her hundreds of messages and quickly moved to sexual conversations.
The court heard he flattered her, used emojis and language of her own age group to make her feel comfortable, calling her "baby" and wishing her "night night."
Creaven told her he wished he was in bed with her to cuddle her, wrap her up to keep her warm. He told her she was cute and funny, and when she was offline he told her he missed her.
He knew she was 13, but told her he was going to send her "a naughty picture" and did so without invitation. It was an obscene image of himself. He was, the prosecution said, "testing the water."
The court heard he arranged to go to Leeds to a Leeds United match last October and told her he would take her, which impressed her as she had never been to a match before.
However, the first trip was cancelled because he fell ill but he rearranged it to last November.
Creaven told the girl he wanted to meet her and stay at a hotel in the city. He told her she would need identification and he would take her to his room and pretend to be her father.
He arranged to meet her outside the hotel but he was met by a group who exposed him on Facebook Live.
Creaven was arrested and found with two boxes of condoms and two phones. He admitted the contact to the police but denied grooming and could not remember the picture.
The court heard he told them he was married but unable to have children.
He said he has had an addiction to pornography for the last few years and watched both boys and girls between 8 and 17, mainly girls.
"I need professional help," he said. "I find children attractive."
His defence counsel told the court that he was relieved he was caught.
The court heard that Creaven had applied to One in Four for enrollment to the Phoenix Programme.
This programme is a child-protection strategy where One if Four works with people who exhibit sexually harmful behaviour towards children.
The judge said that while Creaven is at low risk of re-offending he is a high risk of harm to children.
Creaven's wife wrote in support of him to the court but said the marriage is shattered.
The judge said the harm he intended was serious. He communicated with what he thought was a child on a daily basis for over four months.