A 50-year-old man who murdered another man during a territorial dispute between motorbike clubs has been jailed for life.
Alan McNamara from Mountfune, Murroe, Co Limerick, had denied murdering 51-year-old Andrew O'Donoghue on 20 June 2015.
He was found guilty of murder by unanimous verdict after his trial last July. This morning, he said he would regret the killing for the rest of his life.
His stepson, 28-year-old Robert Cusack from Abbington, Murroe, who admitted assisting an offender by hiding the murder weapon has been sentenced to four and a half years in jail.
Mr Justice Paul McDermot said it was a serious offence in which a dangerous weapon had been taken from the scene in the knowledge that it had been used.
We need your consent to load this rte-player contentWe use rte-player to manage extra content that can set cookies on your device and collect data about your activity. Please review their details and accept them to load the content.Manage Preferences
He said it was taken away with the intention of hiding it from gardaí.
The judge described the murder as a shocking crime which had a devastating effect on the family and friends of Mr O'Donoghue.
In a victim impact statement, Mr O'Donoghue's family said they struggled every day to understand why he was taken away from them.
They said his partner and daughter, who was 12 at the time, continue to suffer emotional trauma.
Mr O'Donoghue was described as a well-liked and respected man, who had a wonderful relationship with his daughter whom he adored.
They shared a common interest in reading and he had played an important role in her education.
The statement, which was read by the prosecution barrister on behalf of the family, said their lives would never be the same again.
They said his last words to his partner and daughter before his death was "I'll be back soon".
It continued: "Our confidante is gone, Ava's father is gone. Catherine has lost her partner, a mother is without her son."
The statement went on to say they would continue to uphold his good name adding, "he is our hero and will never be forgotten".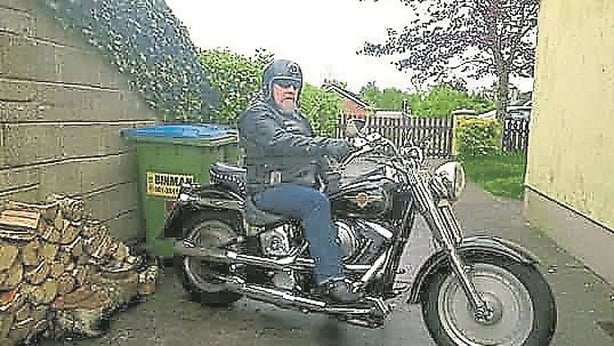 In a letter read to the court, his killer apologised and said he did not mean to cause his death.
McNamara said the incident the previous night at the pub had changed their lives forever.
"I'm sorry that Andrew died, I did not mean to cause his death. I will regret this for the rest of my life," he said.
He said he was truly sorry for bringing so much pain to Mr O'Donoghue's partner, daughter and brothers. He also apologised to his own family.
The killing of Mr O'Donoghue was linked to a row between rival motorcycle clubs called the Road Tramps and the Caballeros.
The victim of the shooting was a member and treasurer of the Road Tramps club, which drew membership from the Limerick area.
McNamara, also known as "Cookie", was a former member of the same club, but had left and joined a rival club, the Caballeros, which was originally based in Tipperary, but had moved to Limerick city.
The day before the shooting, McNamara had gone to a pub in Doon, Co Limerick, wearing the "colours" of his club, the Caballeros.
Wearing such an emblem or badge would have been seen as a provocative act and word got around quickly to the Road Tramps.
As McNamara left the pub with his wife he was set upon by three men and his jacket bearing the colours was forcibly removed from him.
The prosecution said McNamara was very vexed by this because removing someone's colours was a huge insult to the person and their club. The jury was told this incident formed an important backdrop to events the following day.
On 20 June, a member of the Road Tramps club, Seamus Duggan, who was one of those involved in the incident at the pub was followed by three men in "a 23km road chase".
Mr Duggan had called other club members for help and it was decided he should drive to the Road Tramps club at Murroe and the gates would be opened for him.
The victim and another club member were there waiting to let him in. McNamara knew this and approached with a sawn-off shotgun.
Mr O'Donoghue tried to close the gates but was shot by McNamara at close-range.
Mr O'Donoghue sustained severe facial and head injuries and was pronounced dead in hospital a few hours later.
The car carrying the three men involved in the car chase then passed by and the gun was handed in to Mr Cusack and was later found concealed at the back of McNamara's house.
After his arrest, McNamara told gardaí the night before the shooting, members of the Road Tramps club had come to his home brandishing firearms and threatening him and his family.
Defence counsel Hugh Hartnett said the killing was "tragic", but he had asked the jury to consider why it happened.
He said his client was acting in self-defence because he was "panicked and frightened". He said McNamara feared his family could be attacked at any time.
Mr Hartnett said the Road Tramps wanted to make McNamara feel unwelcome in the area, but unfortunately he lived three minutes away from their clubhouse.
He had been attacked by them and he and his family had been threatened.
Mr Hartnett asked the jury if that would have an effect on the mind of an average man.
He said McNamara knew what the Road Tramps were capable of. An array of weapons had been found at their clubhouse.
Knowing all this and knowing he might have to defend his family, he asked the jury to consider his client's state of mind that day.
Mr Hartnett said if it was a planned murder he would not have done it in front of CCTV cameras.
He said only a third of the pellets from the shotgun cartridge struck the victim.
This was consistent with McNamara telling gardaí he did not aim the gun at anyone and did not mean to kill anyone.
However, the prosecution said he should be convicted of murder because he had gone to the clubhouse seeking retribution.
Prosecuting counsel Michael Delaney said McNamara had seen an opportunity to shoot a Road Tramp and he was not going to pass it up.
He said he was not entitled to take the law into his own hands and shoot an innocent man.
Mr Delaney said Mr O'Donoghue had not been involved in any of the earlier incidents and "was shot by a man bent on retribution and his killing was murder".
After deliberating for two hours and 43 minutes, the jury found him guilty of murder by unanimous verdict.