The wife of a man on trial for the murder of a rival motor bike club member has told the Central Criminal Court she has lived in fear for the past two years.
Mary McNamara was giving evidence in the trial of her husband Alan McNamara from Mountfune, Murroe, Co Limerick who has pleaded not guilty to the murder of 51-year-old Andrew O'Donoghue on 20 June 2015.
Her son, 28-year-old Robert Cusack, from Abbington, Murroe, has pleaded not guilty to impeding the apprehension or prosecution of Mr McNamara.
The court has heard Mr O'Donoghue was a member of the Road Tramps club and was shot dead in a territorial dispute between rival clubs.
Ms McNamara described how her husband was bleeding and had a black eye after an encounter at a local pub with Road Tramps members.
She said two men held him down and took off his club badges while another man held her back.
She said later that evening three to five men arrived outside her house in a car and threatened to kill them and burn their house down.
She said she and her family were terrified.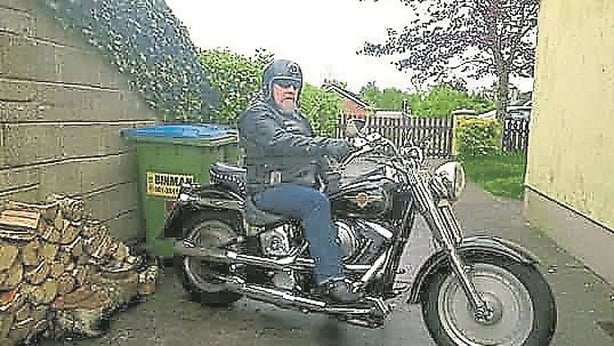 During cross-examination she was asked to name the men she recognised in the car.
Ms McNamara at first said she did not want to name those involved and said she still lived in the area and had lived in fear for the past two years.
However after a short break she was asked again to name the men in the car and said they were Kevin Ryan, Road Tramps president, and Jim 'Bob' McInerney, who is also a member of the club, along with a third man she named as Dermot McKenna.
Ms McNamara said she was unsure if she told gardaí about this in her first or second statement.
She said her first statement recounted the incident at the pub and it may have been in a second statement she told gardaí about the incident at her home.
She said she had to get her younger children to sleep elsewhere that night because they were terrified.
The prosecution alleges that Mr McNamara was angered by events at the pub on 19 June 2015 and that he went to the Road Tramps club the following day and shot Mr O'Donoghue at point blank range with a sawn-off shotgun.
It is also alleged that Mr Cusack, his stepson, assisted an offender by helping to conceal the weapon.
Both men deny the charges.
Member of biker club describes clubhouse shooting
Earlier, Mr McInerney fought back tears in the witness box as he described seeing Mr O'Donoghue shot.
The night before the shooting Mr McNamara had been set upon by members of the Road Tramps and stripped of his jacket and badges because he had engaged in a provocative act by drinking in a pub used by the Road Tramps.
Defence lawyers have said Mr McNamara was also threatened at his home later that night.
Mr McInerney told the court he had gone to the clubhouse that day because a fellow club member, Seamus Duggan, had phoned him to say he was being pursued in his car by a number of men.
He said he told Mr Duggan to drive to the clubhouse for safety.
He collected Mr O'Donoghue and met another man, Derek Geary, at the clubhouse.
Shortly after arriving he saw a man approach the gates of the premises with a sawn-off shotgun.
He said the man was Mr McNamara, who was shouting and roaring before he raised the gun and shot Mr O'Donoghue.
He said he watched his friend fall down while Mr Geary tried to close the gates to the clubhouse.
He called an ambulance and tried to shout instructions to Mr Geary to help Mr O'Donoghue.
He said after the gates were closed he heard men outside shouting to each other and someone saying "get him out of here".
He heard car doors and then heard an ambulance siren.
During cross-examination, Mr McInerney denied that he was hiding something from gardaí when he did not tell them in his first statement why he was at the club that day.
He said he was "fairly messed up" after seeing his friend shot dead and just needed to get the details of what happened at the gate "out of my head and on to paper".
He denied the reason he had not told gardaí everything was because he and Mr Ryan had been involved in threatening Mr McNamara at his home the previous night.
He denied that he would not have told the truth because he would not "squeal" on his president.
Mr Geary told the court he saw a man approach the clubhouse with a sawn-off shotgun.
When he raised the gun Mr Geary stepped back behind the steel gate but Mr O'Donoghe was shot in the head.
He said after that he looked out and saw the man trying to reload the shotgun.
While he was doing this the gunman shouted out "I got one of them."
He got the gates closed and leaned up against another pedestrian gate until he heard a car outside drive away. Outside he heard someone say "just forget about it".
He described running to the clubhouse to get a towel and holding it to Mr O'Donohgue's head, which was badly injured.
"He seemed to be in quite a bit of pain," he said, adding that "after about five minutes he grew weaker and weaker and went unconscious".
He said two paramedics took over from him.
Afterwards he asked Mr McInerney who had carried out the shooting and was told it was "Cookie", a nickname used for Mr McNamara, whom he did not know.
During cross-examination Mr Geary agreed with defence counsel Hugh Hartnett that there was a lot of confusion after the shooting.
However he did not agree it was possible that the words he heard spoken were "I think I shot one of them."
Mr Geary said he definitely heard the gunman say "I got one of them."
A woman who lived across from the motorcycle club at Murroe gave a statement to gardaí during which she said she heard a row outside the club that day.
She looked out her window and it appeared there was a man trying to get in and others to keep him out.
Joanne Ryan said she thought the man might have been carrying a gun and she phoned gardaí. As she was on the phone to them she heard a loud gunshot.