The Minister for Health has said he is "concerned" about a severe winter flu season this year, adding that Ireland is "potentially looking at a perfect storm" with a combination of Respiratory Syncytial Virus and another Covid wave.
Stephen Donnelly said the rates of RSV here are already going up and that officials are monitoring what has been happening in countries like Australia and New Zealand, which indicate the type of flu that is likely to be circulating.
Mr Donnelly said Australia has had a particularly bad flu season, with the rates "several times higher than the average they've had over the last number of years".
"What that would mean for us is a lot more people in hospital, and unfortunately as well, a lot of people die whenever there's a severe flu season," he said.
The minister said it comes at a time when presentations at emergency departments are at "the highest ever" level.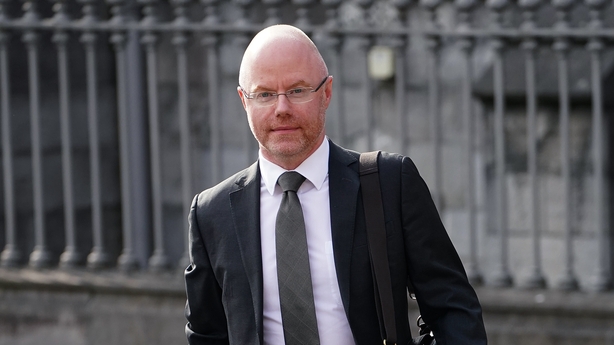 He said the Waiting List Task Force received "a very good presentation" from the HSE yesterday, which contained projections that are "very sobering".
There is "a very, very comprehensive" winter plan, along with individual plans for each of the 29 emergency departments around the country, he added.
Mr Donnelly said there will be a big flu vaccination programme rolled out over the coming months, which he said will be administered in a lot of cases in parallel with Covid-19 booster shots.
He said interim Chief Medical Officer Professor Breda Smyth informed him yesterday that the uptake of the second Covid booster among people aged 65 and over is at nearly 70%.
His comments come as Dr Mike Ryan, Executive Director of the World Health Organization's Emergencies Programme, expressed concern that the capacity to detect new variants of Covid-19 quickly has been lost.
He said that at the peak of the pandemic, while health systems may have been under huge pressure, there was a lot of testing and sequencing.
Dr Ryan said that countries had been detecting new variants quite efficiently and characterising them very well.
In advance of a University College Cork School of Public Health webinar on 'Covid Now - What Next' today, Dr Ryan said there were signs that things were improving but there were also gaps.
"Many people around the world are not protected, there are many systems that are still very weak, we don't know how this virus will continue to evolve," he said.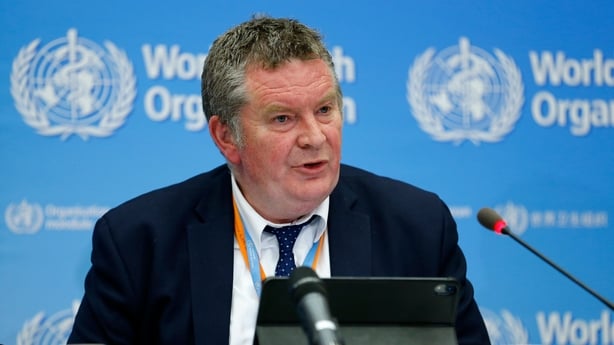 He cautioned that while people get back to their lives, there needs to be vigilance.
He urged governments to make sure they integrate the surveillance and testing, treatment and vaccination programme into the normal health service and continue to deliver them efficiently.
Dr Ryan said that everyone needs to "be smart; smart about their own risks, smart about their own exposure and smart about getting vaccinated".
Collective health services around the world are not as strong as we think they are, Dr Ryan said, and he told the webinar that health staff are tired and suffering the long-term impact of dealing with Covid-19.
He said relying on a health system and staff that have been through the mill will be a challenge over the weeks and months ahead.
Health systems are often run at 120% capacity, he said, adding that people then wonder why they cannot cope when more stress in placed on them.
The webinar is also being held with the support of UCC's Centre for Global Development.
Professor Ivan Perry, Professor of Public Health at UCC's School of Public Health, said it was likely that the number of people with Covid will rise again as we approach winter.
He urged people to stay vigilant and wear a mask when using public transport, a properly fitting N95 mask.
"Ensure public buildings are well ventilated, work from home as much as we can," he said.
It is estimated that 21,000 people cannot go to work due to Long Covid, Independent TD Denis Naughten has told the Dáil. Taoiseach Micheál Martin says he does want to see a more uniform framework to deal with Long Covid issues nationwide. | Read more: https://t.co/yBLXfIGkoo pic.twitter.com/rqg7IdFSzl

— RTÉ News (@rtenews) September 20, 2022
Co-leader of the Social Democrats Róisín Shortall said that the "crisis" in emergency departments needs to be urgently addressed.
During Leaders Questions today, she said the mix of Covid-19 and winter flu over the coming months was likely to bring substantial difficulties for emergency departments.
She called on the Government to improve retention and recruitment in the health service, adding that negotiations over consultant contracts have yet to conclude.
In response, the Taoiseach told the Dáil that the public health service has seen a significant increase spending and capacity.
Micheál Martin said funding for the HSE Winter Plan will be unveiled as part of the budget next week.
He asked people to avail of Covid-19 booster vaccines and also the flu vaccine which is due to be rolled out early October.
Independent TD Denis Naughten said that as many as 21,000 people are not able to return to work because of "Long Covid", while thousands more are experiencing symptoms like fatigue, respiratory problems and cognitive difficulties.
He told the Dáil that the HSE needs to adopt a national approach to this scenario, but contended that designated regional centres are not fully operational because of staffing shortages.
Deputy Naughten said the only clinic supporting people with cognitive problems, at the Mater Hospital in Dublin, is set to close its doors by end of next week.
The Taoiseach said he had a "tremendous sympathy" for people affected by Long Covid.
He said he did not "dispute" what Deputy Naughten had to say, and agreed that he wanted to see a more uniform framework of care for those in need.
The Taoiseach said there was a lot of research going on regarding the illness and the required multi-disciplinary response.
To that end, he said a survey was about to be undertaken to provide the necessary data.
Additional reporting: Fergal Bowers