The European Medicines Agency has said it has started a rolling review of a variant-adapted Covid-19 vaccine from Pfizer and BioNTech.
The so-called bivalent vaccine targets two strains of the SARS-CoV-2 virus behind Covid, the original strain first identified in China, and the Omicron offshoots BA.4/5 that are currently behind most cases in the region.
A rolling review means the EMA assesses the data as it becomes available, and the process continues until there is enough data for a formal marketing application.
Last month, the EMA said it had begun a rolling review of another version of the companies' shot which targets the original SARS-CoV-2 strain and Omicron subvariant BA.1.
While existing coronavirus vaccines continue to provide good protection against hospitalisation and death, vaccine effectiveness has taken a hit as the virus has evolved.
European Union officials plan to use bivalent shots in their autumn vaccination campaign, with most cases in the region now linked to the BA.5 variant.
---
---
The EMA expects new Covid variant-adapted vaccines to be approved by September, but has signalled it is open to using shots targeting the older BA.1 variant for that campaign, given the shots targeting the newer BA.4 and BA.5 strains are further behind in clinical development.
Toyota suspends some Japan factory production due to Covid outbreak
Toyota Motor Corp said it would suspend the night shift operation at one production line at its factory in central Japan due to an outbreak of Covid-19, after it suspended operations there also last night.
The suspension comes as the Japanese automaker seeks to boost its production in earnest after Covid-19 lockdowns in China and a global chip shortage forced it to repeatedly scale back output in the April-June quarter, falling about 10% short of its initially planned target.
A total of 16 workers at the Tsutsumi plant in Aichi Prefecture were infected with Covid, making it hard for the company to secure enough workers for operations, the company said in a statement.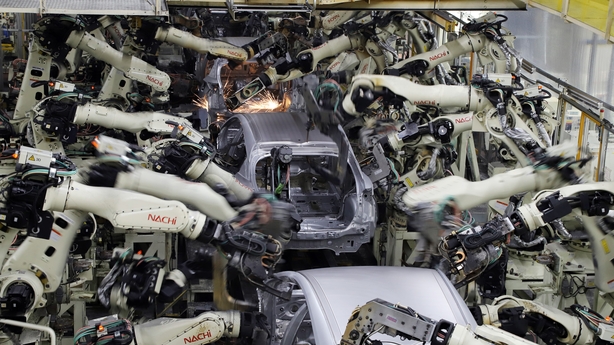 Output of about 660 vehicles would be affected by the suspension, a spokesperson said.
Toyota had suspended night shift operations at a different factory for two days for the same reason in late July.
The world's largest automaker by sales has stuck to its 9.7 million global production target for the year ending March 2023, saying output and sales were on path to recovery from this month onwards.
Chinese cities in Tibet begin mass Covid testing
Parts of Tibet are running mass Covid-19 testing, including the Chinese autonomous region's two largest cities, to fight a rare flare-up, while clusters were growing in tropical Hainan and in Xinjiang in China's west.
Subvariants of the highly transmissible Omicron are challenging China's strategy of swiftly blocking the spread of each nascent cluster.
Regions that have seen relatively few cases for more than two years now battling outbreaks, raising the risk of persistent tight restrictions as the economy weakens.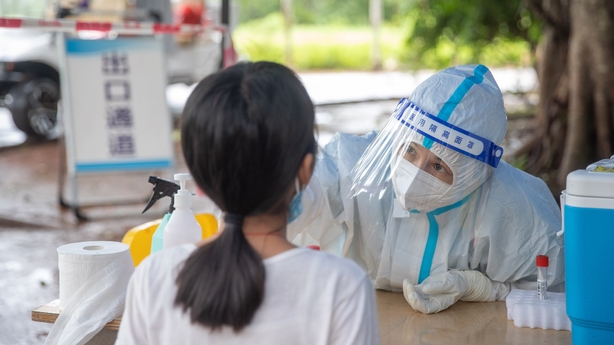 Mainland China reported 828 new domestically transmitted cases for yesterday, official data showed today.
Over 70% of those cases were found in Hainan, one of the country's most popular tourist destinations, as well as Xinjiang, while the rest were reported across more than a dozen provinces and regions.
In Hainan, millions of residents are under lockdown across several cities and towns, allowed out only for necessary reasons, such as Covid tests, grocery shopping and essential job roles.
Around 178,000 tourists were also stranded in the southern island province, according to state media reports.
Provincial authorities must adopt all measures to achieve by Friday "Covid zero at the community level" where no new cases emerge in communities outside quarantined areas, Hainan's government said in a statement.
Hainan's success in containing smaller clusters in April and July has resulted in complacency among officials and residents, one provincial health official said.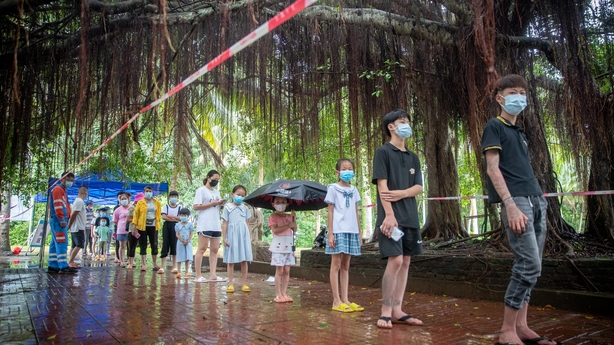 "We still have many shortcomings and weaknesses in Covid epidemiologic investigation, testing and treatment," Zhou Changqiang, the head of Hainan's health commission, told state television in a programme that aired last night.
In Tibet, which had previously found only one symptomatic Covid infection in more than 900 days, local authorities reported one local patient with confirmed symptoms and 21 asymptomatic infections yesterday.
Lhasa, Tibet's biggest city and provincial capital, has suspended large events and closed various entertainment and religious venues.
Tibet's second-largest city Shigatse has entered three days of curbs during which people are banned from entering or leaving, with many businesses suspended.
Lhasa and Shigatse are running a fresh round of mass testing, and the second round would begin tomorrow, state television said.
In Tibet's Ngari prefecture, three towns have started three rounds of mass testing, while the remaining towns are in their first round, state television said.
As of yesterday, mainland China had logged a cumulative 231,665 cases with symptoms, including both local patients and those arriving from outside the mainland.
There were no new deaths reported, keeping the nation's fatalities at 5,226.
China's capital Beijing, along with financial hub Shanghai and the southern technology centre of Shenzhen reported zero new local cases.