Visitors to Hong Kong's annual exhibition of global gourmet food will once again not be allowed to sample the delicacies due to coronavirus curbs, the organiser has said.
Tens of thousands of visitors and hundreds of exhibitors are expected at the five-day Food Expo starting next Thursday in the city's Convention and Exhibition Centre.
But for the second year in a row, there will not be any tasting areas and all attendees must keep their masks on due to public health restrictions, according to Sophia Chong, acting CEO of the expo organiser, the Trade Development Council.
"We understand that visitors would like to taste the samples," Ms Chong said.
"We hope we can resume this arrangement after the pandemic, when it's safe and hygienic to do it."
The decision was announced a day after the government said fans at November's Hong Kong Sevens will be allowed to drink but not eat in the stands, with masks having to be worn between sips.
Ms Chong said they were not concerned by the measures' impacts on the exhibition as it would be the second year of the tasting ban.
"The number of exhibitors participating in this year's Food Expo actually exceeded that of last year," she said.
---
---
Hong Kong has been strictly adhering to China's zero-Covid policy, enforcing some of the world's most severe restrictions for more than two years, including mandatory quarantine for overseas arrivals and a ban on group gatherings of more than four people in public places.
In recent weeks, the city has been recording 3-4,000 daily infections, prompting fears of a resurgence after more than 1.2 million residents fell sick and 9,300 died in the first four months of this year.
Separately, Hong Kong reduced the minimum age for getting vaccinated with China's Sinovac Covid-19 shot to six months from three years after several young children became infected with the virus.
Adults and children in the Asian financial hub are required to have at least three coronavirus vaccine shots.
"Recently a series of young children have been infected with the new coronavirus. The situation of severe illness and even death is of great concern," the government said in a statement announcing the reduction in age.
The government said it was also negotiating with China's Fosun, which supplies Germany's BioNtech vaccine, to purchase a formula of that vaccine for children.
The minimum age to get a shot of the BioNtech vaccine is five.
About 90% of Hong Kong's more than 7 million people have had two doses of a coronavirus vaccine and about 67% have had three.
Residents can choose between China's Sinovac and BioNtech.
A government advisory panel yesterday recommended that a fourth vaccine dose be given to those over 50.
Easter Island welcomes back tourists post-pandemic

Chile's Easter Island, a popular Pacific Ocean tourist destination, has officially reopened to the worldafter more than two years of coronavirus closure.
The first flight with tourists - many with bookings made before the pandemic - was due to touch down on Thursday, tourism official Veronica Kunze told reporters.
"We have to open the island, but we have to do it safely," she added.
Arrivals must be fully vaccinated against the coronavirus, and show a negative PCR test.
The island, located 3,500km west of the coast of Chile, is world-famous for its "moais," huge stone statues in human form partially buried in the Earth.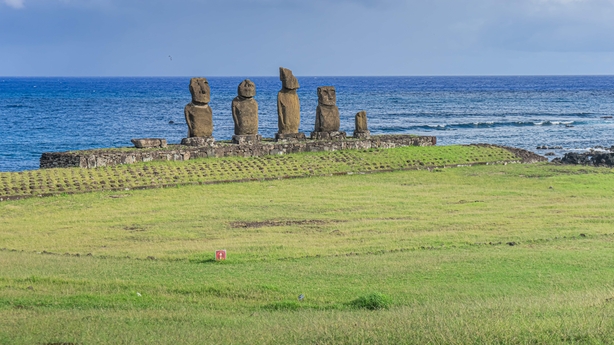 The island's main source of revenue was domestic and international tourism before flights were grounded on 16 March 2020, following the first reported cases of coronavirus in Chile.
Easter Island used to receive some 160,000 tourists per year, arriving on two flights daily.
In the two years without tourists, islanders resorted to bartering and planting their own vegetable gardens, officials said.
The island has reported only two coronavirus cases, with no hospitalisations or deaths.
The reopening will be gradual, with some two flights a week at first, said Ms Kunze.
The local hospital had been reinforced, she added, and now boasts an isolation unit as well as a PCR laboratory.