Cyprus has reintroduced the mandatory use of face masks indoors for all people aged over 12, as coronavirus cases spike, the Mediterranean holiday island's health ministry has announced.
The ruling, which comes into effect on Friday, was announced by Health Minister Michalis Hadjipantela after a cabinet meeting.
It follows a new spike in Covid-19 infections in recent weeks, with the health ministry recording 19,503 positive cases from 25 June to 5 July.
The decision represents a U-turn for authorities, who had lifted the previous face mask mandate on 1 June.
Mr Hadjipantela cited an increase in Covid-related hospital cases and said infected people circulating freely without masks was a contributory factor.
According to last week's health ministry epidemiological report, three people died from Covid-19 and 75 patients were hospitalised, four in a serious condition.
On 28 June, face masks were reintroduced for visiting pharmacies, clinical labs and government testing sites for Covid.
Face coverings must also be worn when visiting hospitals, nursing homes and on public transport.
---
---
Many scientists prompted authorities to reinstate the mask following the latest surge in Covid cases and hospitalisations, attributed to the prevalence of highly infectious Omicron subvariants BA4 and BA5.
Authorities were hesitant about reinstating the face mask amid the peak tourist season, fearing loss of arrivals, especially when neighbouring destinations do not have mask mandates.
Coronavirus infections in the Republic of Cyprus since the pandemic started in March 2020 have reached 515,596 and 1,075 deaths, out of a population of some 900,000.

Macau locks down landmark hotel over Covid cases
Macau has locked down one of the city's most famous hotels, the Grand Lisboa, after more than a dozen Covid-19 cases were found there, with infections spreading rapidly in the world's biggest gambling hub.
At least 16 other buildings across the special Chinese administrative region are also under restrictions with no one allowed to exit or enter.
Authorities reported 146 new infections today taking the total to more than 1,000 cases since mid-June.
More than14,000 people are in quarantine as the city battles to contain its biggest outbreak since the pandemic began. Macau had largely been Covid-free since an outbreak in October 2021.
The Grand Lisboa is the second casino hotel to be locked down in recent weeks. Owned by SJM Holdings, which was started by former Macau kingpin Stanley Ho, the Lisboa is one of the city's best known landmarks.
Local media showed photos of the hotel sealed off with people in protection gear and hazmat suits standing outside. The Grand Lisboa was not immediately available for comment.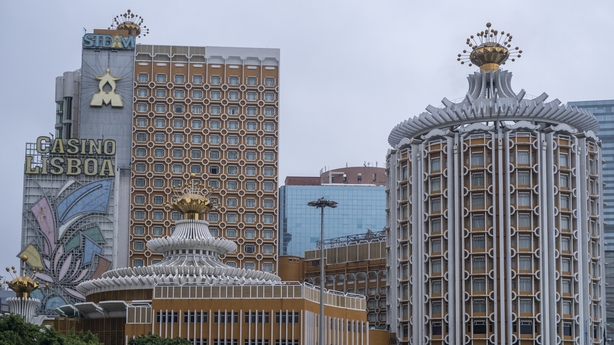 While the government has stopped short of imposing a full lockdown, seen in Chinese cities such as Shanghai, most facilities in Macau are shut and restaurants can only provide takeaway.
The more than 600,000 residents in the former Portuguese colony have been asked to stay at home when possible and are required to take part in three citywide Covid-19 tests this week. People are also required to take rapid antigen tests in between.
Only Macau's casinos have been allowed to stay open in an effort to ensure job security. The government relies on the industry for more than 80% of its tax revenue with most of the population employed directly or indirectly by the casino resorts.
Although physically open, there are few patrons inside and only a small number of staff, with many employees asked to stay at home to comply with the government's request.
Macau adheres to China's "zero-Covid" policy which aims to eradicate all outbreaks, at almost any price, running counter toa global trend of trying to co-exist with the virus.
It has an open border with mainland China, and its economy depends on the inflow of Chinese visitors.
Macau's cases remain far below daily infections in other places, including neighbouring Hong Kong where they have jumped to more than 2,000 a day this month.
However the densely-populated hub only has one public hospital, which was stretched even before the Covid-19 outbreak. Officials have put up a makeshift hospital next to the city's Las Vegas-style Cotai strip to help cope with the rise in cases.
China battles karaoke Covid cluster in Shanghai among other outbreaks

China is fighting Covid-19 flare-ups across the country with mass testing and fresh restrictions, including in weary Shanghai where new cases have been linked to a building which houses a karaoke lounge that was operating illegally.
Pressure is mounting on officials to avert a wider spread and disruptions similar to the painful and costly isolation that Shanghai, China's most populous city, suffered in April and May.
While the country's latest daily caseload of just over 300 infections is insignificant by global standards, worries it could trigger another round of strict curbs weighed on Chinese stocks and markets worldwide.
Shanghai, which reported 24 new cases for yesterday versus eight the previous day, is testing all residents in nine of its 16 districts until tomorrow, as well as those in parts of three other districts.
The commercial hub of around 25 million already requires residents to get tested frequently in order to enter shopping malls or take public transport.
City authorities have suspended operations of karaoke lounges, but other recently-reopened cultural venues such as libraries will stay open. Cinemas are due to reopen on Friday.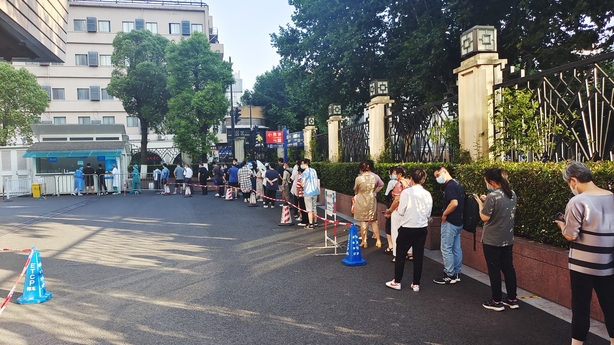 Elsewhere, the caseload in the eastern Anhui province, where more than1 million people in small towns are under lockdown, declined slightly to 222 yesterday from 231 a day before. The province still accounts for most of China's new infections.
In the northwestern city of Xian in the Shaanxi province, a seven-day closure of various entertainment venues and suspension of dining-in at restaurants went into effect today. The city of 13 million detected 11 new cases.
Xian, famed for its Terracota Army, is the first major Chinese city to declare a fight against the BA.5.2 subvariant of the contagious Omicron Covid variant, seen as more infectious than the BA.2 subvariant found in earlier outbreaks in China.
President Xi Jinping, widely expected to secure a precedent-breaking third leadership term later this year, reiterated the country's "dynamic zero-Covid" policy on a visit last week to the city of Wuhan, where Covid was first reported.
Mr Xi said it was better to incur "temporary" economic costs than to "harm the lives and health of the people" and that accepting Covid as endemic would have "unimaginable" consequences in China.
Officials have pointed to the millions of Covid-linked deaths around the world, versus the 5,226 reported in China.