The number of people with Covid-19 in hospitals and intensive care units is at its lowest point in almost nine months.
There are 242 coronavirus patients hospitalised at present - an 85% drop compared to this year's peak of 1,624 on 28 March.
Of these, 28 are in ICU - a 72% reduction on the 2022 peak of 97 on 17 January.
The last time in-patient numbers were that low was in August 2021.
There were 230 people with the disease in hospitals on 14 August, while 27 Covid-positive patients were in critical care on 2 August.
Tánaiste Leo Varadkar shared the latest figures in a post on Twitter and said: "It's going well but it's not gone away.
"Still really important to get your booster vaccine and isolate if you have symptoms."
The local authority areas with the most Covid cases in Ireland (in the period from 19 April to 2 May) were Carlow (551 infections per 100,000) and Mullingar (485 per 100,000).
Earlier today, a new analysis found that many of the factors associated with Covid-19 outbreaks in nursing homes in the third wave of the pandemic, were the same as those for the first and second waves.
The finding was contained in a study carried out by the Health Information and Quality Authority and the Health Protection Surveillance Centre.
It found there were more outbreaks of the virus in the third wave than during the first two waves combined, but fewer nursing homes had more than one outbreak.
An outbreak is defined as two or more linked cases.
HIQA's Chief Scientist Dr Conor Teljeur said: "The likelihood of outbreaks in nursing homes was still associated with higher community incidence of Covid-19, the number of beds in a nursing home, and being in close proximity to other nursing homes."

The report said the roll-out of Covid vaccinations had a "pronounced and positive" impact on the number of cases in nursing homes.
Dr Teljeur said that "once vaccination was rolled out, homes were less likely to have an outbreak and if an outbreak occurred, it was smaller."
---
---
Dr Lois O'Connor, a Specialist in Public Health Medicine at the HPSC, said the positive impact of vaccines during the third wave "highlights the value of a comprehensive vaccination programme to augment non-pharmaceutical measures in limiting the impact of Covid-19 on nursing homes".
The report said due to challenges posed by the cyber attack on the HSE information systems in May 2021, the analysis was limited to data up to 12 May 2021.
It also said "the overall applicability of these findings to current and future time periods is limited".
"Improved information on the characteristics of individual nursing homes would benefit future analyses, specifically allowing comparisons between different nursing home types and facilitating international comparisons."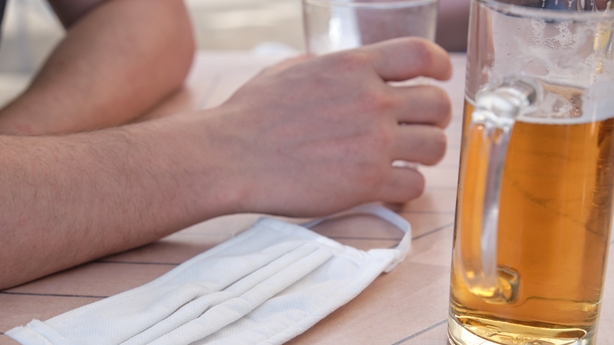 People with long Covid drinking more alcohol to cope with symptoms
A survey of patients with long Covid has found that 72% have increased their alcohol consumption to help cope with the symptoms.
Professor Jack Lambert at the School of Medicine at UCD described the findings of the questionnaire carried out by patients with their GPs as "scary".
Speaking on RTÉ's Today with Claire Byrne, he said symptoms associated with long Covid include fatigue, decreased concentration, pains, neurological issues, headaches, shortness of breath, psychiatric problems and depression.
The survey found that 18.3% of long Covid patients had moderate to severe depression, 13% had moderate to severe anxiety and 21% reported experiencing PTSD.
Prof Lambert said: "When Covid first struck, the patients ending up in hospital were getting lung disease and heart disease, but after they leave the hospital the lungs all heal, the hearts all heal, but there seems to be some kind of a post infectious inflammation of the brain, like post-viral, viral meningitis type symptoms that are going on for in some cases now years and years."
He also called for increased services to treat the symptoms of long Covid and said that treatment should not be just limited to the centres of excellence.
Existing services to treat Covid patients primarily deal with heart and lung issues, but he insisted that there is a need for neuro-rehabilitation to be rolled out also.
He said: "The support and therapy that people need is neuro-rehabilitation. It's not lung function that's the problem, it's the brain.
"They still have an inflamed brain and that is causing the concentration problems, the headaches, the energy problems, the sleep disturbances, the personality changes."