Millions of people in Beijing returned to work this morning, many remotely, with scores of subway stations shut after a national holiday muted by the coronavirus curbs.
The capital's streets were slightly less hectic than on a normal working day but many trains looked crowded and office districts were busy, while many people took to bicycles to get around.
Chef Liu Wentao returned to work today and said "I feel relatively safe at work and where I live, but I don't dare to run around outside because I still feel the outbreak hasn't reached its peak".
Chinese authorities have pressed on with their zero-Covid policy involving lockdowns and mass testing as they battle the biggest outbreak since the early days of the pandemic, with entire neighbourhoods in the capital sealed over handfuls of infections.
Beijing reported 50 local virus cases today, a day after it said people in its most populous district Chaoyang should work from home.
Those in the area, home to around 3.5 million, who need to visit their offices were encouraged to drive themselves and avoid gatherings.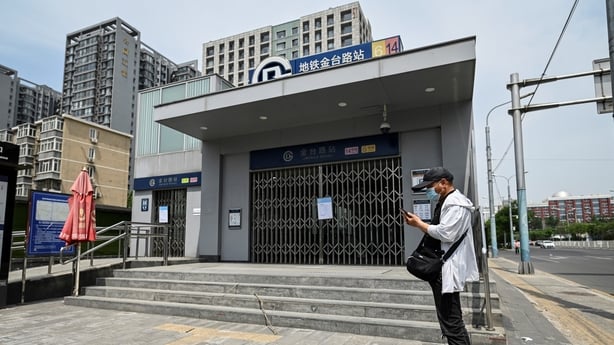 Another Beijing district Tongzhou has also encouraged residents to work at home, while dozens of subway stations across the city remained closed.
Some employees were seen returning to their buildings in Chaoyang, scanning their health codes that permit entry to venues.
Beijing is treading cautiously after an extended lockdown in Shanghai, China's largest city, led to food shortages and public anger.
Shanghai - the epicentre of the latest outbreak - reported more than 4,600 mostly asymptomatic infections today.
There, authorities have found it difficult to strike the correct balance between curbing infections and allowing firms to resume operations.
"Some companies have reported that the standards for resuming work are somewhat high," said Zhang Hongtao, of the city's Economy and Information Technology Commission.
For the 25 million residents, most of whom are still under lockdown, there seemed to be a major difference between the guidance coming from the top and the enforcement on the ground.
---
---
Domestic tourism revenues over the five-day break were down by more than 40% from a year ago, according to official Chinese data.
China's stance threatens its official growth target of around 5.5% this year and reverberations across the global economy and trade.
More than 40 cities in China were implementing full or partial lockdowns, or measures restricting mobility as of 3 May, according to Nomura estimates.
China argues its Covid policy is saving lives, which makes the heavy economic and psychological costs of the lockdowns worth it, though top officials have pledged to help businesses ride the storm.
The European Chamber of Commerce in China said EU firms were increasingly looking to move their investments to other markets outside of China.
"While member firms understand that short restrictions need to remain in place to avoid the medical system being overloaded, if the current situation continues they also need a timeframe for a gradual reopening," said chamber president Jorg Wuttke.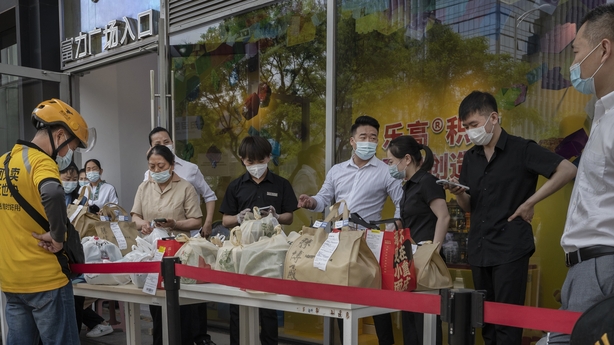 Key cities such as Hangzhou and Beijing have also ordered more regular Covid testing.
Some curbs were being loosened, however, with Beijing announcing yesterday that international travellers can be released from quarantine after ten days in a centralised facility and a week of home isolation, down from a total of 21 days.
This was based on the characteristics of the Omicron virus variant, government spokesman Xu Hejian told reporters, pointing to a shorter incubation period and usually milder symptoms.
Close contacts of confirmed cases will also have a shorter centralised quarantine, officials said.
South Africa ends mask wearing for school children
Regulations requiring all students to wearing masks while in class expired at midnight and were not renewed, the health ministry said.
This came despite a surge of infections driven by two new Omicron sub-variants of coronavirus, BA.4 and BA.5.
Adults are still required to wear a mask in public indoor spaces, and limits on numbers attending large events remain.
South Africa has officially recorded more than 3.8 million cases and 100,407 deaths (the highest toll across Africa) and less than 45% of the adult population has been fully vaccinated.
Africa's top public health body urged all those purchasing Covid-19 vaccines for the continent to place orders with South Africa's Aspen Pharmacare first, saying the market was key to developing vaccine manufacturing on the continent and tackling the low levels of vaccination in the community.
The Africa Centre for Disease Control and Prevention (CDC) said it was doing everything it could behind the scenes to prevent a situation where Aspen closes its facility due to a lack of orders.
"We have said from the very beginning of the conversation on local production that market, market, market is the key to ensuring that we have a thriving local production, manufacturing enterprise," said Ahmed Ogwell Ouma, deputy director of the Africa CDC.
"Our message is that we need to have all those who are purchasing vaccines at the global level for African countries, they need to purchase those from African producers first".