There have been fresh calls for the Government to ease Covid isolation rules to allow staff to return to work sooner.
It comes as workplaces are hit with a wave of Covid-related absences forcing some businesses to shut or curtail services.
At lunchtime on a Wednesday, Paul Lenehan should have been putting out his menu boards but instead he was busy posting notices on the windows and doors of 'Hartes of Kildare', the gastropub that he owns in Kildare Town.
The posters are advising customers that the restaurant is closed for lunch today and tomorrow due to the high level of Covid absences among staff.
Hartes is open for dinner but the juggling of rosters meant that the lunch service had to be suspended.
"The staff have been very flexible," said Mr Lenehan.
"Everyone who can work has been coming in but it is having an effect on the workers."
"People are tired. Every week there is another change and another battle when someone else goes out sick but particularly right now we are experiencing a real crunch and there are quite a few out," he said.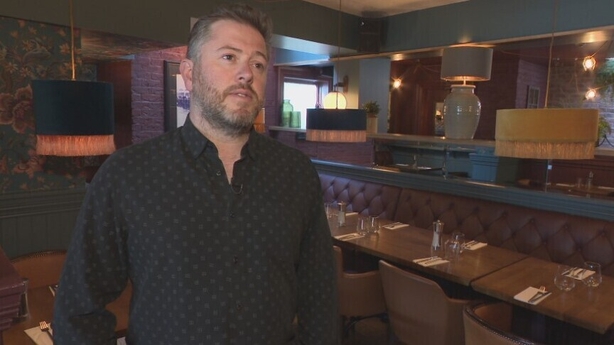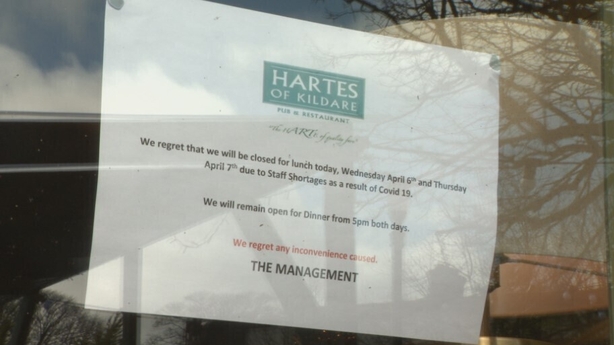 Mr Lenehan believes an easing of the current seven-day Covid isolation period would help.
"I know from the staff we've had out over the last few months, the majority are sick for a couple of days and then they are fine but they have to wait out the seven days," he said.
"Maybe if it was reduced from seven to five days that would certainly help us. Covid is going to stay around and we going to have to live with it," he added.
The Government has asked the Chief Medical Officer to review the seven-day isolation period to see if it should be reduced. He is expected to report back in the coming weeks.
Workplaces across the country are reporting a rise of Covid-related absences.
"There is certainly a lot of worry about the level of absences that businesses are experiencing," said Mary Connaughton, the Director of CIPD Ireland, the professional body for the Human Resources sector.
"Companies are trying to marshal the resources they need to be able to stay open but it is particularly hitting frontline operation in areas like caring, customer service and production," she added.