France has lifted most of its Covid-19, ending the need for face masks to be worn in the majority of public places and allowing the unvaccinated back into bars, restaurants and cinemas.
The move comes less than a month before the first round of a presidential election and just as the number of new coronavirus infections trends upwards again, prompting questions among some scientists over whether the easing is premature.
Masks no longer have to be worn in schools, offices and shops though they remain mandatory in hospitals and in public transport.
Also from today people will no longer have to show proof of vaccination to get into bars, nightclubs, museums, stadiums and long-distance trains.
France's "vaccine pass" rules fuelled weeks of street protests when they were first announced.
France recorded more than 60,000 new Covid-19 cases yesterday, up a third on the previous week.
Jean-Francois Delfraissy, head of France's Scientific Council which advises the government on Covid-19 policy, urged caution and said at-risk people should continue wearing masks.
"The pandemic isn't over yet," he told RTL radio.
---
---
"We can breathe," said construction worker Jean-Yves Richard, "and smell things we haven't smelled in a while."
Bank employee Virginie de Busschere said the removal of masks in the workplace delivered a psychological boost.
"I feel lighter, we can see people's smiles again."
China records more local Covid cases this year than in whole of 2021
China has reported more local symptomatic Covid-19 cases so far this year than it recorded in all of 2021, as the highly transmissible Omicron variant triggers outbreaks from Shanghai to Shenzhen.
Mainland China reported 1,337 new domestically transmitted Covid cases with confirmed symptoms yesterday, the National Health Commission (NHC) said.
That brought the total this year to more than 9,000, compared with 8,378 in 2021,according to Reuters calculations.
In the past week, new Covid cases have been reported in Beijing and the financial hub of Shanghai - China's most populous cities - as well as in the provinces of Guangdong, Jiangsu, Shandong and Zhejiang along the coast.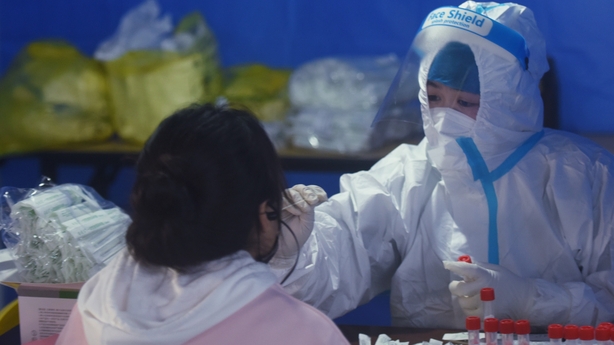 While the number of infections is small compared with caseloads elsewhere in the world, the rapid rate of increase has activated China's dynamic zero Covid policy, which mandates that infections are quickly identified and contained.
In the city of Shenzhen, China's Silicon Valley, officials have temporarily suspended public transport and urged people to work from home as they carry out city-wide testing this week following the surge in new cases.
Apple suppliers Foxconn and Unimicron Technology Corp both suspended operations in the southern city today.
Foxconn said operations would be suspended until further notice, adding it would deploy backup plants to reduce the disruption to production.
In the northeastern city of Changchun, currently under lockdown, Toyota suspended production at its joint venture with China's FAW Group.
"China's economy could be severely hit again," said Nomura in a note, adding that the Covid situation in China had deteriorated at an "alarming" pace over the past week.
"The outbreak has now reached almost every part of China with significant economic importance," Nomura said.
Including cases arriving from outside the mainland, China reported 1,437 new confirmed Covid cases on 13 March, the NHC said, compared with 1,938 a day earlier.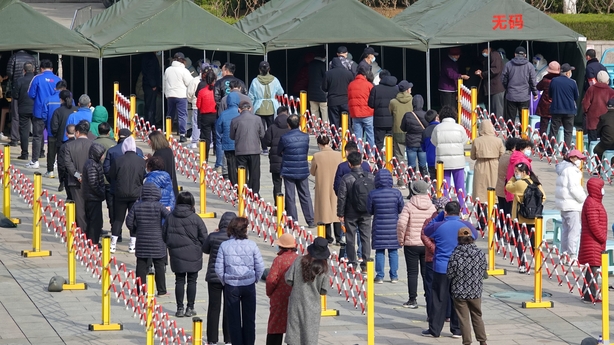 There were 906 new asymptomatic cases, which China does not classify as confirmed cases, compared with 1,455 a day earlier.
There were no new deaths, leaving the official death toll unchanged at 4,636.
As of yesterday, mainland China had reported 116,902 cases with confirmed symptoms, including both local and imported ones.
Hong Kong rules out tightening Covid curbs for now as death toll rises
Hong Kong leader Carrie Lam said there were no plans to tighten strict social distancing measures as the Chinese-ruled territory battles to contain a coronavirus surge that has submerged its health system amid soaring deaths.
Ms Lam said there was limited room to tighten further, with the global financial hub already having put in place the strictest measures since the pandemic started. Gatherings of more than two people are banned, most venues are shut - including schools -and masks are compulsory everywhere, even when exercising outdoors.
"The government has to be very careful before tightening social distancing measures further ... with the need to consider the mental health of citizens," she told a daily briefing.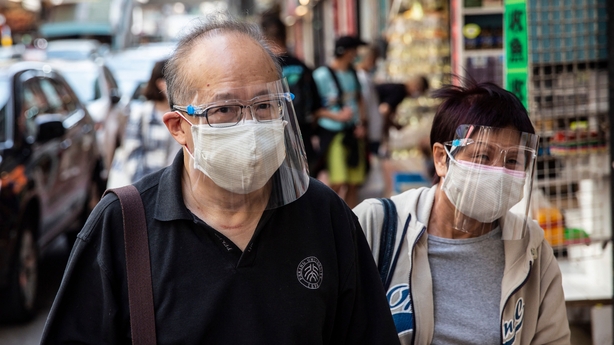 Ms Lam said last week that the government had no time frame for a potential compulsory mass testing of Hong Kong's 7.4 million residents, most of whom live in tightly packed high-rise apartment blocks sharing lifts.
Health authorities reported 26,908 new infections today with 249 deaths.
Hong Kong has reported more than 700,000 Covid-19 infections and about 4,200 deaths, most of them in the past three weeks.
It has followed mainland China's "dynamic zero" policy which seeks to curb all outbreaks as soon as they occur, instead of trying to live with the virus.
Hong Kong's borders have been effectively sealed for two years with few flights able to land and most transit passengers banned.
But deaths have spiked, particularly amongst its mostly unvaccinated elderly, with the city registering the most deaths per million people globally in the week to 10 March, according to data publication Our World in Data.
Hong Kong opened its fourth community isolation facility yesterday, aimed at providing more than 1,000 beds.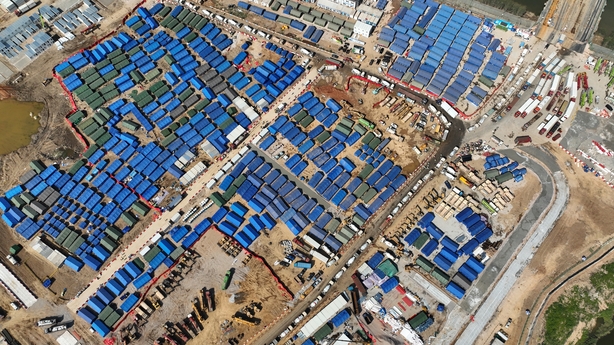 The city is building about 90,000 isolation units in total, with the help of mainland authorities, to house people with mild or no symptoms. They have been opening in stages with all expected to be completed in coming months.
Moscow mayor ends mask requirement, citing improving Covid situation

Moscow Mayor Sergei Sobyanin has cancelled a long-standing requirement for people to wear face masks in public, citing the improving situation with Covid-19 and the need to support businesses facing sanctions pressure.
Daily coronavirus cases peaked at 203,949 on 11 February as the Omicron variant spread rapidly across the country, but have fallen steadily since then. Today, 41,055 new infections were recorded.
The drop off in coronavirus-related deaths has been less pronounced. The government coronavirus task force reported 533 deaths in the last 24 hours across the country, down from a high of 1,254 on 20 November 2021.
In Moscow, a city of around 13 million people, there were 957 new infections and 44 deaths reported today.
"Steady improvement in the epidemiological situation allows us to take a long-awaited decision," Mr Sobyanin wrote on his personal website. "From Tuesday, March 15, we are cancelling the requirement to use protective masks."
He said companies would no longer have to take anti-Covid measures such as carrying out temperature checks of employees and seeking to ensure social distancing.
"In the current circumstances, this decision will also support businesses that are already experiencing serious sanctions pressure."
Unprecedented western sanctions against Moscow over eventsin Ukraine have seen a flood of companies cease operations in Russia and uncertainty rise for businesses in the country.
Greek PM Mitsotakis tests positive for Covid-19

Greek Prime Minister Kyriakos Mitsotakis has tested positive for Covid-19, he said in a video message on Instagram.
"Recently, we are all occupied with the war in Ukraine and increased prices but the coronavirus is still here. I tested positive this morning and therefore will isolate at home and work from there," Mr Mitsotakis said, wearing a mask.
Mr Mitsotakis, triple vaccinated against Covid-19, met with Turkish President Tayyip Erdogan and Ecumenical Patriarch Bartholomew in Istanbul yesterday.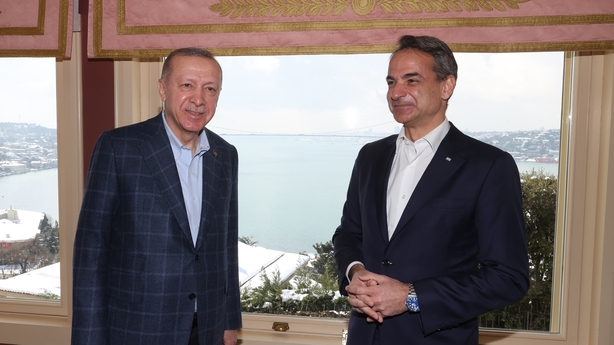 Greece recorded 11,986 new infections yesterday, bringing the total number registered there since the pandemic broke out to 2.63 million.
"Triple vaccination offers the best possible protection against severe disease, and I'm certain that everything will go well and I will very soon return to the office," Mr Mitsotakis said.
Tongan prime minister tests positive for Covid-19

Tongan prime minister Siaosi Sovaleni has tested positive for Covid-19, his office said, as his Pacific island nation continues its recovery from a devastating volcanic eruption and tsunami.
While Tonga was able to remain Covid-free for much of the pandemic, cases began to rise soon after international aid ships from Australia and New Zealand arrived in the wake of a powerful 15 January 15, which claimed at least three lives.
There have since been 1,032 Covid-19 cases in Tonga with no deaths recorded as yet, according to the World Health Organization.
Mr Sovaleni was experiencing only mild symptoms and would continue his duties while isolating at home, his office said today.
"We are now adjusting our lives and affairs as we learn to live with Covid-19 and I will continue to serve His Majesty, government and our People during my time in isolation," the prime minister said.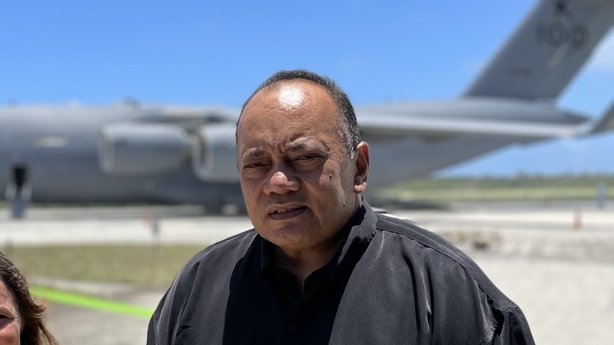 The cataclysmic 15 January eruption of the Hunga Tonga-Hunga Ha'apai volcano - located about 65 kilometres from Tonga's capital, Nuku'alofa - caused a shockwave that reverberated around the globe several times and shrouded Tonga's islands in a thick layer of ash.
A subsequent tsunami, which hit Tonga soon after, swept residents to their deaths, destroyed homes and buildings and severed the nation's undersea communication cable, cutting off communication with the outside world for weeks.