Canadian Prime Minister Justin Trudeau has invoked rarely used emergency powers to bring an end to trucker-led protests against Covid health rules that police fear could turn violent.
"The federal government has invoked the emergencies act to supplement provincial and territorial capacity to address the blockades and occupations," Mr Trudeau told a news conference, adding that the military would not be deployed at this stage.
CBC and CTV said Mr Trudeau had told legislators from his ruling Liberal Party that he would use the 1988 Emergencies Act, which allows the federal government to override the provinces and authorise special temporary measures to ensure security during national emergencies.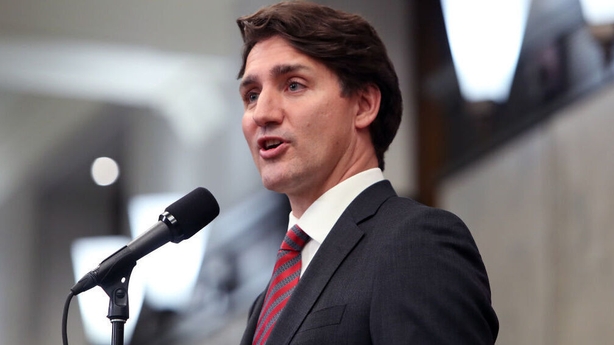 The act has only been used once in peacetime - by Mr Trudeau's father, former Prime Minister Pierre Trudeau - who invoked an earlier version of the act in 1970 after Quebec separatists kidnapped a provincial cabinet minister and a British diplomat.
The 'Freedom Convoy' protests, started by Canadian truckers opposing a vaccinate-or-quarantine mandate for cross-border drivers, have turned into a rallying point for people opposing the policies of Mr Trudeau's government, covering everything from pandemic restrictions to a carbon tax.
A six-day blockade of North America's busiest trade corridor in Windsor, Ontario, ended yesterday while protests in Ottawa entered a third week.
Several trucks were parked outside Mr Trudeau's downtown office, along with portable toilets.
Protesters had also shut down smaller border crossings in Alberta and Manitoba last week and, over the weekend, shut down the Pacific Highway border point in British Columbia.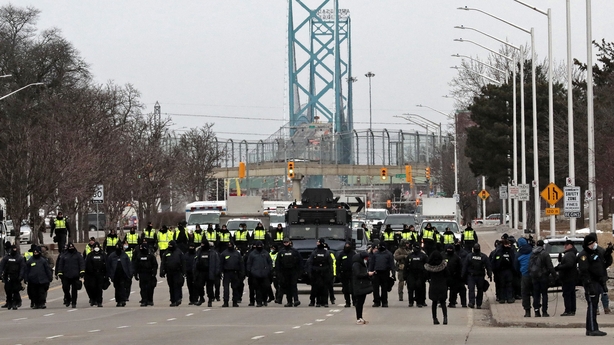 The Windsor bridge blockade choked the supply chain for Detroit's carmakers, forcing Ford Motor Co, the second-largest US automaker, General Motors Co and Toyota Motor Corp to cut production. US President Joe Biden raised the matter with Mr Trudeau last week.
Mr Trudeau has shown reluctance to invoke the Emergencies Act to deal with previous crises, given the potential political fallout from Ottawa interfering in provincial jurisdiction. He was due to speak to the 10 provincial premiers today.
Ottawa police, complaining they do not have enough officers, have so far largely stood and watched the protests, much to the fury of residents and businesses that have shut down.
In the western Canadian province of British Columbia, the Pacific highway border crossing in Surrey was temporarily closed yesterday afternoon, for a second day, by a group of about 200 protesters, according to a Reuters photographer on the scene.
A small group of protesters gathered on US side of the border, blocking incoming vehicles.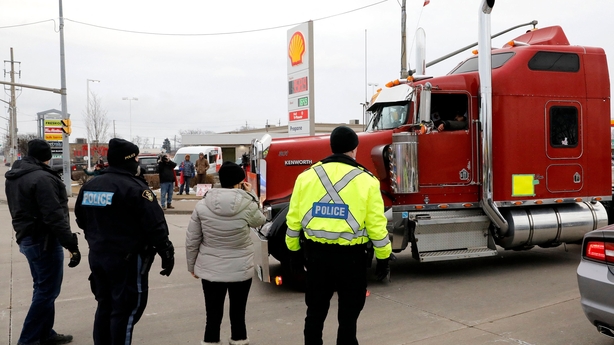 The 'Freedom Convoy' protest started in the national capital Ottawa by Canadian truckers opposing a vaccinate-or-quarantine mandate for cross-border drivers, has entered its 18th day.
But it has now morphed into a rallying point against broader Covid-19 curbs, carbon tax and other issues, with people joining in cars, pick-up trucks and farm vehicles.
---
---
"We're fed up, we're tired. We want Ottawa to be boring again," said an Ottawa resident at a counter protest in front of the city's police headquarters.
Canadian police have said the protests have been partly funded by US supporters, and Ontario froze funds donated via one US platform GiveSendGo on Thursday.
The estimated loss so far from the blockades to the auto industry alone could be as high as $850 million, based on IHS Markit's data, which puts the 2021 daily flow in vehicles and parts at $141.1 million a day.
Truckers find support outside Canada
The truckers have found support among conservatives and vaccine mandate opponents across the globe, even as Covid-19 measures are being rolled back in many places.
In Paris on Saturday, police fired tear gas and issued hundreds of fines in an effort to break up convoys coming from across France.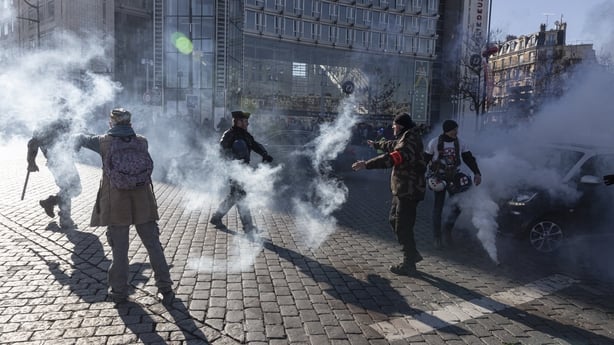 The Netherlands, Switzerland and Austria have also seen copycat movements, and Belgian authorities said this morning they had intercepted 30 vehicles as police scrambled to stop a convoy of trucks.
About 500 cars and campervans arrived in Brussels today, mainly from France, in a convoy to protest against coronavirus restrictions, Brussels mayor Philippe Close said.
The vehicles were barred from the city. Police directed them to a parking place on the outskirts of Brussels, from where protesters continued on foot to a square in the city centre and the area housing European Union institutions.
Reuters reporters saw around 150-200 protesters in the city centre and a similar number in the European quarter.
The mayor told Belgian LN24 television the protest had no permit from the Brussels authorities, no leader and had made no demands.