Germany has reported a new record of 164,000 Covid-19 infections in one day as the lower house of parliament prepared to debate proposals to either require or robustly encourage residents to be vaccinated.
Around 75% of the population has received at least one dose of a vaccine - less than in other western European countries such as France, Italy or Spain, where the equivalent figures are 80%, 83% and 86% - and the vaccination campaign is stuttering.
The proposals being debated include requiring all adult residents to be vaccinated against Covid-19, or only those above 50, or merely requiring all those who have not been vaccinated to receive counselling.
Early on in the coronavirus pandemic, Germany was more successful than many of its peers in limiting infections through case tracking and quarantines.
But since last summer, vaccine-scepticism and a falloff in regional coordination have taken their toll, and public discontent has grown.
The highly contagious Omicron variant, in particular, has sent cases soaring.
The 166 deaths recorded today took Germany's cumulative Covid-19 toll to 117,126.
---
---
Various calls for protests to take place in front of the Reichstag parliament building before and during the debate were distributed on the messaging service Telegram.
Opponents of compulsory vaccination say it violates the second article of the constitution, which guarantees citizens control over their own bodies.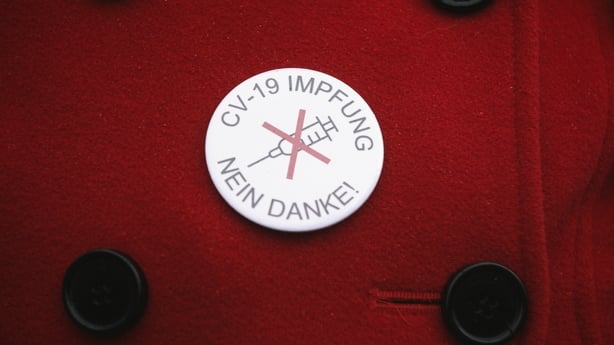 In an Allensbach survey published on Wednesday by the Frankfurter Allgemeine Zeitung newspaper, the share of those who could imagine themselves taking part in protests against anti-coronavirus measures had doubled to 12% in the space of a year.
Denmark aims to scrap all domestic Covid-19 curbs by February

Denmark aims to scrap all remaining domestic Covid-19 restrictions next week, following on from similar announcements in the UK, Ireland and the Netherlands in the past week despite high numbers of Omicron infections in Europe.
The Nordic country already loosened restrictions two weeks ago after a month-long lockdown, allowing cinemas and music venues to reopen, but some rules remain, including limited opening hours for restaurants and mandatory face masks.
In a letter to parliament, Health Minister Magnus Heunicke said the government intends to follow recommendations issued by an expert panel yesterday to scrap all restrictions by 1 February.
The government's decision, which is subject to parliamentary approval, will be the most far-reaching easing of curbs seen among the Nordic countries.
Nightclubs can reopen and restaurants will be able to serve alcohol after 10pm; customers will not need to present vaccine passes upon entry. Commuters can take the bus without having to wear a face mask and shops can lift limits on customer numbers.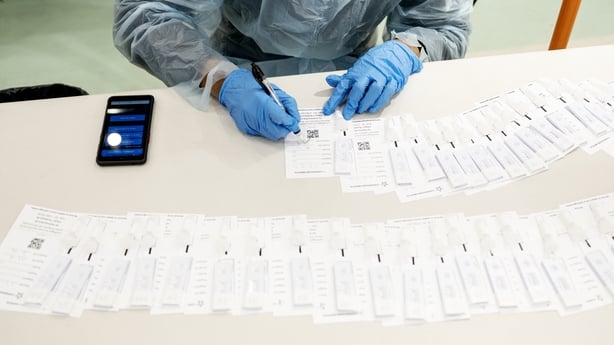 If the changes are approved, the only rules that will remain are those covering test and isolation on entry to Denmark, which will stay in place for another four weeks.
The UK, Ireland and the Netherlands have in the last week announced similar decisions to remove most coronavirus curbs even though infections with the Omicron variant remain high. Among reasons given were case numbers dropping below peaks and lower numbers of hospitalisations than feared.
Denmark logged 46,590 new cases yesterday, slightly below a peak of 47,831 on Friday. The number of coronavirus-related hospitalisations rose to 918, the highest in a year.
But health authorities have estimated between 30%-40% of those currently in hospital with a positive coronavirus test are there for other reasons than Covid-19.
"There has been a decoupling between the trend that was applicable earlier in the epidemic, between increasing infection and increase in Covid hospitalisations," the expert advisory panel said in a report dated 21 January.
Since a peak of 82 on 6 January, the number of Covid-19 patients in intensive care has fallen steadily to 44 yesterday.
Covid cases rise in Beijing ahead of Winter Olympics
Beijing reported 14 local confirmed Covid-19 cases, the highest daily count in its current outbreak, less than two weeks before the Winter Olympics are due to commence in the Chinese capital and in neighbouring Hebei province.
The number of domestically spread infections with confirmed symptoms in Beijing reported for yesterday comprised more than half of the 24 such cases nationwide, data from the National Health Commission showed.
Beijing has detected a total of 55 local cases with symptoms since 15 January, with both the Omicron and Delta variants.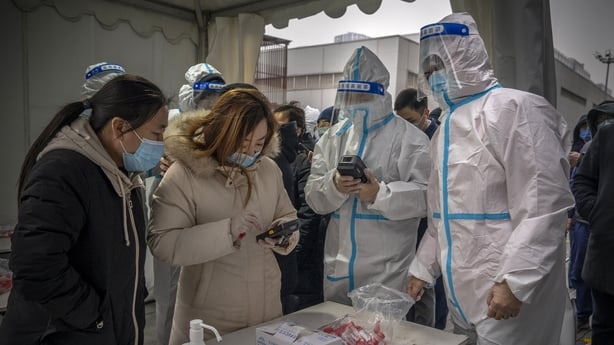 The number is significantly lower than cases elsewhere in the world but the city has put tens of thousands of people under targeted lockdowns and tested a few million residents to block transmission.
Beijing's moves are in line with a national guideline to curb virus flare-ups as soon as possible, which takes on extra urgency as China has vowed to safely host the Winter Olympics Games and prevent major outbreaks during the Lunar New Year travel season.
Aside from Beijing, the provinces of Heilongjiang, Hebei, Liaoning, Henan and Guangdong as well as the region of Xinjiang all reported sporadic local cases with confirmed symptoms, NHC data showed.
In the Horgos city of Xinjiang, two asymptomatic infected people, detected on Sunday, were found to have contracted the Omicron variant, state television said. The two had not left the city in two weeks and the source of the virusremained unclear.
There were no new deaths reported, leaving China's overall death toll from the pandemic at 4,636.
As of 25 January, mainland China had reported a total of 105,749 cases with confirmed symptoms, including both local ones and those arriving from abroad.
South Korea's daily Covid-19 cases surge as new testing scheme begins
South Korea's daily new coronavirus cases have exceeded 13,000 for the first time, driven by the spread of the Omicron variant, as the government launched a new pilot testing scheme to meet skyrocketing demand.
The record 13,012 cases for the previous 24-hour period came just a day after the tally first topped 8,000 despite the extension of tough social distancing rules.
The Omicron became the dominant variant in South Korea last week, and the daily numbers could more than double or surge to even higher levels in the coming weeks, health officials warned.
"Going forward, our top priority is to reduce critically ill patients and deaths," Prime Minister Kim Boo-kyum told an inter-ministry meeting.
The government introduced a new testing policy in four designated cities on a pilot basis, under which only priority groups take a PCR test while others can get a rapid antigen test at a local clinic for faster initial diagnosis.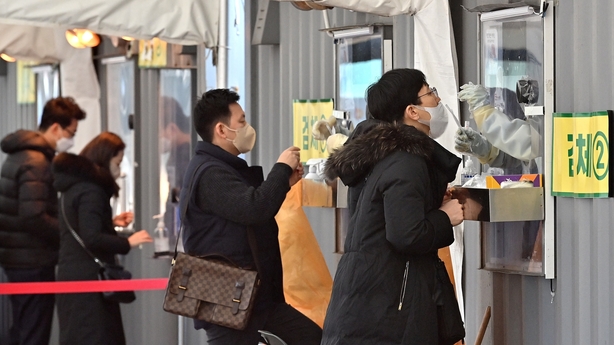 The programme will be scaled up starting on Saturday to enable 256 state-run testing stations nationwide to distribute the rapid antigen self-test kits. Another 430 local clinics will be added next week.
As part of efforts to free up resources for serious patients, the government has also cut mandatory isolation for people who have been vaccinated but tested positive to seven days from ten, and expanded self-treatment at home for asymptomatic and mild cases.
A health ministry official said more than 80% of intensive care unit beds are available nationwide, compared with some 20% in early December when record-breaking infections threatened to saturate the country's medical system.
The Omicron surge has fuelled worries about a new wave of infections ahead of the Lunar New Year holiday which begins on Saturday, when tens of millions travel nationwide to meet families.
President Moon Jae-in also met with aides to oversee the government's efforts, calling for moves to prevent any potential shortages of test kits and ensure sufficient consultations with doctors at local clinics.
South Korea, with a population of 52 million, has largely been successful in mitigating COVID, with 762,983 total infections and 6,620 deaths.
More than 95% of adults are fully vaccinated with some 58% having received a booster dose, according to the Korea Disease Control and Prevention Agency.
Bulgaria posts new record of 12,399 daily Covid infections

Bulgaria reported a record 12,399 coronavirus infections in a single day today, official data showed, with most of the cases caused by the more contagious Omicron variant.
The European Union country, where less than 30% of the population of 7 million has been vaccinated, also recorded another 73 deaths.
Bulgaria's tally of infections exceeds 903,000, with 32,869 deaths since the pandemic began.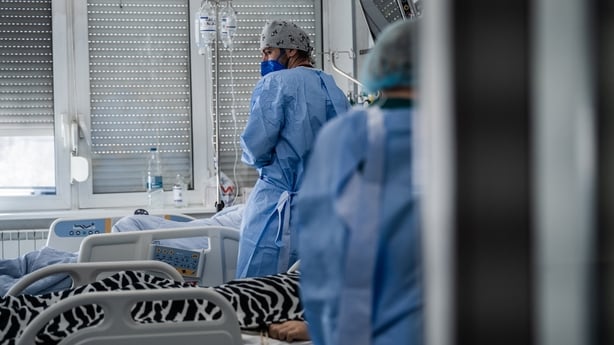 The new centrist government has repeatedly appealed to vaccine-sceptical Bulgarians to get inoculated to avoid pressure on hospitals that could force tougher curbs.
About 5,300 people were admitted to hospital, with 692 of them in intensive care.
A recent jump in the number of children who tested positive for coronavirus has prompted authorities to consider extending a one-day term break to nine, starting from 29 January, the education minister has said.
More than 38% of the students have switched to online classes, while restaurants, cafes and bars in the capital, Sofia, will have to operate at 50% of their capacity and close by 10pm from tomorrow.