Staff at the vaccination centre in Cavan have thrown aside their scrubs and replaced them with superhero costumes, in a bid to make the process less daunting for children.
The staff at the centre, which is based at the Kilmore Hotel, came up with the idea after it was confirmed that children aged 5-11 years-old could receive the vaccine.
"We are aware from our experience, that there is a nervousness. Parents have made the decision that they want their child vaccinated but they're unsure about how it all works here," explains Eddie Ward, Operational Manager at the Cavan vaccination centre.
The vaccination centre is decorated with colourful balloons and staff, including vaccinators, are dressed in costumes from Action Man to Snow White, Bananaman to Spiderman.
The children are given a certificate after they receive their vaccination commending them for their bravery and they can place a ribbon on a wishing tree, which was created by local artist Heather Brett.
Each time a child is vaccinated, they are given a ribbon which they tie to the tree.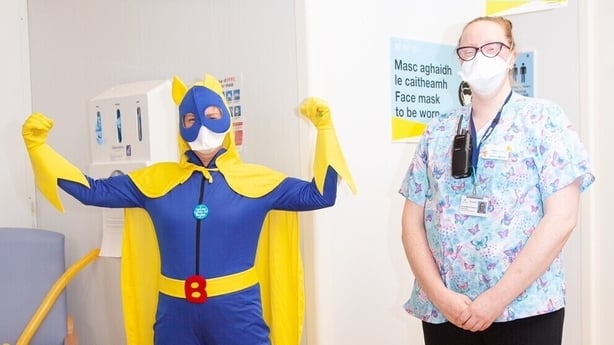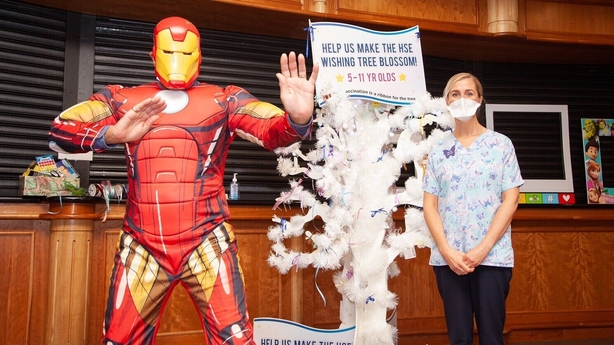 "You can see, the children here are not fearful. They might be slightly anxious, but they know they are somewhere they are going to be looked after and taken care of," he said.
"The more positive the experience it is, the more likely they are to come back for their second vaccine," he explains.
"Some of the children don't want to go home after the 15 minutes observation. I think that's a good sign," he said.
Vaccination uptake in general has been lower in counties Cavan and Monaghan, when compared other parts of the country, despite efforts by the HSE to reach out to people and communities.
"What we are trying to do here, is break down barriers around vaccination and improve access," explains Cara O'Neill, Head of Health Well-Being for the region.
"Here today we are trying to make this a fun experience, but we have also been reaching out to more marginalised groups, we've had bespoke clinic in direct provision centres," she said.
"We've had pop up vaccination clinics where there's been low uptake. We've been to places like Ballyjamesduff and Carrickmacross and that will continue," she added.
"Although restrictions may be easing, we don't want people to forget about the importance of vaccination and that remains our biggest weapon against Covid-19," she said.