Nearly 3,000 residents at a Hong Kong housing estate will be confined to their homes for five days, authorities announced, as they struggle to halt an outbreak of the Omicron coronavirus variant.
The lengthy lockdown order - reminiscent of those used on the Chinese mainland - comes as Hong Kong tacks harder to Beijing's "zero-Covid" policy.
At least 20 confirmed or preliminary positive cases were found in a public housing block in the Kwai Chung neighbourhood, said health chief Sophia Chan.
"Clearly there is a community outbreak and the situation is worrying," Ms Chan told reporters.
A security guard, cleaner and multiple residents living in non-adjacent flats have been infected, with the source thought to be a man who visited the building on 13 January.
"These infection clusters involve superspreading and are of extremely high risk," Ms Chan added.
Edwin Tsui, who heads the Centre for Health Protection, said the virus might have been spread by a cleaner who had to work floor by floor.
Some 2,700 residents will need to stay home until 26 January and be tested daily.
Like China, Hong Kong stamps out even the slightest trace of the virus with largely closed borders, contact tracing, targeted lockdowns and long quarantines.
The five-day "snap lockdown" is the longest ordered yet in the city. Previous building lockdowns have tended to be overnight with residents allowed to leave once they show a negative test.
Those who test positive are taken to isolation wards, while close contacts go to a government quarantine camp.
---
---
The Hong Kong government has said it will provide food and anti-epidemic supplies for affected residents.
But some people were spotted buying groceries in bulk, according to local media reports.
Hong Kong's strict rules have kept the city largely virus-free but internationally isolated.
Already strict social-distancing rules were ramped up after an Omicron outbreak began last month.
Russia sees record daily virus cases amid Omicron surge

Russia has reported a record number of new coronavirus infections over the previous 24 hours, a government tally showed, with officials warning of surging cases driven by the Omicron variant.
A government website reported 49,513 new infections in Russia, which is already one the world's worst-hit countries by caseload, surpassing the previous record set in November of 41,335.
The number of cases across Russia has risen sharply in recent days, with authorities predicting an imminent surge due to the fast-spreading Omicron variant.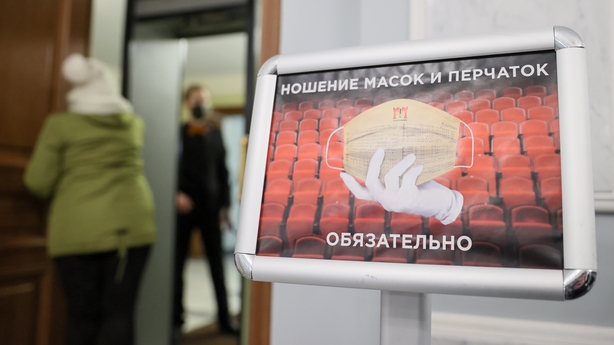 The new record set comes one day after Moscow - the epicentre of the outbreak in Russia - said it had seen its highest number of new cases.
Russian President Vladimir Putin warned last week that the country had two weeks to prepare for a surge in cases, calling for more testing and vaccinations.
The developers of Russia's flagship vaccine, Sputnik V, said this week that its jab demonstrated "strong protection" against Omicron, pointing to a study carried out by the Spallanzani Institute in Italy.
With four vaccines widely available for months, Russians remain reluctant to get jabbed with just under half of the population fully vaccinated.
Russia's government figures have reported 324,752 deaths from Covid-19 since the start of the pandemic - the highest death toll in Europe.
Those figures are contradicted by statistics agency Rosstat, which counts Covid deaths under a broader definition and says the overall death toll is close to double the official figure.
EU health ministers seek common line over fourth Covid vaccine dose
European Union health ministers will try to find a common line over a potential fourth dose of Covid-19 vaccines, amid a surge in cases sparked by the Omicron variant.
The EU drugs regulator said earlier this week it would be reasonable to give a fourth dose to people with severely weakened immune systems, but more evidence was needed.
Ministers will discuss "the administration of the fourth dose," said a press release issued by the French presidency of the EU, which organised the video-conference for health ministers at short notice.
EU members Hungary and Denmark have already decided to rollout a fourth dose of Covid vaccines.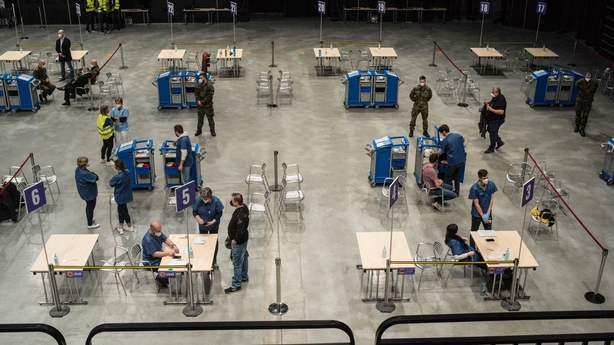 Copenhagen said it would do so for the most vulnerable, while the Hungarian government said everybody could get it after a consultation with a doctor.
The rollout of fourth doses began in Israel last month, making it the first country to administer the so-called second booster.
Wealthier nations decided to speed up the rollout of third doses amid a wave of new cases caused by the more contagious Omicron variant, but remain divided over a fourth one.
Many consider that more data is needed before making decisions on that.
The French presidency said the video conference was meant to find a common approach at an EU level on vaccination strategies.
The meeting will also discuss coordination of other Covid policies, including for possible new joint purchases of vaccines, as "vaccines adapted to variants are coming soon," the French presidency said.
Vaccines adapted to Omicron could be ready as early as March, but the EU drugs regulator has said it is not yet clear whether they are needed.
Work is under way to develop multivalent vaccines that could protect against multiple variants, but it is not known when or if they could be available.
Clashes erupt again over Covid curbs on French island of Guadeloupe

One police officer was injured and police faced gunfire during a night of civil unrest over Covid-19 restrictions in Guadeloupe, a French overseas territory in the Caribbean.
Shops were vandalised and there were attempted robberies during the unrest, focused on Guadeloupe's largest urban centre, Pointe-a-Pitre.
Police moved in at dawn to clear blockades set up by protesters.
An 8pm to 5am curfew has been in force since 10 January in Guadeloupe, where the vaccination rate is much lower than in mainland France, as the island grapples with a new wave of the pandemic fuelled by the Omicron variant.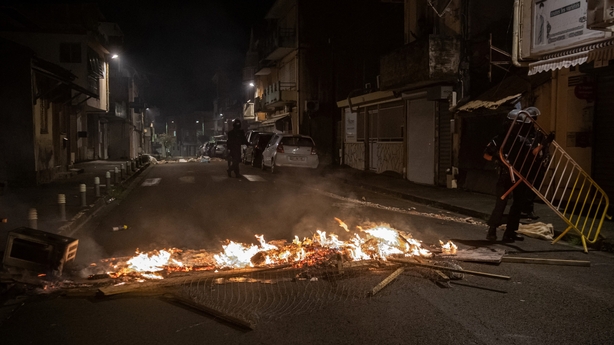 Similar restrictive measures triggered violent protests last month in Guadeloupe and also Martinique, another French overseas territory in the Caribbean.
The curbs in Guadeloupe are in contrast to mainland France, where Prime Minister Jean Castex has announced a loosening of Covid curbs next month, despite the number of daily new infections being at a record level.
In Guadeloupe there has been mistrust of the French government's handling of health crises since the 1970s when many islanders were exposed to toxic pesticides used in banana plantations.
The French government said in November that it was open to discussing autonomy for Guadeloupe if it were in the interest of the people who live there.