The General Secretary of the Irish Nurse and Midwives Organisation said they are "very happy" with the Government's announcement that frontline healthcare workers will receive a €1,000 bonus, adding that it is "the right thing to do".
Speaking on RTÉ's Today with Claire Byrne, Phil Ní Sheaghdha said healthcare workers have made extraordinary sacrifices.
"Many of them have been working in environments that the rest of us in society must thank them for," she said.
"We can only imagine what they've been through."
Ms Ní Sheaghdha said nurses and midwives went into "very dangerous situations" pre-vaccination and were not sure what the effects of that would be.
"It's a small thank you but it's very welcome," she added. "It's something that we sought last November and it's the right thing to do."
Meanwhile, the Irish Medical Organisation said that it notes the bonus but added that it has yet to see details of how it will "be applied which will require consideration".
Eamon Donnelly, head of health at Fórsa trade union, said they are short on detail and are not clear which of their members will qualify for the payment.
Speaking on RTÉ's News at One, Mr Donnelly said it seems to suggest that the sliding criteria is a "clinical Covid-exposed environment", which he said can mean many different things.
"At the outset of the pandemic, when we didn't know about the virus and the PPE was substandard, a number of our people would have went testing and swabbing - and that is a Covid environment," he said.
"The people presenting for testing would have been suspected Covid cases.
"I would say that that would be a Covid-exposed environment."
Mr Donnelly said they welcome the fact that the Government "after all this time has done something".
He said he thinks it will satisfy a number of people's expectations, but others will "feel a bit let down".
"Many, many people rolled up their sleeves and did different things at one day's notice, and I think the country acknowledges that," he said.
"Maybe a commemoration day and a public holiday will go some way towards at least affording people recognition, but again, a lot of the traction on this will be in the detail of who is encompassed and I don't have answers to that at the moment."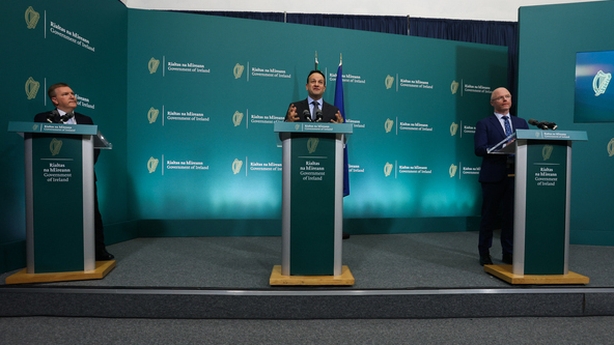 Clarificiation has been sought from carer representative organisations in relation to the Covid-19 bonus payments announced by the Government today.
Family Carers Ireland and Home and Community Care Ireland have questioned why carers have been excluded from the payment.
Home and Community Care Ireland has written to the Minister for Health Stephen Donnelly, the Minister for Older people Mary Butler and the HSE seeking "urgent clarity" on whether home care workers - employed by the HSE or privately - will be eligible for the payment like their counterparts in other healthcare settings.
The HCCI says it is understood that public healthcare workers in hospitals and nursing homes will be eligible to receive the payment as well as private healthcare workers employed in privately run nursing homes.
The email from CEO Joseph Musgrave notes that homes proved to be the safest places to care for people during the pandemic with infection rates rarely above 1% of the client base at any one time.
"That success is down to the hard work of our home carers. It would be totally wrong of Government to exclude home care workers from the Covid-19 bonus payment especially if healthcare workers in other settings were eligible and they were not."
Family Carers Ireland has called on the government to recognise the vital role of carers during Covid-19.
In a statement it has said that family carers were overlooked in the provision of PPE, priority testing and vaccination during the pandemic.
It has called for an extension of the €1,000 Covid bonus to all full time family carers.
"The role they've played in keeping their loved ones safe and the impact on their own mental and financial wellbeing continues to be ignored," it said.
Head of Communications and Policy Catherine Cox said an extra bank holiday will be of no help to family carers.
"In fact, it will potentially increase the burden of care as schools and day services will close", she said.
Social Democrats TD Gary Gannon said "family carers should absolutely be able to avail of this scheme".
"Anything else is an insult to a cohort of people who provide care to vulnerable people, be they family or otherwise, every single day."
Additional reporting Ailbhe Conneely