The number of Covid-19 cases in China has reached its highest since March 2020, as Beijing races to stamp out the highly transmissible coronavirus variant just three weeks before hosting the Winter Olympics.
China, where the virus first emerged in late 2019, has stuck to a strict policy of targeting zero Covid cases even as the rest of the world has reopened.
But its approach has come under sustained pressure in recent weeks with multiple clusters across the country just as the Games are about to get under way in Beijing.
There were 223 cases reported in China today, including another 80 in the virus-hit port city of Tianjin, and nine more, including Omicron cases, in the key manufacturing hub of Guangdong.
Athletes and officials have already started to land in the capital ahead of the Games, immediately entering a tightly-controlled bubble that separates them entirely from the rest of the population.
But after a local Omicron case was detected over the weekend, authorities have also tightened regulations for those arriving in the capital from elsewhere in China.
---
Read more:
Latest coronavirus stories
---
The city is now demanding a negative test before travel and a follow-up test after entering the city, with residents urged not to leave the city for the upcoming Lunar New Year holiday.
Some tourist sites in the capital have also been closed.
Analysts have warned that the ongoing zero-Covid approach - which includes swift and targeted lockdowns and travel restrictions - will increasingly weigh on the economy.
Another 68 cases were reported across central Henan province, where partial lockdowns and mass testing have been rolled out for millions of residents.
Zhuhai, the mainland city bordering the gambling hub of Macau, has told residents to avoid leaving the city after detecting a handful of Omicron cases and started testing the whole city from today.
Schools have also been closed.
Meanwhile in the historic northern city of Xi'an, normally a popular tourist destination, infections have slowed to single-digit figures after nearly a month under lockdown.
Sixty more imported cases were also recorded, as China maintains strict controls over border entry including slashed flight numbers and a "circuit breaker" policy where routes are halted if the number of infections brought in is too high.
Nepal starts giving Covid-19 vaccine booster shots
Nepal began giving Covid-19 vaccine booster shots as coronavirus infections surged due to the spread of the Omicron variant, officials said.
Daily cases jumped by 4,961 yesterday, the biggest 24-hour increase in more than six months, taking total infections to 955,206, government data showed.
Covid-19-related deaths stand at 11,620, the data showed.
The booster shots will be restricted to frontline workers for one week from today, the Health Ministry said, after which they will be offered to people 60 and older.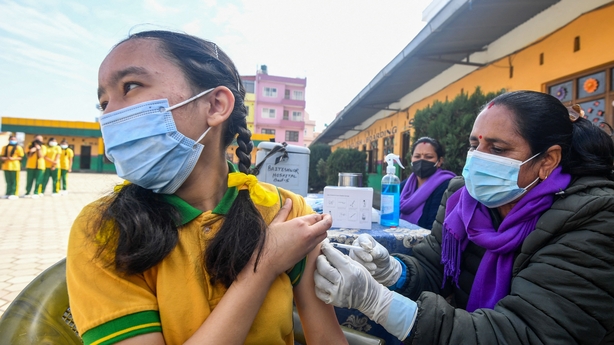 Nepal, a natural buffer between China and India, has double-vaccinated 39.9% of its 30 million people in a campaign that began early last year.
The government has banned large public gatherings and closed schools and colleges until the end of January to curb the rate of infection.
Authorities have also made it compulsory for people to produce proof of full vaccination to use public services from this week, prompting large queues at vaccine centres.
Japan considering state of quasi-emergency for Tokyo - reports
Japan's government is discussing whether to impose a quasi-state of emergency in the capital, Tokyo, and surrounding areas this week to contain a surge in Covid-19 infections, broadcaster FNN said.
The Omicron variant is driving a resurgence in coronavirus cases, which are hovering near record levels, after new infections exceeded 25,000 nationwide in the past two days.
Last week, Tokyo Governor Yuriko Koike said the capital would request measures such as a quasi-emergency if the use of beds allocated for Covid-19 patients climbed to 20%. Yesterday, the figure was 19.3%.
The measures being considered by the government will cover nine prefectures in addition to Tokyo, FNN reported.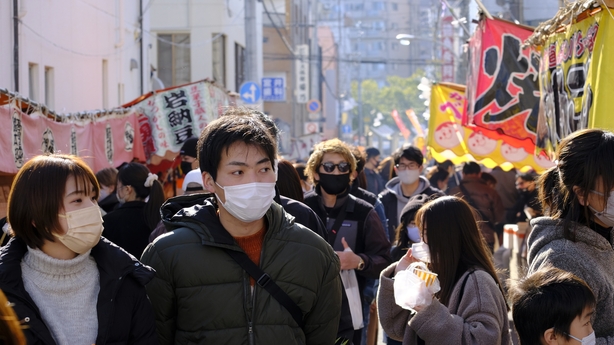 The move would follow curbs this month in three regions hosting US military facilities, after it appeared that base outbreaks of Omicron spilled into surrounding communities. The measures include shorter opening hours for restaurants and bars.
However, the effectiveness of emergency declarations in changing people's behaviour has waned after Japan repeatedly deployed the measure throughout the pandemic, said public health expert Kenji Shibuya.
"Omicron is a very important test case for any community," he said, adding that authorities had to figure out how best to manage the disease while keeping up socio-economic activity.
The essential goal now is to accelerate booster shots, testing and handing out oral treatments to keep Omicron infections from overwhelming hospitals, he added.
Differing degrees of emergency measures adopted in various parts of Japan last year were lifted at the end of September.
A full declaration of emergency would be sought when occupancy of hospital beds in Tokyo reached half, Ms Koike said last week.
The capital has allocated about 6,900 beds for coronavirus care, of a total of about 128,000 in the region.
India's main cities record sharp fall in Covid-19 infections

India's capital Delhi and financial hub Mumbai have reported a big fall in Covid-19 infections in the past two days and most of those who contracted the virus have recovered at home, authorities said.
Mumbai's daily new infections fell below 10,000 yesterday for the first time since early this month, after touching an all-time high of 20,971 on 7 January. It reported 7,895 infections late yesterday, Mumbai's municipal corporation said.
Delhi's cases have fallen consistently since hitting a peak of 28,867 on 13 January and is expected to be fewer than 15,000 today, for the first time since early January, the city government's health minister told reporters.
Both cities have said more than 80% of their Covid-19 hospital beds have remained unoccupied since the Omicron variant led to a massive surge incases from the start of the year.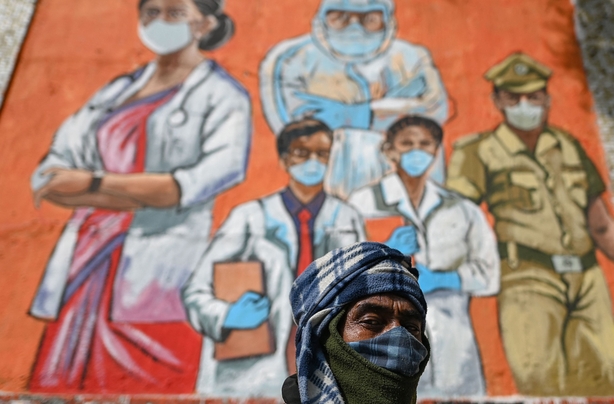 Experts have attributed the low hospitalisations to high levels of previous infections and vaccination.
India has fully vaccinated about 70% of its 939 million adults and hopes to give the primary two doses to another 70 million or so teenagers by next month.
The government has advised states to mainly ask only people with symptoms of Covid-19 to get tested instead of random checks like earlier that badly stretched resources, especially in the last major wave in April and May when millions were infected and thousands died.
India's Covid-19 infections rose by 258,089 in the past 24hours, the health ministry said, taking the tally to37.38 million - the most in the world after the United States.
Deaths rose by 385 - nearly 40% of them due to a delayed recording of previous fatalities in the southern state of Kerala - for a toll of 486,451. Only the United States and Brazil have reported more total Covid-19 deaths.