Temporary hospitals are to be built in England to deal with a potential overspill of in-patients, as surging Covid-19 cases put the country's health service on what officials described as a "war footing".
Fuelled by the highly contagious Omicron variant, daily cases across the UK have ballooned to more than 183,000 today, while the number of patients in hospital with the virus in England has gone above 10,000 – the highest figure since March.
NHS England said it would build the structures, known as 'surge hubs', in the grounds of eight hospitals in cities including London, Bristol and Leeds from this week, with each designed to house around 100 extra patients.
"Given the high level of Covid-19 infections and increasing hospital admissions, the NHS is now on a war footing," National Medical Director Stephen Powis said.
He added that he hoped "we never have to use these new hubs".
The extra beds are designed for patients who are recovering from illnesses, including those who no longer have Covid, to free up space and staff in the adjacent hospitals to treat large numbers of virus cases.
The British government opened large 'Nightingale' field hospitals in venues such as exhibition centres during the first wave of the virus, but they were not widely used, and staffing was a problem due to their vast size.
This time, the plan is to make available as many as 4,000 'super-surge beds', in some cases using existing hospital facilities such as gyms or education centres.
Staff shortages a worry
Health Secretary Sajid Javid said: "We hope the Nightingale surge hubs at hospitals will not have to be used but it is absolutely right that we prepare for all scenarios and increase capacity."
There have been warnings, however, about rising staff shortages due to people off sick or self-isolating with the virus.
Pat Cullen, general secretary of the Royal College of Nursing professional body and union, told Sky News: "At this point in time we have no idea how we're going to be staffing those additional hubs as they are set up."
Chris Hopson, head of NHS Providers, which represents some healthcare sectors, warned that in some areas, staff absence rates due to Covid-19 mean there are "significant numbers of ambulances off the road".
England is the exception in the UK in not imposing extra restrictions the festive period, while Wales, Scotland and Northern Ireland have imposed limits on how many people can socialise together, and have closed nightclubs.
British Prime Minister Boris Johnson has said that the high booster take-up rate in England, plus evidence that Omicron is milder, have allowed the country to avoid more restrictions.
Xi'an residents complain of lockdown food shortages
Residents in the locked-down Chinese city of Xi'an said they were struggling to find enough food, despite Beijing insisting today that there were now adequate supplies.
China has followed a strict 'zero Covid' approach involving tight border restrictions and swift, targeted lockdowns since the virus first surfaced in the city of Wuhan in late 2019.
The country's commerce ministry told reporters today that Xi'an's 13 million residents - who were placed under lockdown eight days ago - had "sufficient" access to essential supplies.
State TV showed footage of workers in hazmat suits sorting eggs, meat and vegetables into plastic bags, before delivering them to residents door-to-door.
Local officials said at a later press conference that they had handed out hundreds of tonnes of free food and supplies in recent days.
But they also asked residents to exercise "understanding and tolerance" as they smooth out supply "discrepancies".
"At present, Xi'an is speeding up its preparations and coordination [for delivering supplies]," said local official Zhao Li.
"There will be some discrepancies in the timing of supplies during this process, which also varies in practical terms from place to place."
However, locked-down people inside Xi'an contacted by AFP said they were struggling to secure enough food.
Resident Ada Zhao said she knew of some individual housing compounds that had received deliveries, but said it was "still a very small number".
"In our community, we've not received any notices on deliveries of life essentials and how to collect them."
She said soaring demand for online grocery services meant there wasn't enough stock or drivers, with people "struggling to get the food they need on time".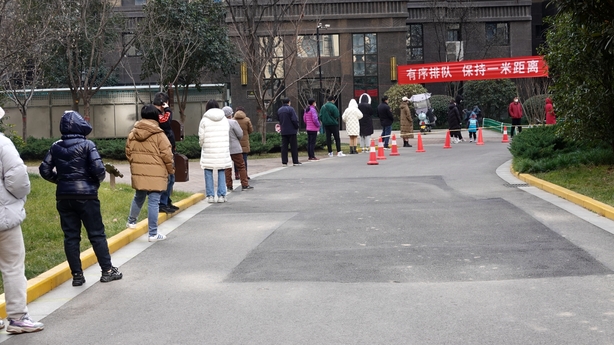 Another woman who spoke to AFP said she had not had received any food, but had managed to receive a delivery from the local convenience store two days ago.
"I have rice at home... I have several eggs left - one per meal, one meal per day," she said.
While low compared to outbreaks around the world, daily infections remained high in Xi'an by China standards, with another 155 infections reported today.
There have been more than 1,000 cases reported in the city since 9 December.
Other tough curbs to control the city cluster have included ordering all cars off the road, telling students to remain in their dormitories, and multiple rounds of mass testing.
Strict new restrictions in India after Covid-19 spike
Indian authorities started to impose stringent rules today to prevent mass gatherings at parties and public venues ahead of New Year celebrations as the nation sees a spike in Covid-19 infections.
Night curfews have been imposed in all major cities and restaurants ordered to limit customers, officials said.
However, state authorities were finding it difficult to limit crowding in markets, religious sites and holiday destinations as they were allowed to remain open, the officials said.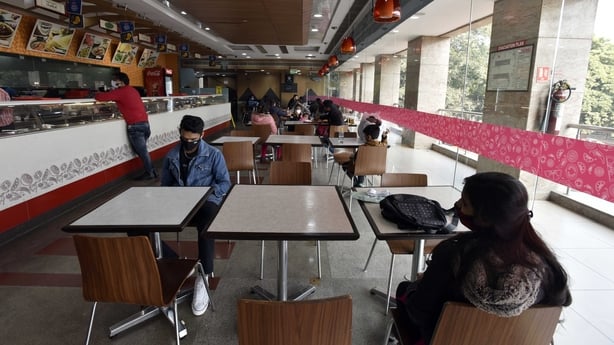 The country reported 13,154 new coronavirus cases and 268 deaths in the last 24 hours, the federal health ministry said, with urban centres reporting a big jump.
It was the highest number of daily infections since October. Cases of infection by the Omicron variant rose to 961 across India.
In Delhi, a "yellow alert" was issued, allowing just 50% capacity on public transport and in restaurants. Schools, colleges, cinemas and gyms were ordered to close.
Police in the financial capital Mumbai prohibited public gatherings of five or more residents until 7 January as it recorded a sharp jump in cases with 2,510 infections, the highest daily increase since May, local authorities said.
"It is being seen that social gatherings are going on in an unrestricted manner with people flouting all social distancing norms...we are trying our best to control the spread of the virus," said Rajesh Tope, the health minister of the western state of Maharashtra of which Mumbai is the capital.
Mr Tope said the next 48 hours were critical for authorities to prevent an escalation of fresh infections.
J&J booster cuts Omicron hospitalisations in South Africa - study
A booster dose of Johnson & Johnson's single-dose Covid-19 vaccine was 84% effective at preventing hospitalisation in South African healthcare workers who became infected as the Omicron variant spread, researchers said today.
The real-world study, which has not been peer-reviewed, was based on a second dose of the J&J vaccine administered to 69,092 workers between 15 November and 20 December.
An initial course of inoculation has been shown to offer only greatly reduced protection against infection by Omicron, which is spreading quickly through many countries after first being identified in late November in southern Africa and Hong Kong.
However, several studies have suggested that a booster dose provides significant protection against severe illness from the variant.
The South African study showed the J&J vaccine's effectiveness at preventing hospitalisation rose from 63% shortly after a booster was administered to 84% 14 days later.
Effectiveness reached 85% at one to two months post-boost.