There are no "silver bullets" or perfect answers to working through this pandemic, Dr Mike Ryan, head of the World Health Organization's Health Emergency Programme, has said.
Dr Ryan was speaking alongside Minister for Overseas Development Aid and Diaspora Colm Brophy in an online discussion as part of the Institute of International and European Affairs (IIEA's) 2021 Development Matters series, supported by Irish Aid.
"We can't vaccinate our way out of this, we can't lockdown our way out of this, what we have to do is have coherent, multilayered strategies that get us through to the end of this pandemic," Dr Ryan told the event.
He said the current Omicron variant is spreading very rapidly. "In many cases it's beginning to replace the circulating Delta and other strains," he said.
There was no doubt that the rising numbers and force of infection would generate more hospitalisations in the coming weeks, he added. "Not because the virus is more virulent - the sheer weight of numbers will generate that."
When it comes to vaccination, Dr Ryan said a decrease in antibodies could be found following many vaccinations over time.
"The issue is whether protection against severe illness and hospitalisation is maintained.
"There is some preliminary data from South Africa that is actually showing that the vaccines seem to be holding up quite well in terms of protecting against severe disease and illness, and some data to suggest that there aren't the same number of hospitalisations that would have been expected, given the number of cases, compared to the Delta wave.
"But again all of that is extremely preliminary," he said.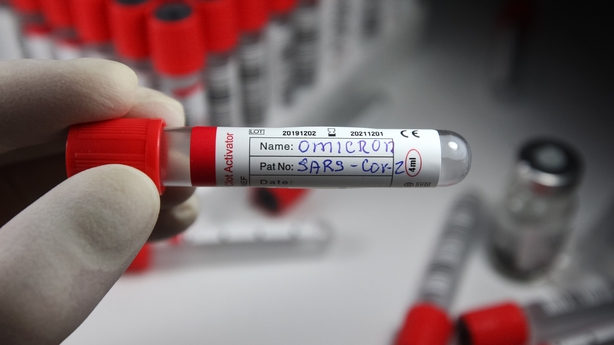 Dr Ryan added: "The issue is not just the coverage in each country but it's the targeted coverage in each country. Who has been missed?"
He said: "The reality is that people over 55 years of age, people with underlying conditions, who are immunocompromised are much more likely to be severely ill and die from this disease so primary vaccination in those groups all over the world is a top priority."
He said there were circumstances in which giving a third or booster jab were "very much justified", but he added: "People are always asking should we be going for primary vaccination or booster dose and the answer is very much both."
"We need to be focusing on getting those who are unvaccinated, vaccinated as quickly as possible and then being able to give booster doses to those in vulnerable groups again. That is the best use of the vaccine."
Commenting on whether governments should act nationally to protect their citizens or take a more global approach, Dr Ryan added: "The best use of any given dose of vaccine right now is to vaccinate a vulnerable person who has not been vaccinated, wherever they are and then to look at the issues around booster doses."
He said there was not enough data yet to make a full determination about Omicron.
"There is no doubt with the Delta variant that the vaccines lost a little protection against infection but they held up very well against hospitalisation and death."
"We're waiting to get the data on that. There is some data coming through but it is very preliminary," he said.
He said he would expect current vaccines to provide significant protection against hospitalisation and death "in people who've had a full primary course".
But he said there remained unvaccinated people in every country and some people had moved away from the most basic protections for themselves, "be it government policy or individual behaviour, in terms of mask-wearing, avoiding crowded places, in terms of hand washing, in terms of ventilated spaces".
He said this was likely to drive transmission leading to "huge numbers" of cases.
"Even if Omicron turns out to be a milder disease in an individual patient, if we generate millions and millions and millions of cases, we will fill the hospitals up, we will fill the ICUs up."
He said it was important for hospitals to make sure they were ready.
Covid surge in Africa, but fewer deaths than before: WHO
Meanwhile, the WHO has said Africa has recorded a massive rise in Covid cases over the last week, but the number of deaths is lower than with previous waves.
The 83% surge means however that the continent will not get 70% of people fully vaccinated - considered essential to halt the pandemic - until August 2024.
"We are cautiously optimistic that deaths and severe illness will remain low in the current wave," said Dr Matshidiso Moeti, WHO's Regional Director for Africa.
"But slow vaccine rollout in Africa means both will be much higher than they should be."
Low vaccination rates risk providing a breeding ground for new variants, such as the rapidly spreading Omicron strain, said the latest updated from the WHO in Africa.
The surge in South Africa was particularly pronounced: the country recorded a 665 increase in cases over the past week compared with the previous seven days. For the moment however, deaths and critical cases remained low.
"We've known for quite some time now that new variants like Beta, Delta or Omicron could regularly emerge to spark new outbreaks globally, but vaccine-deprived regions like Africa will be especially vulnerable," Dr Moeti said.
At the current rate, WHO estimates it will take until May 2022 to have 40% vaccination coverage in Africa and August 2024 to reach 70%, said the WHO-Africa statement.
As of 13 December, only 20 African countries had vaccinated at least 10% of their population - the global target WHO had set for September 2021.
Only six countries have hit the year-end target of fully vaccinating 40% of their population, while only two - Mauritius and Seychelles - have reached 70%.