The US Food and Drug Administration (FDA) has expanded authorisation of the Pfizer-BioNTech Covid booster to include 16- and 17-year-olds, amid growing concern over the Omicron variant's ability to overcome immunity conferred by two shots.
The FDA's decision comes a day after the companies released the results of lab tests that showed three doses appeared effective against Omicron, while two doses were probably not enough to stop infection - though may still prevent severe disease.
Even before Omicron emerged, there had been concerns about waning immunity over time, and the US and many other northern hemisphere countries are experiencing winter waves driven by the currently dominant Delta strain.
The expanded emergency use authorisation, which applies six months after the primary vaccination series, is expected to be quickly reviewed and ratified by a second agency, the Centers for Disease Control and Prevention.
"Vaccination and getting a booster when eligible, along with other preventive measures like masking and avoiding large crowds and poorly ventilated spaces, remain our most effective methods for fighting Covid-19," said acting FDA chief Janet Woodcock.
In a statement, the FDA said the evidence supporting the decision came from previously collected immune response data from people aged 18 and older, which they inferred could be extended to 16- and 17-year-olds.
Rare cases of myocarditis (inflammation of the heart muscle) and pericarditis (inflammation of the outer lining of the heart) have been linked to the use of mRNA vaccines in younger males.
Both the Pfizer and Moderna shots use mRNA technology, with Moderna packing a higher dose.
But the FDA said the accumulation of real world data, together with the increasing number of Covid cases, meant that the benefits of a booster in this age group outweighed the risks.
China grants emergency approval for its first Covid drug
China's drug authority has granted emergency approval for the country's first specialised treatment against Covid-19, found in clinical trials to significantly reduce hospitalisations and deaths among high-risk patients.
The move comes as regulators around the world give the green light to treatments - particularly for high-risk groups - amid worries over the new Omicron variant.
China is also grappling with a growing number of studies that show its vaccines have lower efficacy rates than many of those made overseas.
In an official notice published yesterday, China's National Medical Products Administration said it has granted "emergency approval" for a monoclonal antibody treatment.
A monoclonal antibody is a type of protein that attaches to the spike protein of the coronavirus, reducing its ability to enter the body's cells.
The treatment involves a combination of two drugs, administered through injections, and can be used to treat certain cases that are at risk of progressing in severity, the drug authority said.
---
---
It was co-developed by Tsinghua University, the Third People's Hospital of Shenzhen and Brii Biosciences.
Trial data showed that the combination therapy could reduce the risk of hospitalisation and death in high-risk patients by around 80%, Tsinghua University said in a statement.
Coronavirus spreads in Australia's pubs; Omicron cases linked to party boat
Covid-19 infections have been spreading in pubs and clubs in Australia's biggest city, including three new cases of the Omicron variant found among people who went on a harbour party cruise, sending officials rushing to trace contacts.
Authorities have been easing restrictions in Sydney since early October when the city emerged from a nearly four-month lockdown to contain the Delta variant after the population reached higher vaccination levels.
"We have seen recently increased transmission in larger social venues ... and that is certainly a contributing factor to the increase in cases," Marianne Gale, New South Wales Deputy Chief Health Officer, said in a video posted on Twitter.
Dozens of people who attended a Sydney pub quiz tested positive for the coronavirus and officials are awaiting the results of genomic tests to see if they are infected with the Omicron variant.
Daily Covid-19 infections have been steadily rising as restrictions have eased with New South Wales state, which includes Sydney, logging 420 new cases, its biggest rise in about two months, with most caused by the Delta variant.
The number of Omicron infections has been creeping up since Australia reported its first case about two weeks ago.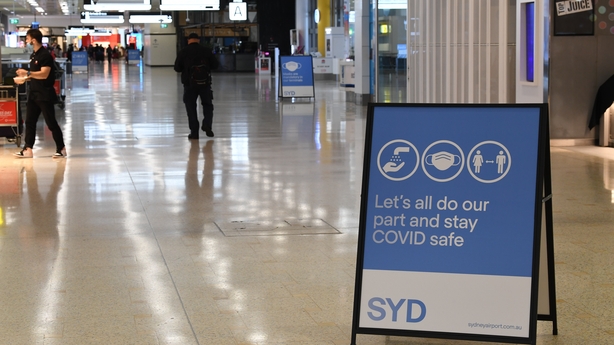 Some 50 cases have now been detected, including the three linked to the Sydney party boat.
The variant is potentially more contagious than previous ones although initial signs point to a more mild illness.
None of the 151 people in hospital in New South Wales for Covid-19 are infected with the Omicron variant.
Australia has fared much better than many countries in containing the pandemic, with nearly 224,000 cases and 2,082 deaths, mostly due to its decision to close borders in March 2020.
Omicron spreading in Africa but data suggests 'less severe': WHO
Cases of coronavirus in Africa nearly doubled over a week as Omicron spread, but hospitalisations in South Africa, where the new variant was discovered, remain low, the UN said.
In a weekly online press briefing, the World Health Organization's Africa branch said the continent had recorded 107,000 extra cases in the week to Sunday, compared with 55,000 in the previous week.
Omicron "is reaching more countries in Africa," it said, adding that research was being stepped up to see whether the new variant was specifically behind the sharp rise.
The biggest surge in numbers – 140% on average -- was in the south of the continent.
However, in South Africa, which discovered the new variant last month, "severe cases remain low," the WHO said in a statement.
"Emerging data from South Africa indicates that Omicron may cause less severe illness," it said.
"Data which looked at hospitalisations across South Africa between 14 November and 4 December found that ICU (intensive care unit) occupancy was only 6.3 %.
"(This) is very low compared with the same period when the country was facing the peak linked to the Delta variant in July."
The agency reiterated its objections to travel restrictions, which it said had been issued by more than 70 countries and were overwhelmingly aimed at southern Africa, even though countries in the region had been "transparent with their data."
Hong Kong mandates Covid tracing app for most adults in bars, restaurants
The Hong Kong government made its check-in app mandatory for most adults in bars and restaurants, the latest expansion of coronavirus tracing tech at a time of heightened privacy concerns in the city.
The international finance hub has kept infections at bay thanks to mostly closed borders, some of the world's strictest quarantine rules and ongoing social distancing rules.
No local infections have been recorded in months, but the city is further ramping up virus measures, aligning with China's zero-Covid strategy as it seeks quarantine-free travel with the mainland.
From today, all adults under 65 must use the city government's Covid app, scanning QR codes to log their presence at 18 types of premises - including eateries, cinemas, gyms and karaoke venues.
The logs can be used to trace infections if there is an outbreak.
Children and the elderly were exempted at the last minute after a public backlash against the proposal to make the app mandatory for all.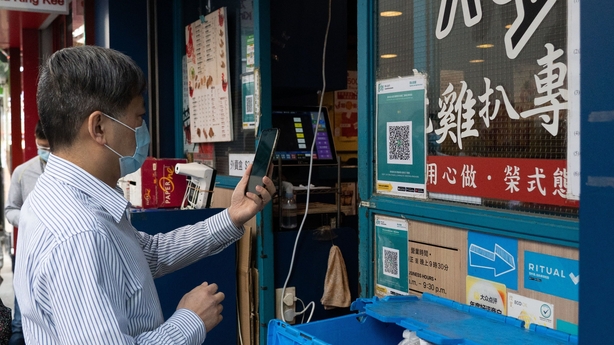 The "Leave Home Safe" app has been in use since November 2020, but until today, it was not mandatory and people could still fill out paper slips when entering venues.
Chum Tak-shing, a local district councillor in Sham Shui Po, said many older residents who are not exempted in his working-class district do not own, and cannot afford, a phone to run the app.
User information on Hong Kong's check-in app is currently linked to phone numbers, not names.
Mainland China, however, uses a tracing app that is linked to people's identities.
Last week, Hong Kong announced anyone wishing to travel to the mainland would need to download a version of that app.