The mayor of Rio de Janeiro has cancelled New Year's Eve celebrations after Brazil confirmed the first known cases of the Omicron coronavirus variant in Latin America's biggest country.
Eduardo Paes tweeted today that he would follow the commendations of Rio de Janeiro state to cancel the celebrations, despite the city's own view to the contrary.
"We respect science," Mr Paes tweeted, saying there are dissenting opinions between scientific committees in the city and the state, but he would rather stick with the most restrictive one.
"The city's committee says it can go ahead and the state's says no. So it can't take place. Let's cancel the official New Year's Eve celebration in Rio," the tweet said.
The cancellation of the party, which attracts millions of residents and tourists to the world-famous Copacabana beach to watch the fireworks, does not come as a surprise.
"I am very sad as mayor and personally. The New Year's Eve celebration in Rio is one of the most incredible and incomparable parties in the world," Paes told a press conference.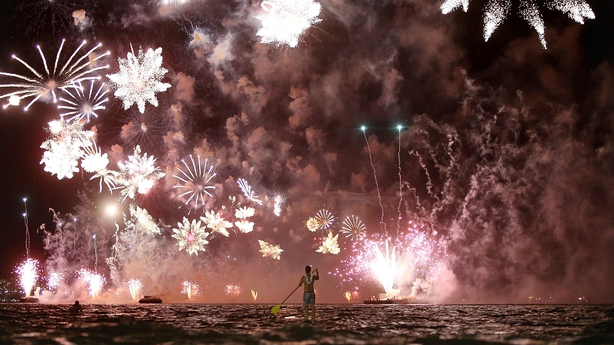 In Brazil, the pandemic has claimed more than 615,000 lives, the second highest total in the world after the United States.
Paes said no additional restrictions would be imposed, stressing that vaccinated tourists are welcome in Rio de Janeiro as the city has recorded a drop in deaths and cases, and a high level of vaccination.
The cancellation was supported by health experts, through a tweet by Rio de Janeiro Governor Claudio Castro after Mr Paes' announcement left room for a potential reversal.
Dutch former queen Beatrix tests positive for Covid-19
Dutch former queen Beatrix, 83, has tested positive for Covid-19, the royal information service RVD said in a statement today.
Princess Beatrix, as she has been known since her abdication in 2013, got tested after coming down with "mild cold symptoms", the statement said.
"The princess is at home in isolation and adheres to the rules of life for people who have tested positive," it added.
The Netherlands has been experiencing a record-breaking wave of Covid-19 cases that is threatening to overwhelm the country's healthcare system.
Omicron variant tests Australia's reopening plans
The Omicron variant spread in Australia has tested plans to reopen the economy as a cluster in Sydney grew to 13 cases and an infection was suspected in the state of Queensland.
Federal authorities are sticking with a plan to reopen the economy on the hope that the new variant proves to be milder than previous strains, but some state andt erritory governments have moved to tighten their domestic border controls.
Australia reported its first community transmission of Omicron yesterday at a school in Sydney. Authorities are investigating the source and said more cases were expected.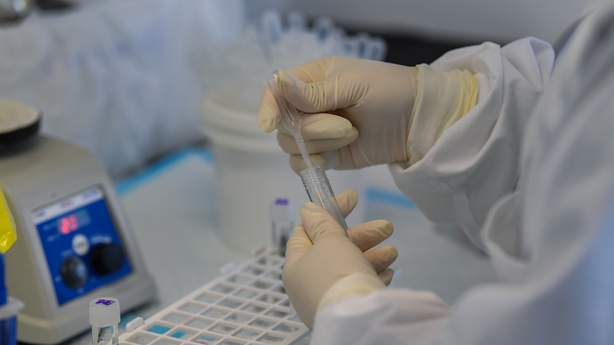 Queensland authorities suspected its first Omicron case in a person who travelled from South Africa and that genome sequencing was ongoing.
"The public health unit have ruled out that it is Delta but we haven't been able to confirm if it is Omicron," state Health Minister Yvette D'Ath. "But it is being treated as if it is."
Authorities in South Australia said today that arrivals from New South Wales, Victoria and the capital territory will be tested. The state reopened its domestic borders only days ago for the first time in months.
Several thousand people protested vaccination mandates in Melbourne, with the demonstrations now a weekly event that has been attracting groups of regular citizens, as well as far-right and conspiracy theory supporters.
A smaller counter-protest called to stop the far-right movement in the city and support vaccinations.
The state of Victoria, home to Melbourne, requires full vaccination to access most hospitality services and non-essential retail, as well as to work in health care and many other industries.
Nearly 88% of Australians over the age of 16 have been fully vaccinated, health data showed.
---
---
Unvaccinated patients make up the vast majority of those hospitalised with the coronavirus. In Victoria, 90% of the 44 people in the intensive care have not been fully vaccinated, health data showed.
Despite battling many outbreaks this year, leading to months of lockdown in Sydney and Melbourne - Australia's largest cities - the country has had only about 834 confirmed Covid-19 cases and 7.9 deaths per 100,000 people, according to the World Health Organisation, a fraction of many other developed nations.
Australia has had just under 215,000 cases in total and 2,042 deaths.
Dutch authorities say 18 passengers from South Africa had Omicron

Dutch health authorities have said the final tally of passengers on two flights from South Africa last week who had tested positive for the Omicron variant was 18.
The Netherlands' Institute for Health (RIVM) added in a statement that its investigation on passengers on the two flights has now been wrapped up.
The flights had already taken off on 26 November when the Dutch government introduced new travel restrictions due to worries about the newly detected variant.
More than 600 passengers travelling on the flights were kept isolated and tested for Covid-19, with 61 testing positive, including the 18 who were found to have the Omicron variant.
Those who tested positive but have no symptoms will be allowed out of isolation today while others will have to stay longer, the institute said.
It did not give details on the number of passengers that will be released from isolation.
South Korea reports record-high Covid-19 cases, deaths
South Korea has reported a record daily 5,352 new Covid-19 infections and 70 deaths, while a nationwide total of nine cases of the Omicron variant have been confirmed, the Korea Disease Control and Prevention Agency (KDCA) said.
The government announced yesterday that people visiting restaurants, cinemas and other public spaces will have to show vaccine passes.
It is also reducing the limit on private gatherings to six people in the greater Seoul area, from 10 currently, and to eight from 12 for those residing outside of the capital, starting next Monday.
The hospitalisation rate was rising rapidly led by severe cases of Covid-19, with the number of serious and critical patients at 752 as of yesterday, KDCA said.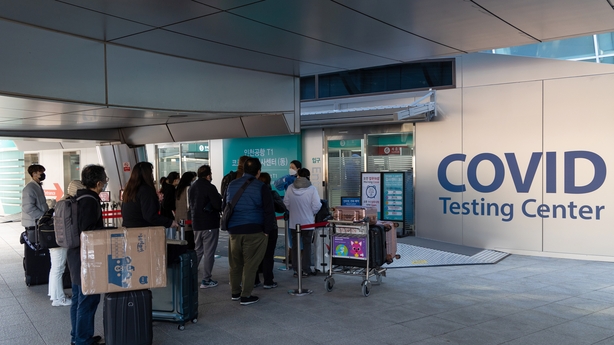 South Korea has also confirmed three additional Omicron cases, bringing the total to nine after a fully vaccinated couple tested positive for the variant after travelling from Nigeria last week.
To fend off the new variant, authorities announced a 10-day mandatory quarantine requirement for all inbound travellers for two weeks, halting exemptions given earlier to fully vaccinated people.
South Korea has been battling the worst wave of infections since July, when the daily cases stood below 2,000 until the government switched to "living with Covid-19 ".
The cases hit the 5,000s for the first time this week, putting a strain on the healthcare system.
The country, which has fully inoculated 91.7% of its adult population, has so far reported a total of 467,907 Covid-19 infections, with 3,809 deaths since the start of the pandemic.
Cook Islands reports first case of Covid-19

The Cook Islands today recorded its first case of Covid-19 since the pandemic began, as the South Pacific country edges toward reopening its borders to tourists.
The nation of around 17,000 people has one of the highest vaccination rates globally, with 96% of the eligible population double-dosed.
The virus was detected in a 10-year-old boy quarantining after arriving on a repatriation flight with his family on Thursday, Prime Minister Mark Brown said in a statement.
The boy was believed to have flown in from New Zealand.
"We have been preparing ourselves for the time we reopen our borders. Our testing regimes have shown the value of that preparation by catching this case at the border," Mr Brown said.
The island nation, which shut itself off from the world when the pandemic hit, has announced plans to resume quarantine-free travel with New Zealand on 14 January.
A short-lived travel bubble with New Zealand was paused earlier this year when an outbreak of the virus emerged in Auckland.
S African official says number of children sick with Covid-19 is not cause for panic

Higher hospital admissions among children during a fourth wave of Covid-19 infections in South Africa that is driven by the Omicron variant should prompt vigilance but not panic as infections have been mild, a health official has said.
A large number of infants admitted with Covid-19 last month in Tshwane, the metropolitan area that includes the capital Pretoria, raised concerns that the Omicron variant could pose greater risks for young children than other coronavirus variants.
Scientists have yet to confirm any link and have cautioned that other factors could be at play.
Ntsakisi Maluleke, a public health specialist in the Gauteng province that includes Tshwane and the biggest city Johannesburg, said that out of the 1,511 Covid-positive patients in hospitals in the province 113 were under 9 years old, a greater proportion than during previous waves of infection.
"We are comforted by clinicians' reports that the children have mild disease," she told Reuters in an interview, adding health officials and scientists were investigating what was driving the increased admissions in younger ages and were hoping to provide more clarity in the coming two weeks.
Since only a small percentage of South Africa's positive Covid-19 tests are sent for genomic sequencing, officials do not yet know which variants the children admitted to hospital have been infected with.
Ms Maluleke said many Covid-19 patients in Gauteng were reporting "non-specific" flu-like symptoms like a scratchy throat, as opposed to more easily identifiable markers like a loss of taste or smell.
But she urged parents and pregnant women, another cohort that has seen more hospital admissions recently, not to take flu-like symptoms lightly and to get tested in case intervention is needed further down the line.
Despite a recent influx of admissions, Gauteng's dedicated Covid-19 bed occupancy was still only around 13%, she said, adding that contingency plans were in place should capacity become stretched.
Scientists are still working to find out what severity of illness is caused by the Omicron variant, first detected in southern Africa last month and since seen in more than 30 countries, and whether it may be more resistant to existing vaccines.