Just after 11am is when queues are at their longest at the Citywest Covid-19 swabbing centre in Dublin.
The stream of cars is constant.
"We've been at increased demand since September," said Deirdre Kenny, HSE manager for the area.
"This morning we can expect 250 people in the first hour and that goes up to about 1,500 throughout the day. We've been at that number for the last number of weeks."
During the summer months the number of swabs taken was averaging just over half that.
But the last few weeks has seen extra demand for the tests, with reports too of delays in trying to secure a booking in many parts of the country.
It is clear the system is struggling to keep up.
"We are hearing people are frustrated at the length of time it sometimes takes them to find an appointment," says Ms Kenny.
"Capacity has been increased across the HSE for PCR testing. It's still being increased, there's ongoing recruitment.
"We've a lot of people who are quite sick when they're coming in. People are anxious, and our job is to put them at ease," she added.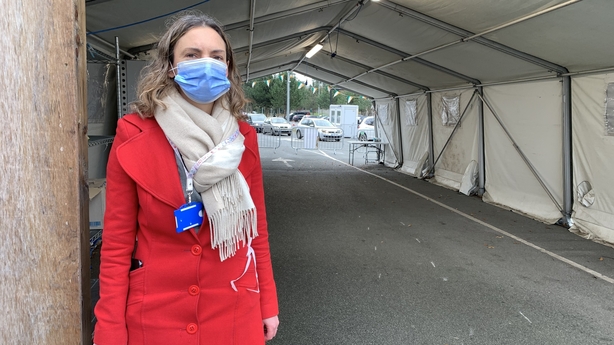 The extra pressure on the service is also being felt by those taking the swabs.
"It hasn't got any easier in the last couple of weeks... there's no let-up," said Cormac McLoughlin, a community swabber with the HSE.
He has also noticed a level of frustration among the public that wasn't there before.
"At the moment we're coping the best we can. It's not easy obviously. It's probably the busiest period of the year so far.
"The weather is also getting worse which doesn't make things any easier. The patients themselves are getting a little more restless...but we're getting through it."
He said the public unease may be linked to the delays in getting a booking for the test.
"Compared to earlier this year the mood has definitely shifted a little bit, there's more frustration creeping in. But people are appreciative as well. They know we're working as hard as we can.
"There haven't been too many issues, but you can just tell that everybody's a little jaded at this point. It has been hard for them to get an appointment but once they get here, they're happy to get it over and done with."
The testing labs are busier, too. At the UCD National Virus Reference Laboratory, technicians are working through the thousands of samples received overnight.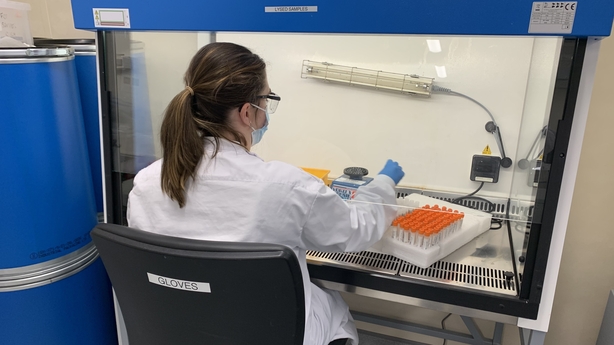 Dr John Flannery said there has been a steady rise in the number of samples coming in to be processed.
"We've seen an increase in testing since the summer months. We're now getting samples of between 3,500 to 4,000 every day. In the summer, we were receiving around 1,500 to 2,000 per day."
There are just under 60 staff members now working at the lab, do they feel the extra pressure?
"I think the staff here are very committed to the work they've been doing," he said. "It's unfortunate sometimes for there to be negative press because the staff here are committed to doing their job very well."
The lab is running seven days a week and is now operating at full capacity.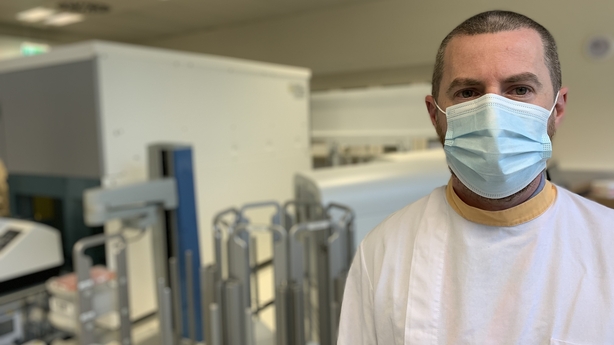 Lab manager Eibhlín Moss said the turnaround time for the test is 24 hours. Most of the samples will come back with Covid not detected but there's a sizable number that are positive.
"The majority of them would be negative," she said, '80-85% are negative so we have a 15-20% positivity rate which is quite high for a PCR lab."
For now, it seems there is no slowdown in sight as the demand for tests remains high.
We need your consent to load this rte-player contentWe use rte-player to manage extra content that can set cookies on your device and collect data about your activity. Please review their details and accept them to load the content.Manage Preferences