The Government is continuing to examine the possibility of subsidising the cost of antigen tests but no decision has yet been made on the principle or the detail, Minister for Finance Paschal Donohoe has said.
He said Minister for Health Stephen Donnelly has been asked to consider options and bring that to Government.
Work is ongoing on the issue of cost, availability and supply, Mr Donohoe said.
He said the cost is likely to be a very good investment in the context of the economic harm done by Covid-19 and said he hopes the Government will finalise this soon.
The possibility that the retail sector could play a part in providing subsidised antigen tests is being examined by the Government.
The original plan was to confine the sale of more affordable tests, priced at between €2 to €3, to pharmacies.
However, there is now a possibility that the subsidised tests could be made available in a wider variety of shops.
Taoiseach Micheál Martin told the Dáil that there is a role for regular antigen testing in households.
Responding to Labour's Duncan Smith during the Order of Business, Mr Martin said that antigen testing "has to be done in a routine way, not symptomatic - I think that's the key point".
"When people are symptomatic they should go straight away and get the PCR tests", he added.
Deputy Smith said that antigen tests are "best used in a serial, regular manner ... to catch cases that are asymptomatic".
Tánaiste Leo Varadkar said they are putting together an information campaign on the use of antigen tests.
He said they are looking to get the price down to a "reasonable cost", and they are working with pharmacists and supermarkets on the issue.
There could be a memo this week or next regarding subsidising the tests, he said.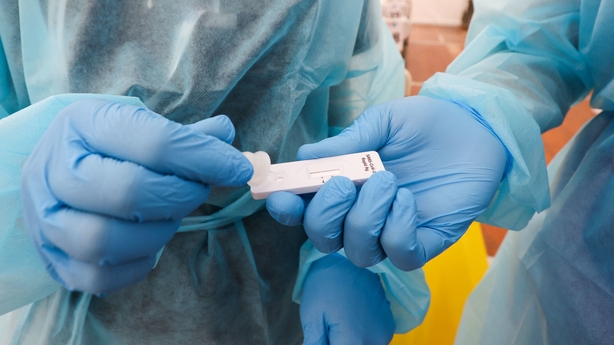 Last night, Government party leaders and senior ministers discussed the pandemic supports available to businesses, but there is no decision in the offing about extending the Employment Wage Subsidy Scheme in its current form.
It is due to be reduced from next month, however any decisions around financial supports will not be taken until the lie of the land on any potential new restrictions becomes clearer.
Asked about the wage subsidy scheme, Minister Donohoe said current levels are being "kept under review".
If public health restrictions merit changing subsidy scheme levels, that will be kept under review, he added.
However this week's subsidy level does not merit a review, he said.
Meanwhile, the National Public Health Emergency meets on Thursday but politically there is no widespread expectation right now that significant new restrictions will be recommended that day.
The majority view in Government is that more time is needed to assess the impact of the measures announced last week.
Chief Medical Officer Dr Tony Holohan said yesterday that research suggests 57% of people are reducing the numbers they plan to meet between now and Christmas and 45% have cancelled plans.
---
---
Reporting Mícheál Lehane, Sandra Hurley, Sharon Lynch