Representatives of the entertainment sector are continuing to lobby the Government to reopen the Pandemic Unemployment Payment, saying they fear many will have to leave the industry as nightlife restrictions take effect.
For DJ Aidan Kavanagh, this time of year was meant to be his busy period. He had gigs lined up throughout December, but not anymore.
"Last Monday, I just started getting loads of calls, loads of cancellations. I've now lost five Christmas parties," he said.
RTÉ News first spoke to Mr Kavanagh at the start of this year. At the time, he was on the PUP and unsure of when he would get back to work. In late summer though, his phone started to ring again with offers of gigs. For a while, business was looking good and he came off the PUP.
But the Government decision to have nightclubs close their doors at midnight will now have a real impact.
"When nightclubs are closed, we can't work. It now feels like I'm taking two steps back again..." he said.
Mr Kavanagh is worried about how he will make ends meet over Christmas, as he is now facing into many weeks with no wages.
"I still have bills to pay. I don't know whether to go to the bank for a loan. Ideally I'd like if the Government could rethink and consider if those who were on the PUP could go back on it - at least to cover the period over Christmas time. The fact is the restrictions have come back in so I feel it should be acknowledged by the Government."
But today the Government signalled yet again that the payment would not be reopened. Its wind down is set to continue.
At one point during the pandemic, well over a half a million people were in receipt of the PUP, now that figure is around 70,000.
As the festive season approaches, today Chief Medical Officer Dr Tony Holohan said he would be encouraging people not to attend their Christmas parties.
---
---
There was a mix of views on the streets of Limerick city about whether social gatherings or Christmas parties should be called off as the festive season approaches.
Latest figures from Public Health Mid-West show there were 368 cases of the virus in the midwest on Monday last, 179 cases in Limerick.
Regional Director of Public Health in the Mid-West, Dr Mai Mannix, said if we were just to cut our social activity in half each week, maybe cutting a visit to the pub from twice to once a week, it would have a big impact on transmission, and consequently on the number of people who are getting sick with the virus.
Some people in Limerick are very concerned about the rise in cases, and would absolutely cancel any planned social gatherings in the coming weeks, and for those already planned, they would cancel them.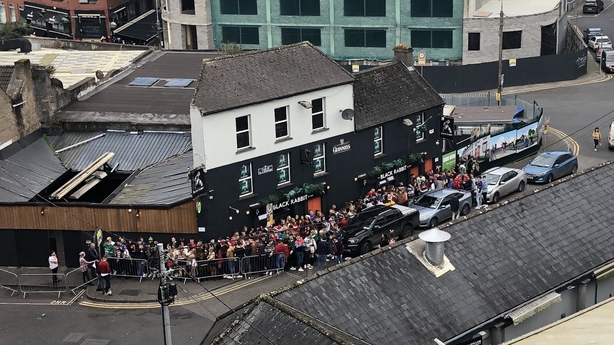 One man, a porter working in University Hospital Limerick, said he can see the real picture there with more and more people presenting with the virus, and because of this, Christmas parties and other social gatherings should be put off.
Another woman, who had just got her booster vaccine, said she would still be very cautious as the virus is so rampant in the community at present. She feels particularly nervous for older people because of their fear of contracting the virus.
A younger man said he was vaccinated, and would continue to take precautions, but he would not cancel a Christmas outing.
Another man agreed that if people are vaccinated and wear their face coverings he does not see an issue, and so social gatherings should not be cancelled.
A woman out shopping with her friend said she would cancel a Christmas gathering at this stage because it is just too dangerous, there are too many people who have the virus at present and she would be worried.
Her friend said absolutely social parties and gatherings should be cancelled - there are just too many people in hospital at this time.
These opinions come on the day when hundreds of students queued at pubs in the market area of Limerick city to celebrate their 'Christmas Day Party' from early afternoon.
Plenty of Xmas jumpers out early #Limerick as '00's students q'd for Xmas Day party in city centre pic.twitter.com/6NhOSP5ydK

— Cathy Halloran (@HalloranCathy) November 17, 2021
Additional reporting Cathy Halloran