The Minister for Health has said that the latest modelling provided by the National Public Health Emergency Team (NPHET) showed that by not introducing the measures announced by the Government yesterday, the most optimistic scenario could see 5,000 new Covid-19 cases a day.
In a post on Twitter, Stephen Donnelly said that the most pessimistic scenario from the model could see 12,500 cases at a peak if no action was taken.
He said pessimistic projections under the model could see 2,300 people in hospital, 450 of whom would need critical care.
"This is the information that informed Government decisions this week. This wave of disease can be brought down by us all playing our part," he said.
Under the measures announced yesterday, household close contacts who are fully vaccinated and showing no symptoms should restrict their movements; closing times for all licensed premises will move to midnight from tomorrow and everyone should revert to working from home unless it is necessary to attend the workplace in person.
In the pessimistic scenario from the model, the daily cases could be ~12,500 at peak if no action was taken. pic.twitter.com/myMu5ra0Nc

— Stephen Donnelly (@DonnellyStephen) November 17, 2021
NPHET's Prof Philip Nolan has said that the modelling shows that transmission of the virus needs to be reduced "urgently".
He said that while vaccines are very effective against Covid-19, the immune defence against infection wanes over time. In a Twitter post, he said: "Fortunately, protection from severe disease is well maintained. The waning immunity means that increasing social contact causes a large and increasing force of infection."
Prof Nolan urged people to limit contacts, use basic mitigations and stay at home if symptomatic and seek a PCR test.
The latest modelling of SARS-CoV-2 infection in Ireland shows that we urgently need to reduce transmission if we are to avoid further dangerous increases in cases and hospitalisations. Stay home with symptoms, limit contacts, use basic mitigations. 1/20 pic.twitter.com/ahR6IKFeH0

— Professor Philip Nolan (@PhilipNolan_MU) November 17, 2021
Earlier, the minister said it is impossible to say if there could be a lockdown in the future.
Mr Donnelly said that although a lockdown cannot be ruled out, it is "not where we are" currently.
However, he said the National Public Health Emergency Team could make such a recommendation in the future and is carefully monitoring the situation.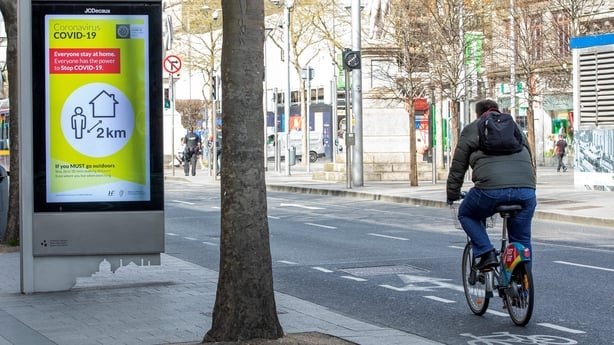 He said Covid case numbers should begin to change by week three of the new restrictions.
The minister also said that antigen tests have an important role to play and he wants to see them being subsidised as soon as possible.
He said thousands of antigen tests are being sent to households around the country every day and are also being used in higher education, childcare and healthcare settings.
Minister for Health Stephen Donnelly says the advice he has is that antigen tests 'shouldn't be free'. He says there were no controls over how free tests were being used in the UK, adding 'they're very very expensive'. | Read more: https://t.co/i7mkkrsIMX pic.twitter.com/0QwQnh7S5S

— RTÉ News (@rtenews) November 17, 2021
Minister Donnelly said many of the highest risk groups have already received their booster shots and the next group that will be prioritised will be those of all ages who are immunocompromised.
He added that expanding the booster shot to the over-50s means that over two million people are eligible for it.
Latest figures show that 59,562 people who are immunocompromised have received a third dose of Covid-19 vaccine.
There are an estimated 90,000 people in this category.
This evening, the Taoiseach told a meeting of his Fianna Fáíl party that the country is facing a challenging period and the coming weeks will be uncertain with no guarantees.
Micheál Martin said 400,000 people have now received a vaccine booster and all the priority groups identified by the National Immunisation Advisory Committee (NIAC) are now being operationalised.
He described the NPHET modelling as very worrying with a peak in the coming weeks and repeated that socialising has to be reduced.
He said the booster campaign will grow the country's collective protection and in four to six weeks a substantial proportion of groups vulnerable to hospitalisation and ICU will be vaccinated.
The Taoiseach said the feedback from those working in intensive care units is concerning.
Mr Martin also told the meeting that people can get a booster after three months of receiving the Johnson & Johnson (Janssen) vaccine if they are in the approved groups according to NIAC advice.
---
Read: Around 1 million currently eligible for vaccine booster
---
People need to reduce number of contacts - Glynn
Separately, Deputy Chief Medical Officer Dr Ronan Glynn said every individual needs to look at their discretionary social activity and prioritise who they are seeing on a daily basis and to reduce that number of contacts.
Speaking on RTÉ's Six One News, he said that ultimately the virus can only spread if people come into contact with one another and it is important that they avoid crowds and reduce the number of households they visit.
Dr Glynn said there was no target figure or metric but there should be no need for a situation where people were ringing hospitals around the country on Christmas week asking how their loved ones are and this situation can be avoided.
He said there is extreme concern about the pressure that the current level of cases is putting the health system and health staff under. However, he said that even if there were hundreds more ICU beds available, they should not be filled up with Covid-19 cases over the coming weeks when this could be avoided.
We need your consent to load this rte-player contentWe use rte-player to manage extra content that can set cookies on your device and collect data about your activity. Please review their details and accept them to load the content.Manage Preferences
Dr Glynn said anyone attending a crowded situation either indoors or outdoors should be wearing a mask and wearing it correctly over the nose and under their chin. He said it is open to any organisation to use Covid passes so that patrons understand that they are surrounded by people who are vaccinated.
Earlier, Chief Medical Officer Dr Tony Holohan said according to its modelling NPHET is predicting that in December the country could have as many as 200,000 Covid-19 cases, and potentially double that, if people do not make some progress in terms of cutting transmission.
Speaking on RTÉ's News At One, Dr Holohan said that none of those people are infected yet and so "it is not inevitable".
"A minimum of 200,000 cases occurring in December, all of which are preventable," he said.
Dr Holohan said that 2%, or 20 out of every 1,000 cases that might occur, will end up in hospital.
Chief Medical Officer Dr Tony Holohan said it is a "responsible decision" to consider cancelling plans in the run-up to Christmas when case numbers are at such a high | Read more: https://t.co/F9B40kJP8t pic.twitter.com/jogLtBgh1X

— RTÉ News (@rtenews) November 17, 2021
"That's a lot of people in hospital, potentially 4,000 or more, it's a lot of people being asked to self-isolate and to restrict movements. None of those people are infected yet," he added.
The Chief Medical Officer said the population is facing a "preventable surge of infection" that some basic public health measures can help to avoid, and stressed that "if you have symptoms, you need to self-isolate and get a PCR test".
"That's really, really important," he added.
He said that there will be huge impacts on many people's lives "if we do not find it within ourselves to improve our collective adherence" and cut down on discretionary contacts.
Dr Holohan said that while it is difficult to ask the public to change behaviours again 18 months into a pandemic, the measures can work to suppress the virus.
The reproduction number of the virus stands at 1.25, and so it would not take "a huge amount to bring it to below one", adding that changes introduced by the Government to tackle rising Covid-19 cases will not work unless the population changes its interactions.
Chief Medical Officer Dr Tony Holohan is urging employers to do everything they can to facilitate staff to work from home where possible | Read more: https://t.co/F9B40kJP8t pic.twitter.com/eiuXB1qGVq

— RTÉ News (@rtenews) November 17, 2021
He said that he would encourage "responsible decision-making" by people choosing not to meet people in the run-up to Christmas or attend work parties, and encouraged people to "stay at home as much as possible and work from home".
"It is still within our collective and individual grasp," to reduce the spread of infection, he said, adding that he could not say if NPHET would move to recommend further restrictions or a lockdown to Government after it meets next Thursday.
Dr Holohan also urged people to get their booster vaccine dose when their chance arises.
"Now is not a time to put off your booster appointment … if your booster is due come forward for it," he said.
"The people over the age of 80 are the only age groups in which the incidence of this disease is falling, largely because of the effectiveness of those boosters, so we really want to encourage people to come forward for those boosters".
Dr Holohan said even though the country has very high vaccination rates, the high transmissibility of the Delta variant means people need to maintain a high level of adherence to other public health measures to ensure that significant surges of the infection don't come to pass.
---
---