The number of people with coronavirus in intensive care has gone above 100, while 4,642 new cases of the virus have been confirmed.
There are 556 Covid-19 patients with the virus in hospital, up seven from yesterday.
Of those in hospital with Covid, 107 people are in ICU - an increase of 11.
Northern Ireland reported 1,806 new infections and three further Covid-related deaths.
It comes as two of the country's leading health officials issued stark assessments about the spread of coronavirus.
HSE Chief Executive Paul Reid said an immediate reduction in high-risk activities is now needed in order to slow the spread of Covid-19.
In social media post, he said it is the responsibility of "all of us" to "turn this around".
"The virus is now prolific in most communities and nobody wants to be the next hospitalised case," he wrote on Twitter.
"An immediate reduction by all of us of risk activities is needed to turn this around."
The Chief Medical Officer reiterated his call for everyone to reduce social interaction significantly.
In a video posted on Twitter, Dr Tony Holohan, said the current level of transmission in Ireland was one of the highest over "the entire course of the pandemic".
He also urged people: "Before you leave the house, think about the number of people you are going to meet, and the risk associated with the activities you have planned."
"Keep your contacts low and avoid crowds; Wear a mask correctly; Meet outside if possible; Avoid poorly ventilated indoor spaces; Practice good hand and respiratory hygiene."
---
---
Yesterday, the Department of Health confirmed 5,483 new cases of Covid-19. RTÉ News understands that those figures include a backlog of around 1,200 cases from the past few days.
Covid 'much easier to prevent than cure'
HSE Chief Clinical Officer Dr Colm Henry said relying on a healthcare system and intensive care beds as a line of defence is not a strategy to fight Covid.
"This is a disease that is much easier to prevent than cure. By the time you get to severe illness stage, no healthcare system could be designed to withstand the kind of numbers we are seeing across Europe now.
"I would love to give assurance that our hospitals can withstand the kind of numbers we are seeing in a sustained way. But I can't and no healthcare system can."
He said people are "not simple bystanders" and he appealed to the public to reduce the number of contacts in order to reduce the risks of transmission. "And those who are symptomatic please stay at home."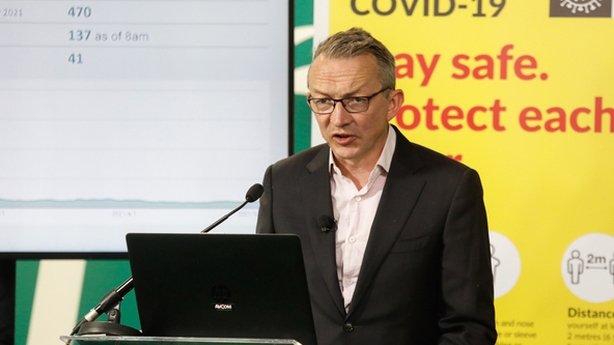 He described the surge in recorded cases over the past fortnight.
"We have had 40,000 cases in the past 14 days, that's up over 40% on the previous two weeks."
There are a few factors that play into uncertainty surrounding the virus, he said.
He said there is a waning of immunity among some people and they are addressing that with the booster programme.
The link between cases and harm has weakened greatly compared to January last year when admittance to hospitals and ICU units largely corresponded to the number of cases, he said.
Dr Henry said healthcare teams and testing and tracing systems are under huge strain at the moment with over 180,000 lab tests done last week.
"At a time when we are going into winter, and other seasonal viruses circulating, we see a whole healthcare system overheating."
He said as cases go up the dependency on intensive care could increase and there may be a curtailment in elective activity.
The number of ICU beds is not the only concerning factor, he said, but other provisions of care need to be considered outside of intensive care such as supplementary oxygen, with 280 patients currently on this treatment.
He said staff are fatigued after two years of this virus and highlighted the challenge that poses to them in delivering both Covid and non-Covid care.
Dr Henry said they will be giving clear guidance on the role of schools, teachers and parents with regard to testing in schools.
He said they are finalising this work and antigen testing may add value in school settings.
A HSE report on the limited use of antigen tests in primary schools will be finalised in next few days. @CcoHse said"in specific circumstances, if there is a positive case,the pod may be provided with antigen tests in order to allow them to stay in school if they're asymptomatic" pic.twitter.com/cXXG91NZTa

— Saturday RTÉ (@SaturdayRTE) November 13, 2021
Call to speed up boosters
Professor of Immunology Christine Loscher said the "fast forward button" needs to be pressed now so the booster vaccines can be rolled out quicker.
Pharmacies should be allowed to help like they previously did with the vaccinations, she said, saying it would add another "layer of acceleration" to the programme.
People need to have it "clear in their heads that never have we been so exposed to Covid as we are now."
Everyone needs to be cautious with the current level of Covid in the community, she added. "That means people just need to mask up wherever they think it is appropriate and where they can."
There is transmission among children and they can carry a viral load whether they are symptomatic or not and that needs to be addressed, Prof Loscher said.
She said for now monitoring Covid levels in children is around antigen testing in the house but she said she has been advocating for antigen testing as a monitoring tool for some time.
"It should be something that should be freely available and people being able to monitor their own levels."
She believes it would significantly address the spread of the virus in the community by those who are asymptomatic.