French President Emmanuel Macron will speak to the nation on Tuesday about the resurgence of Covid-19 infections, the French government said.
Infection rates in France have accelerated strongly in the past month, with the number of new Covid-19 cases rising by double-digit percentages from last week for several days in a row.
"The epidemic is picking up speed again in Europe, Europe has again become the epicentre of the epidemic," French government spokesman Gabriel Attal said.
The seven-day average of daily new infections now stands at more than 6,200, up from less than 4,200 in early October.
Mr Attal said Emmanuel Macron would review the Covid-19 situation and would also talk about the country's economic recovery, the government's reform programme and other issues.
Mr Macron's last major televised speech was on 12 July at the start of a fourth wave of infections. He announced then that vaccinations would be mandatory for all health workers.
French epidemiologists have recently suggested widening the scope of the vaccine booster campaign to include new categories.
On Wednesday, the government said face masks would again be compulsory from next week for school children in 39 regional departments where infection rates are high.
Austria
Austria said it is barring those unvaccinated against Covid-19 from cafes, restaurants and hairdressers as infections approach the record set a year ago and the government struggles to convince holdouts to get the shot.
The new measures, which include barring the unvaccinated from hotels and events of more than 25 people, will take effect on Monday with a four-week transition period in which a first vaccination plus a PCR test will grant admission to places where the unvaccinated will be banned, a government statement said.
Iceland tightens Covid rules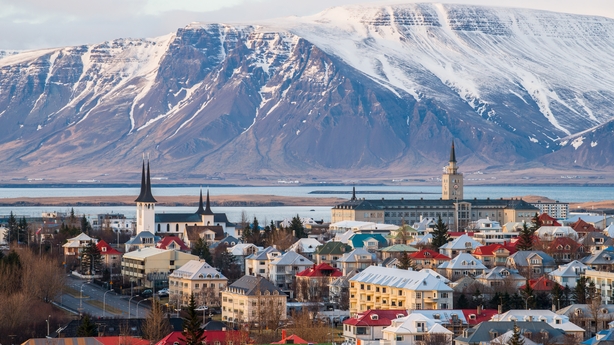 Iceland has said it would tighten its Covid rules as it battles a rise in new cases, including capping gatherings and mandating masks in crowded areas.
The new measures were announced after the World Health Organization yesterday said that Europe was facing an alarming surge in cases, warning another 500,000 could die by February.
Iceland has recorded 179 new infections in the past 24 hours, a record since the start of the pandemic, according to health authorities.
"It's uncomfortable to see how steep the curve is and the increase is greater than what we've seen before," health minister Svandis Svavarsdottir told reporters following a ministerial meeting.
The government said one-metre social distancing should be maintained in all public spaces.
Where this is not possible masks should be worn - especially in shops - a rule that will be compulsory again from Saturday.
The limit on the number of people allowed at public gatherings will be lowered to 500 people as of Wednesday, down from the current cap of 2,000.
Bars and clubs will also have to close their doors at 11pm, two hours earlier than what is currently allowed.
The restrictions will remain in place for at least four weeks.
"The daily number of infections must be reduced to 40-50 and this situation must be maintained with restrictions until a better collective immunity is reached thanks to vaccine boosters and natural infections," the Ministry of Health explained in a statement.
Before the rise in cases, existing restrictions still in force were scheduled to be lifted on 18 November.
While 89% of the population aged over 12 is fully vaccinated in the Nordic country, the country's chief epidemiologist today called for a third dose for all people over 16 who have been fully vaccinated "for about six months".
"The usefulness of a booster dose to strengthen the immunity of each individual and society as a whole has now become very clear," Thorolfur Gudnason said.
Iceland, with a population of 375,000, has had a total of 14,255 cases of Covid-19 since the start of the pandemic and 34 deaths.
Germany scrambles to tackle cases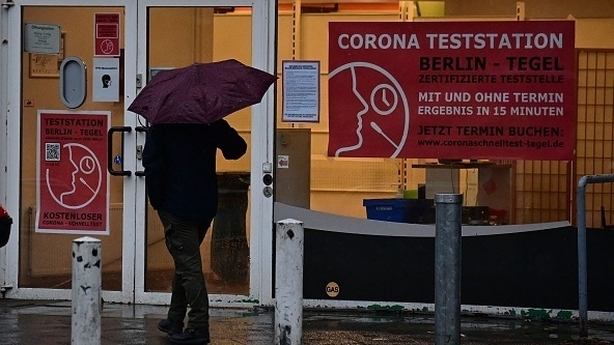 Germany's regional health ministers have called for Covid booster jabs for all as the country scrambles to tackle a surging fourth wave of infections.
"The federal states agree that everyone who had their second jab six months ago or longer should be able to get an appropriate booster," Bavarian Health Minister Klaus Holetschek told a press conference.
Federal Health Minister Jens Spahn has also called for booster jabs for all, but the Stiko vaccine commission has so far recommended them only for those aged over 70 or with preexisting health conditions.
German state leaders have also said hospitals could soon become swamped by Covid-19 patients and a new lockdown might be needed unless urgent action is taken to reverse a surge in cases.
"If we take too much time now, it will end in a lockdown like last year," the leader of the eastern state of Saxony, Michael Kretschmer, told Deutschlandfunk radio.
The premier of Thuringia, Bodo Ramelow, said it was a matter of days until the coronavirus situation would mean that there were not enough intensive care beds at hospitals.
As of yesterday, there were 2,503 free beds in German intensive care units, down from around 3,100 at the start of October, according to data from the DIVI association for intensive and emergency medicine.
Germany reported 37,120 new coronavirus cases today, the second day in a row that it marked the highest daily increase since the start of the pandemic last year.
Eased Japan border rules to take effect from Monday
The first step in Japan's planned phased reopening of borders, which centres on business travellers, will be put into effect from 8 November, the government has said.
The phased easing was confirmed earlier this week, but fell short of demands from business lobbies for rules more closely aligned with those of major trading partners.
The change will shorten Covid-19 quarantine periods for inbound business travellers from 10 days to three, if they have proof of vaccination, the government said.
Students and trainee workers with valid visas will also be allowed in.
No mention was made of tourists, or of media reports that the daily limits on the numbers of border entrants would be raised to 5,000 people later this month from 3,500.
Japan currently requires a 10-day quarantine for travellers, regardless of vaccination status. That time was shortened from 14 days last month.
Domestic and foreign business groups in Japan have lobbied the government to ease border restrictions to be more in line with other countries. The United States and European Union allow entry to travellers from most countries as long as they have proof of Covid-19 vaccination.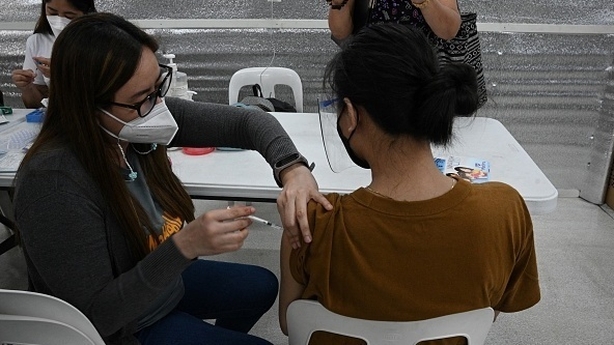 Philippines eases Covid curbs in Manila as cases fall

The Philippines has lifted restrictions on national pastimes like karaoke and basketball in the capital Manila and reopened universities as virus cases eased there.
All restrictions on the movement of young people aged below 18 years were lifted in the capital, officials announced, and primary schools could reopen soon, pending the approval of President Rodrigo Duterte.
"This is good news and one that has been highly anticipated," Mr Duterte's spokesman Harry Roque told a news conference.
Curfews as well as curbs on indoor recreation and contact sports are components of severe lockdowns aimed at slowing the spread of Covid-19, which has infected about 2.8 million people and killed 44,000 across the Southeast Asian nation.
Officials cited rising vaccination coverage for a slowdown in the spread of the virus, which had strained health services between April and October with the onslaught of the highly contagious Delta variant.
Cases have fallen from a high of 2,000 average daily cases in Manila last month "to an average of just 493 cases per day", Health Undersecretary Maria Rosario Vergeire told the news conference.
The new guidelines are in place until 21 November, but officials said they could be extended if the number of new cases and hospital admission rates continue to fall.
Minors had only been allowed outside their homes starting this month, but only to "obtain essential goods and services."
Contact sports like basketball, the national sport, karaoke bars, and amusement park operations were allowed for the first time since the Philippines began imposing lockdowns early last year.
Mr Roque said metropolitan Manila universities would reopen at 50% capacity, while "face-to-face" instruction in grade schools could resume for the first time since March 2020 if Mr Duterte gave his approval.