The World Health Organization has said it needed $23.4 billion over the next 12 months for its plan to conquer Covid-19, urging the G20 to show some leadership and pay up.
WHO chief Tedros Adhanom Ghebreyesus bluntly told the G20 global powers, meeting this weekend in Rome, they could no longer leave poorer countries hanging out to dry in the pandemic.
Mr Tedros said the money was needed to secure Covid-19 vaccines, tests and treatments -- and potentially prevent another five million deaths in the crisis.
The G20 "have the ability to make the political and financial commitments that are needed to end this pandemic", Mr Tedros told a press conference.
"We are at a decisive moment, requiring decisive leadership to make the world safer."
The WHO-led Access to Covid Tools Accelerator is aimed at developing, producing, procuring and distributing tools to tackle the pandemic.
The $23.4 billion needed to fund it "pales in comparison to the trillions of dollars in economic losses caused by the pandemic and the cost of stimulus plans to support national recoveries", the WHO said.
"Fully funding the ACT-Accelerator is a global health security imperative for us all -- the time to act is now," said Mr Tedros.
The WHO said only 0.4% of tests and 0.5% of vaccine doses deployed so far had been used in low-income countries, which make up nine percent of the world's population.
It said its plan would see ACT-A shift towards a more targeted focus on addressing the supply gaps in poorer countries.
"Nowhere is this inequity more apparent than on the African continent, where just eight percent of the population has received a single dose of Covid-19 vaccine," said South African President Cyril Ramaphosa.
Just five of 54 African countries are projected to meet the WHO's year-end target of fully vaccinating 40% of their population.
Moscow shuts non-essential services after virus surge
Shops, schools and restaurants in the Russian capital have been shut for 11 days in a bid to stop a surge in coronavirus infections and deaths that came after vaccination efforts stalled.
All non-essential services, including retail outlets, restaurants, and sporting and entertainment venues will be closed in Moscow until 7 November, along with schools and pre-schools.
Only shops selling food, medicine and other essentials will remain open, as authorities try to tackle a coronavirus wave that has seen infections and deaths hit new records.
Russia reported a record 40,096 new cases and 1,159 fatalities today and is among the nations worst hit by the pandemic, with more than 230,000 total reported deaths.
Authorities have shied away from the kind of severe lockdowns imposed in Western countries.
President Vladimir Putin's government has been pinning its hopes on homegrown vaccines like the Sputnik V jab, but Russians have proven stubbornly resistant to being inoculated.
As of today, only 32% of Russia's population had been fully vaccinated, according to the Gogov website, which tallies Covid-19 data from the regions.
Mr Putin last week ordered a nationwide paid holiday between 30 October and 7 November in a bid to reverse rising infections, and Moscow authorities followed suit by ordering the shutdown of non-essential services in the capital from today.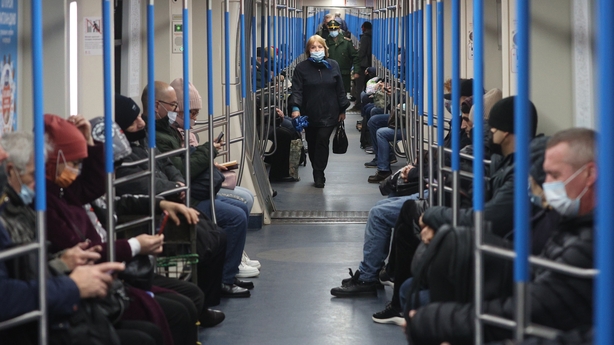 Roads in Moscow this morning were slightly less congested than usual, but the city's sprawling Metro network was as busy as ever, with many passengers not wearing masks.
Authorities have not required Russians to stay at home during the non-working period and many were planning to use the days to travel across the country and abroad.
---
---
The mayor of the Black Sea resort city of Sochi has warned of a huge influx of tourists, and demand in Russia for flights bound for Turkey and Egypt has soared.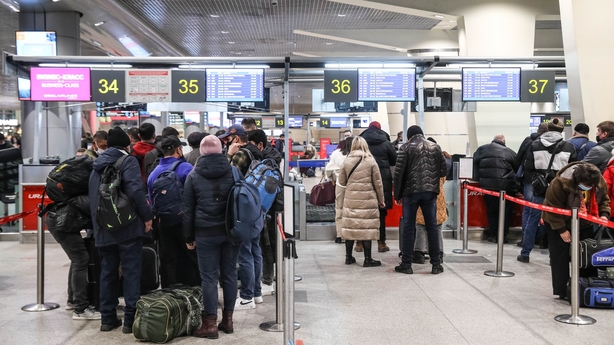 Yesterday, Russia registered a record 1,123 coronavirus deaths in a single day, bringing its total fatalities to 233,898 - the highest toll in Europe.
Russia has officially recorded more than 8.3 million cases, though independent experts say authorities have downplayed the severity of the pandemic.
Figures published by statistics agency Rosstat in October paint a darker picture, suggesting that more than 400,000 people have died in the country from the coronavirus.
After a severe months-long lockdown early in the pandemic, Russian authorities have been hesitant to impose further restrictions that would hurt the economy, instead pleading with Russians to get vaccinated.

Singapore investigates unusual surge in Covid-19 cases
Singapore is looking into an "unusual surge" of 5,324 new infections of Covid-19, the city-state's health ministry said, its highest such figure since the beginning of the pandemic, as beds in intensive care units fill up.
Ten new deaths brought the toll to 349, after 3,277 infections the previous day, while the ICU utilisation rate is nearing 80%, despite a population that is 84% fully vaccinated, with 14% receiving booster doses.
"The infection numbers are unusually high today, mostly due to many Covid-positive cases detected by the testing laboratories within a few hours in the afternoon," the health ministry said in a statement.
"The Ministry of Health is looking into this unusual surge in cases within a relatively short window, and closely monitoring the trends for the next few days," it added.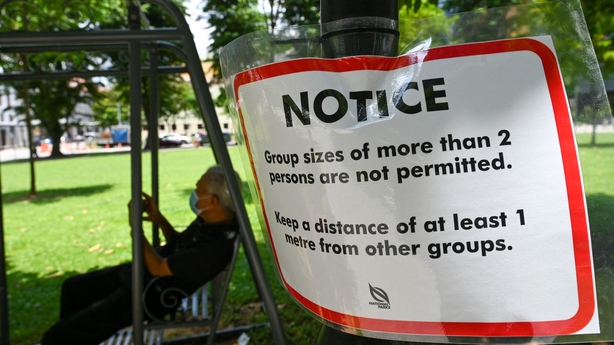 While nearly 98.7% of the past month's 90,203 cases had no symptoms, or only mild ones, about 0.2% of those had died, and 0.1% each were being monitored closely in intensive care units or were critically ill and intubated there.
About 72 ICU beds were vacant, at an overall ICU use rate of 79.8%, with 142 coronavirus patients
accounting for about half of occupied beds.
The ministry said it was adding more ICU beds. The city-state, which has set aside 200 ICU beds to be used by Covid-19 patients, can add 100 more at short notice.
Last week, it extended some social curbs for about a month, to rein in the spread of Covid-19 and ease pressure on healthcare facilities.
Authorities reinstated curbs limiting social interactions and dining out to two people, so as to slow infections.
Filipinos flock to cemeteries ahead of All Saints' Day closure
Thousands of people flocked to cemeteries in the Philippines for their last chance to visit dead loved ones ahead of a government-ordered nationwide closure of graveyards for All Saints' Day.
Filipinos usually pour into cemeteries on 1 November with many holding family reunions at the gravesites of relatives.
But for the second year in a row, the government has ordered the shuttering of cemeteries for fear the "day of the dead" could turn into a coronavirus superspreader event.
An official tally shows more than 60,000 people have poured into the sprawling Manila North Cemetery over the past few days where many poor people live in shanties and the mausoleums.
After passing through a temperature check, relatives placed small bouquets of white flowers and lit candles on tombs - and then left.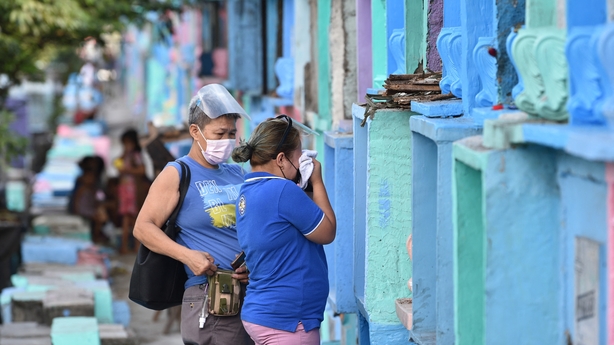 Major cemeteries in Manila are usually crowded for All Saints' Day, but the atmosphere was quiet and sombre today with relatively few visitors.
Covid-19 restrictions have devastated the economy and left millions out of work during the pandemic, which has seen more than 2.7 million people infected and over 42,000 killed.