The Department of Health has confirmed 2,193 new cases of Covid-19.
There are 513 patients with the virus in hospital, of whom 97 are in intensive care.
The Chief Medical Officer has said he is "increasingly worried about the rising incidence of the disease nationwide" and "our primary focus now must be to protect the most vulnerable from Covid-19".
Dr Tony Holohan said: "We are seeing a continuing increase in hospitalisation and intensive care admissions - a substantial amount of whom are not fully vaccinated - placing our frontline healthcare services, including non-Covid care, under significant pressure.
"It is essential that we do everything we can to break the chains of transmission of the Delta variant in the community, in the workplace and in our homes."
Dr Holohan appealed to people who experience symptoms of the virus, even if they are vaccinated, to stay at home, isolate from others and arrange a test immediately.
We need your consent to load this rte-player contentWe use rte-player to manage extra content that can set cookies on your device and collect data about your activity. Please review their details and accept them to load the content.Manage Preferences
He also called on those who are not vaccinated against Covid-19 to avail of a vaccine, saying it will "significantly reduce your risk of severe illness if you contract the disease" and is "our best defence against" the virus.
The Tánaiste has said the Government hopes to see case numbers, hospitalisations and intensive care numbers fall in December and into the Christmas period.
Based on National Public Health Emergency Team projections, Leo Varadkar said that case numbers are expected to rise for another week or two, leading to an increase in hospitalisations a week or two after that, and ICU numbers will peak towards the end of November, before things improve.
However, he warned that the virus has surprised officials before, and nothing can be taken for granted.
Mr Varadkar said the three-pronged strategy of Government to contain the virus involves vaccinations, test, trace and isolate, as well as non-pharmaceutical measures such as mask wearing and social distancing.
---
---
In Northern Ireland, four further deaths of patients who had previously tested positive for Covid-19 have been reported.
The Department of Health there has also reported another 1,124 cases of the virus.
This morning, there were 358 Covid-positive patients in hospital, of whom 34 were in intensive care.
To date, 2,625,815 vaccines have been administered.
Pressure on hospitals 'likely to build for a while'
The current pressure on hospitals because of an increased number of Covid-19 patients is "likely to build for a while".
Today, the number of people with the virus in hospital is the highest since the start of March.
The HSE's National Director of Acute Operations said that hospital systems are coming under increasing pressure at a time when the emergency departments were already very busy and were back to 2019 levels of activity.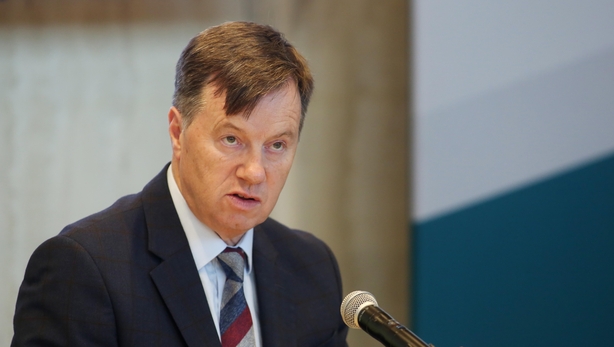 Liam Woods said the HSE is very concerned about this growth, which has an impact on patients, and the capacity to provide planned procedures.
Mr Woods said the HSE is still operating a "safety net" arrangement with private hospitals where it is diverting some surgeries and "unfortunately" some planned surgery has had to be curtailed in recent weeks to ensure there is enough space in hospitals for Covid-related work.
There are 301 ICU beds in the system, and 15 are currently vacant. Of the occupied ICU beds, one-third are occupied by Covid-positive patients.
Dr Enda O'Connor from St James's Hospital in Dublin said there were currently 12 Covid patients in the ICU there.
"Over the last few weeks we've had maybe three-four new admissions every week with Covid to ICU, so our workload has greatly increased. Half of our intensive care beds are now occupied by Covid positive patients," he said.
Dr O'Connor said that the country is not back to where it was in January or February, but that "we're about half way there".
With ten to 12 Covid patients in ICU, he said they are beginning to "feel a difficulty in delivering care to them and the other non-Covid patients".
Within the HSE, surge planning is under way, but Mr Woods said this was a different situation to before as the hospital system is already "running full".
"With high attendances and society open, the pressures on the acute environment are much greater and that's what we're experiencing and that's what staff are having to deal with," he said.
Additional reporting: Laura Hogan