The Irish Nurses and Midwives Organisation has said frontline healthcare workers must be prioritised for a Covid-19 booster vaccine.
The INMO has written to the Chief Medical Officer and the Chair of the National Immunisation Advisory Committee (NIAC) calling for "an immediate decision" to be made.
Last Tuesday, vaccine boosters for people aged 60 and over were approved by NIAC. No decision has been reached yet by NIAC on a booster jab for healthcare workers.
The General Secretary of the INMO said today it was "clear the booster is necessary" given the rise in infections in healthcare workers and the increase in staff on virus-related leave.
Speaking on RTÉ's This Week, Phil Ní Sheaghdha said: "The healthcare worker infection rate has increased and that means more absence in an already staffing-compromised situation, so the last thing we need is staff themselves becoming unwell.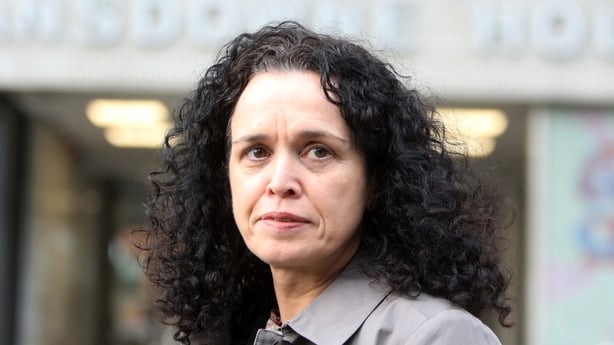 "We know that the vaccinations wane after six months and we know that the majority of healthcare workers got the AstraZeneca vaccine, so it's becoming very clear to us that they now need a booster."
Ms Ní Sheaghdha said 370 nurses were infected with the virus in the last fortnight alone and she said "delay in this matter will cause additional pressure" on acute hospitals.
The call comes as the Department of Health reported 1,725 new cases of Covid-19.
There are 473 Covid patients in hospital, which is up 24 on yesterday's figure. The department said that 97 people are in intensive care, which is a rise of four from yesterday.
In Northern Ireland, five more deaths have been reported in the past 24 hours, with the Department of Health reporting 1,061 new cases.
Minister of State for Land Use and Biodiversity Pippa Hackett said these are difficult times but the Government is trying to get back to a normal situation.
Speaking on RTÉ's The Week in Politics, the Green Party TD said: "We're not going to get back to old normal, because Covid is going to be around for a long time and we're going to have to live with Covid."
Booster shots are a "seriously important" part of how the country moves forward, she said.
---
---
Meanwhile, a consultant in infectious diseases at the Mater Hospital in Dublin has said the authorities need to be on top of Covid booster vaccinations.
Speaking on RTÉ Radio 1's Brendan O'Connor programme, Professor Jack Lambert said data showing waning protection levels from original doses after six months has been available from the UK and from Israel since June and July.
He said: "I was in the hospital today. I was on the wards with Covid patients, We've known this for some time and I guess it just goes to say - who's planning ahead for this pandemic?
"We need to be on top of booster vaccinations and make it easy and make it quick. And we've done nothing easy and we've done nothing quick in this country with any of the Covid strategies that we've undertaken."
In the past four days, around 10,750 first and second Covid-19 vaccine doses were administered in centres around the country, according to the HSE chief.
Paul Reid added that 5,000 of those were through walk-in clinics, with a significant showing from younger ages.
In a social media post, Mr Reid said it was encouraging to see more people come forward for vaccination.
Encouraging to see more & more people come through for vaccination. 10,750 D1 & D2 vaccinations done in Vaccination Centres alone over the past 4 days. 5,000 of these through walk-ins & significantly from younger ages. Also seeing over 2,000 people per day registering. @HSELive

— Paul Reid (@paulreiddublin) October 24, 2021
Earlier, Mr Reid said the number of people registering for a Covid-19 vaccination has increased, adding that registrations have risen from around 1,000 a day to between 2,000-2,500 daily.