The number of people receiving treatment for Covid-19 in hospital ICUs has risen as HSE chief Paul Reid said: "This is going to be probably one of the most difficult winters we faced for many years."
The Department of Health has been notified of 2,427 new cases of Covid-19. There are 449 people in hospital with the coronavirus, which is down eight on yesterday.
The department said that 93 people are being treated in ICU, which is up three from yesterday.
The hospital number compares to 406 patients hospitalised with Covid on this day last week and 353 people two weeks ago.
Mr Reid said that he anticipates one of the most difficult winters in many years.
Paul Reid said Covid-19 is "putting severe pressure" on Ireland's hospital system.
Speaking on RTÉ's Saturday with Katie Hannon, Mr Reid said: "It's a real challenge for us, particularly as we head into winter, this is going to be probably one of the most difficult winters we faced for many years, so it is difficult for us."
Across Ireland, there are no ICU paediatric beds available and 11 adult ICU beds are free.
He added that of the 206 ICU beds in the system, 93 are occupied by Covid patients, while around 57% of the people in ICU have not been vaccinated.
"That's a big impact for us," Mr Reid said.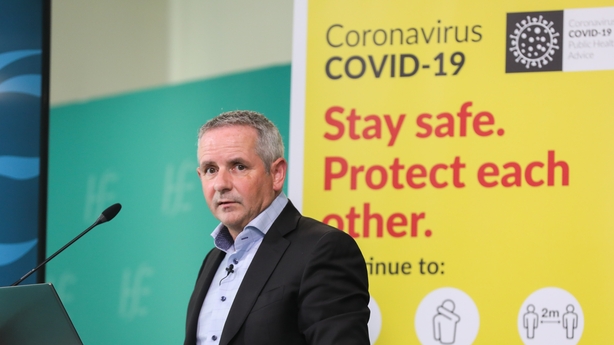 He added that he was anxious that a decision on giving booster shots to healthcare staff was made "sooner rather than later".
"We're seeing more outbreaks and I think, from my perspective, we have a duty of care to staff and we have a duty of care to our patients," he said.
"We are all very, very anxious to get healthcare workers vaccinated, I am quite concerned with seeing outbreaks emerging.
"We know when the virus is so strong in the community, it increases the risk of outbreaks in healthcare settings."
In Northern Ireland, ten further deaths have been reported of patients who had previously tested positive for Covid-19.
The Department of Health there also reported another 1,323 cases of the virus.
Yesterday, there were 2,466 new cases of Covid-19 notified to the Department of Health in the Republic.
This was the highest number of daily infections reported since 21 January, when 2,608 people were confirmed to have coronavirus.
Those infection numbers are 82% higher than a month ago, when 1,432 new cases were recorded on 22 September.
Chief Medical Officer Dr Tony Holohan said there would be an increased level of socialising this bank holiday weekend and highlighted the importance of taking basic measures to prevent the spread of Covid-19.
"Keep social distance, wear a face mask appropriately, wash your hands regularly and manage your contacts," he said.
"If you are meeting indoors with others, ensure the room is well ventilated, avoid crowded situations and if it feels like an unsafe environment, leave.
"Be mindful of the symptoms of the disease such as fever, cough, or flu like symptoms. If you do experience any symptoms, self-isolate immediately and seek a PCR test as soon as possible."
Numbers registering for vaccine increase, says Reid
Meanwhile, Mr Reid said the number of people registering for a Covid-19 vaccination has increased.
Mr Reid said registrations have risen from around 1,000 a day to between 2,000-2,500 daily.
He said there are "a range of initiatives over the next week, right throughout Halloween, to get to those people who are unvaccinated and encourage them to come forward".
"We would be hopeful that the message is getting through to those people to come forward, get advice and register for the vaccine."
The Clinical Nurse Manager and Deputy Lead at the Cork City Hall Vaccination Centre said there has been a noticeable increase in the numbers attending the walk-in clinic at the facility.
Deirdre Filen said "last week and this week we have had tremendous success with our walk-in clinics".
She appealed to people who are unvaccinated to come forward and avail of the vaccines "to protect all of us and to help our colleagues in the hospitals, as they are being really pressurised by Covid coming back into the hospitals again".
Ms Filen said a range of age groups attended the walk-in clinic in Cork City Hall today from "children that have just turned 12 to older people that maybe might have missed their appointments last week".
The World Health Organisation's Director General also appealed to people in Ireland to get vaccinated.
Speaking virtually at the Draw Our Heroes art competition prize giving ceremony in Dublin, Dr Tedros Adhanom Ghebreyesus said "continue to vaccinate, to take vaccinations and at the same time also not forgetting public health measures, which are also very important because we're not still out of the woods".
He also urged the Irish Government to continue sharing vaccines with poorer countries, where supplies are low.
Dr Ghebreyesus said "of course Ireland is doing its best and sharing doses, but I ask Ireland to continue to share those with countries where vaccination rates are low".