A key measure of coronavirus infections in Germany rose sharply over the past week, figures showed, raising the prospect of tougher restrictions as winter approaches.
The seven-day incidence rate of cases - which has been used to decide Covid-19 curbs - jumped more than 26 points in a week, the Robert Koch Institute responsible for disease control said.
The rise comes as the leaders of Germany's 16 states are discussing pandemic plans. A nationwide state of emergency is set to lapse on 25 November, meaning restrictions will automatically expire then unless extended by parliamentary vote.
The number of new infections per 100,000 people over seven days stood at 95.1 compared with 68.7 reported a week ago, the institute said.
A total of 19,572 new infections were reported today, 8,054 more than the same time last Friday, it added.
More than 1,500 Covid-19 patients are in intensive care, up from about 1,400 a week ago, figures from the DIVI association for intensive and emergency medicine showed yesterday.
"The fourth wave has started now and is still gaining speed," Christian Karagiannidis, the scientific head of DIVI, said on Twitter.
Germany's state premiers are unlikely to lift rules requiring social distancing, mask-wearing and proof of vaccination, recovery or a negative test result to enter most indoor public spaces.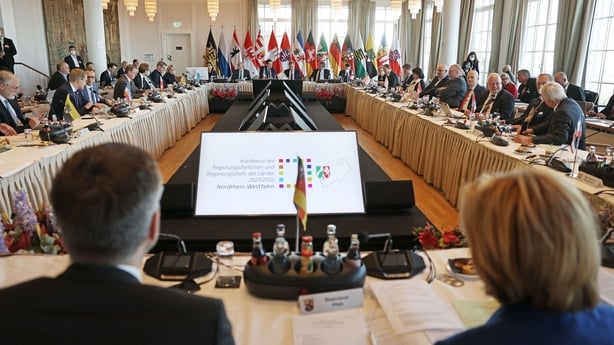 The prospect of another lockdown is highly unpopular.
Federal Health Minister Jens Spahn promised in August that anyone who was vaccinated would not be subjected to such measures come autumn.
Around 66% of German residents are fully vaccinated, compared with 63.3% of people across the European Union. Only about 1.5 million Germans have received a booster shot of Covid-19 vaccine, compared with around 55 million who have had two shots.
Russian Covid deaths hit 4th straight record a week before new curbs
Russia reported a fourth straight daily record of Covid-19 deaths, with still a week to go before the start of a nationwide workplace shutdown ordered by President Vladimir Putin to try to curb a rise in infections.
Authorities said 1,064 people had died in the previous 24 hours, with new infections hitting a second successive daily record at 37,141.
Kremlin spokesman Dmitry Peskov said Mr Putin's decision to declare the period from 30 October to 7 November as "non-working days" would provide an opportunity to break the chain of infections, but described the situation as "extremely difficult".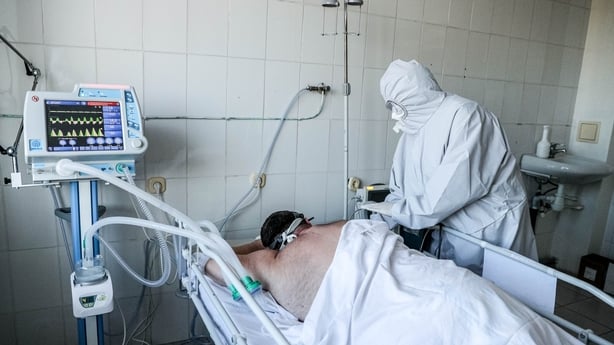 Asked if more drastic measures might be considered, he said: "Right now, no... There is not a single person who can predict the trajectory of the pandemic with a high degree of confidence."
He did not rule out the possibility of further measures being taken beyond 7 November if necessary, and once again blamed the situation on negative public attitudes towards getting vaccinated.
"Our vaccination programme is going worse than a number of European countries. Fewer people are being vaccinated and more people are getting sick as new, more aggressive strains emerge. That is the reality that is taking place," he said.
Mr Putin has told regional authorities they can introduce further restrictions at their discretion.
Moscow has ordered unvaccinated over-60s to stay at home for four months from Monday, and from next Thursday will reimpose the strictest lockdown measures since June last year, with only essential shops like pharmacies and supermarkets allowed to remain open.
Ukraine shuts schools as coronavirus death toll hits new record
Schools have been shut in parts of Ukraine as authorities announced a requirement for vaccine certificates or negative tests to access public transport in the capital, after Covid-19 deaths hit a record high.
Schools in the capital Kyiv were ordered to close for a two-week holiday. In other "red zone" areas of high infection, schools would be permitted to reopen only if all teachers are vaccinated.
One of Europe's poorest countries, Ukraine fell behind in the race for vaccine supplies this year and so far only 6.8 million in a population of 41 million are fully vaccinated.
Infections have soared after a lull in the summer.
Official data showed a record 614 new deaths related to Covid-19 in the past 24 hours, up from 546 yesterday.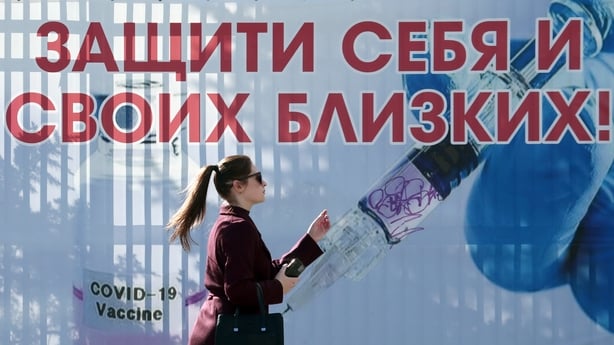 In a bid to combat vaccine hesitancy, Ukraine has made vaccinations compulsory for some government employees such as teachers.
Unvaccinated people face restrictions on access to restaurants, sports and other public events.
"I will make unpopular decisions to protect the lives of Ukrainians," Health Minister Viktor Lyashko told parliament.
"We must do what is expected of us today - to convince people to vaccinate."
Ukraine has received around 25 million doses and expects an additional 16 million by the end of the year, Mr Lyashko said.
The government has also secured additional oxygen supplies from neighbouring Poland, he said.
Additional vaccination centres have been rolled out, including at railway stations.
The western city of Lviv has announced more curbs are likely there. Parliament could make vaccinations compulsory for MPs wishing to enter the building.
Ukraine's tally of infections in the pandemic stands at 2.72 million, with 63,003 deaths.
Belgium enters fourth Covid-19 infection wave as cases jump

Belgium's daily Covid-19 cases have jumped to the highest level in almost a year, prompting health experts to say that a fourth wave of infections has begun.
Data from the Sciensano health institute showed that the country registered nearly 6,500 new cases on 18 October. That is as many as on 10 November 2020, a few days before the government imposed a second lockdown.
The seven-day daily average stood at more than 3,600, a rise of nearly 60% from the previous week.
The country of 11 million has had one of the world's highest per capita Covid-19 mortality rates and is among a number of European nations seeing a jump in cases as winter arrives.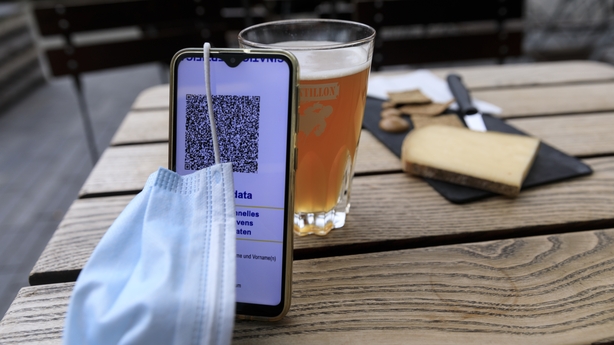 Belgium's coronavirus commissioner Pedro Falcon told a news conference that vaccines were able to prevent 70% of infections and 90% of hospital admissions, and the vast majority of people in hospital were unvaccinated.
The number of patients with Covid-19 in hospitals exceeded 1,000 for the first time since June, and nearly 100 new patients are being admitted a day, Sciensano said, a 53% increase from the previous week.
"The impact on hospital admissions and deaths is much more limited than in the first two waves due to the high vaccination rate," said virologist and Sciensano spokesman Steven Van Gucht.
More than 8.5 million people in Belgium have now been fully vaccinated, or 74% of its population.
The government is set to review its coronavirus measures on 29 October, although is not expected to announce a drastic tightening.
One possibility is that Covid passes, required for entry to cafes and gyms in Brussels and shortly in the southern region of Wallonia, could be extended to the whole of the country.