The Department of Health has confirmed 1,466 new cases of Covid-19.
There are 402 people being treated in hospital with the virus, an increase of two on yesterday. Of these, 73 patients are in intensive care units, down two from yesterday.
In Northern Ireland, 1,278 positive cases and six deaths due to Covid-19 have been reported in the past 24 hours.
Deputy Chief Medical Officer Ronan Glynn said that 70% of people being treated in ICU recently have not been fully vaccinated.
He aid: "Over recent days we have seen an increasing number of people with Covid-19 admitted to hospital and to intensive care.
"Recently, approximately 70% of people being treated in intensive care for Covid-19 have not been fully vaccinated. This is a significant cause for concern."
Dr Glynn urged people to get the Covid-19 vaccine as well as the seasonal flu vaccine.
"I strongly encourage anyone who has not yet been vaccinated to take up the opportunity to do so as soon as possible to best protect yourself and those around you from Covid-19.
"I also urge anyone who is eligible for a flu vaccine to come forward and receive it as soon as it is offered to you," added Dr Glynn.
The positivity rate for Covid-19 in the community has started to rise, according to the Health Service Executive National Lead for Testing and Tracing.
Niamh O'Beirne said the rate is currently at 10%, with some counties reporting rates of up to 15%, adding that there has been a change in the trend in the past six or seven days.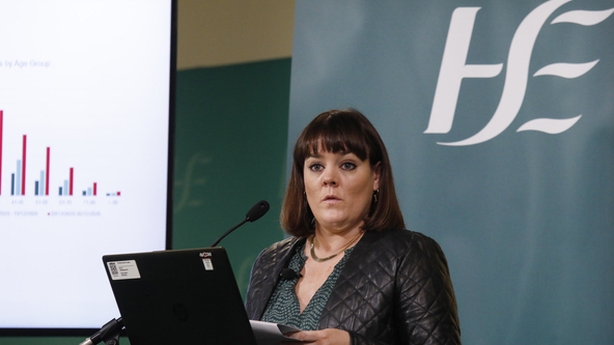 Speaking on RTÉ's Today with Claire Byrne, Ms O'Beirne said Kerry has the highest positivity rate at 15%, with Waterford also around that figure, while Donegal and Monaghan both have positive rates of around 13%.
She said in some of those areas, the testing is also busier and additional support has been put in place to cope with the demand in the short term and they are testing more symptomatic people and more Covid positive people.
Ms O'Beirne said household positivity is 25% for close contacts, versus social settings at 10%, and that that for those who are Covid positive, the majority of their close contacts are reported in household and social settings.
She said 17,000 tests were carried out in the community yesterday, which is "quite high", but was just 5% up on the prior week.
---
---
Ms O'Beirne said the median age of those with Covid-19 is changing, from 27 to 34 years, so "more people who are older are turning positive", and more people are over 65 are being given positive results, while fewer teenagers and those in their 20s and 30s are testing positive for Covid.
She said people aged in their 30s, 40s, and 50s, who are unvaccinated are more likely to end up in hospital and that currently about 40-50% of those who test positive are not vaccinated.
She said there are outbreaks also in residential care settings, but there are "continued challenges" there, with both staff and residents being affected and while these settings are not at the stages of restricting visiting hours yet, but it is something the community teams are monitoring very closely.
Ms O'Beirne said the booster dose should have a positive impact on those settings.
She also said there is no indication that testing and tracing will change, adding that thousands of staff around the country are involved in testing and tracing and that work will remain important in order to gather information.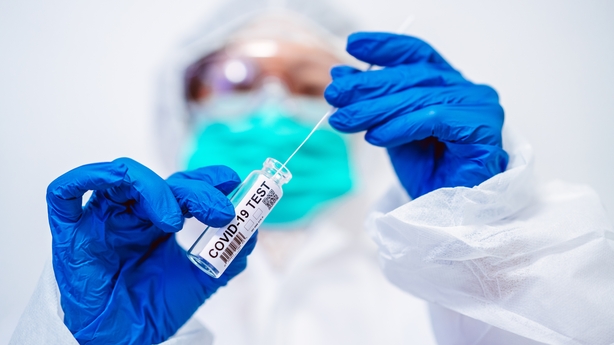 There are no plans in place to pull back this work after 22 October, she said, and timing of when the country moves from pandemic to endemic is currently unknown.
Ms O'Beirne said there will be a point in time when it will be appropriate to change contact tracing but the question is when and a decision for the National Public Health Emergency Team.
The Health Protection Surveillance Centre said that 373 people aged 15 and over were admitted to ICUs with Covid-19 between 1 April and 2 October.
Over two thirds (69%) of these were unvaccinated.
Separately, the Irish Nurses and Midwives Organisation said there are 506 admitted patients waiting for a
hospital bed, the highest number in one day since the start of the pandemic.
The INMO said 393 patients are waiting in emergency departments, while 113 are in wards.
There are 91 patients waiting for a bed at University Hospital Limerick, with 59 waiting at Letterkenny University Hospital and 46 at Cork University Hospital.
The INMO figures also show that there are 15 children waiting for a bed; eight at CHI Crumlin, five in Tallaght and two at Temple Street.
Additional reporting Fergal Bowers