The Department of Health has been notified of 1,459 new cases of Covid-19.
There are 296 people in hospital, which is up 14 on yesterday.
The Dept said there are 65 patients in ICU, which is unchanged since yesterday.
In Northern Ireland, a further six patients who had tested positive for Covid-19 have died. The Department of Health also reported another 1,020 positive cases of the virus in the region.
Chief Medical Officer Dr Tony Holohan has said that while there has been a significant increase in the numbers of children referred for Covid testing since the school term resumed, he said "there has only been a relatively modest increase in the detection of cases in the school-going age group".
In a statement released this afternoon, Dr Holohan said: "We have also seen the associated positivity rate [in this age group] recently decrease from 16% to 5% which is very reassuring."
He said that contact tracing of close contacts in childcare facilities and primary schools and testing of asymptomatic close contacts in these settings will no longer be necessary from tomorrow.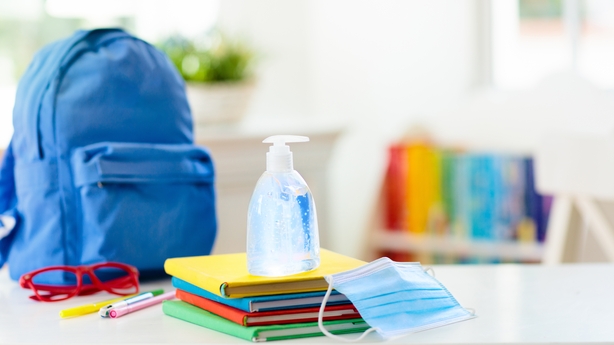 "Children aged 12 years or under, who are identified as close contacts in childcare and educational settings or other non-household settings and who are asymptomatic will no longer be required to routinely restrict movements," said Dr Holohan.
He said that cases in special educational needs settings and respite care should have a public health risk assessment which may still require children to be identified as close contacts, be referred for testing and have their movements restricted.
He added that children who are identified as household close contacts will still be required to restrict movements and be tested.
Meanwhile, Professor Philip Nolan has dismissed as "untrue nonsense" any suggestions that there is a plan to allow children become infected and build immunity.
In a series of tweets, Prof Nolan, who is the Chair of the NPHET Epidemiological Modelling Advisory Group, said there had been 30,000 confirmed cases of Covid in children aged between 5-12.
He added: "Even if this is an underestimate of the numbers previously infected, at current infection rates (2,000-2,500 per week) it would take 3-5 years for all existing children to become infected.
"If force of infection declines as most of those 12 and older are vaccinated, infection rates in those aged under 12 will also decrease, and birth rates (1,000 per week) will compete with infection rates to keep the proportion of children with natural immunity low.
"The current policy is to balance the low risk of transmission in the school setting against the benefits of continuing in-person education. We have time to consider the risks, opportunity costs and benefits of vaccinating children."
Luke O'Neill, professor of biochemistry at Trinity College Dublin, said that experts were speculating that spring 2022 could be a turning point in the fight to stamp out the virus.
Speaking on RTÉ's Brendan O'Connor show, Mr O'Neill said that he has just returned from a conference in Munich that was attended by over 100 immunologists from around the world.
He said: "There was lots of talk of next spring for instance being a key turning point because by then we should have 85% of people either vaccinated or infected and that means they're protected.
"What that means is the virus has gone endemic and if you do catch it you'd have symptoms like the common cold.
"There's a reasonable chance that it might get more benign. Other viruses become less troublesome as they spread and maybe this one will be more like that, so that's a reasonable thing to say, but it's an unknown to be honest."