Alaska, which led most US states in coronavirus vaccinations months ago, has taken the drastic step of imposing crisis-care standards for its entire hospital system, declaring that a surge in Covid-19 patients has forced rationing of strained medical resources.
Governor Mike Dunleavy and health officials announced the move as the tally of newly confirmed cases statewide reached another single-day record of 1,224 patients amid a wave of infections driven by the spread of the highly contagious Delta variant.
The Delta variant is "crippling our healthcare system. It's impacting everything from heart attacks to strokes to our children if they get in a bike accident," Dr Anne Zink, Alaska's chief medical officer, said at a news conference with Mr Dunleavy.
Idaho, another one of several largely rural states where Covid-19 cases have overwhelmed healthcare systems in recent weeks, activated its own crisis-care standards statewide last Thursday, citing a spike in hospitalisations that "has exhausted existing resources."
Alaska's health and social services commissioner, Adam Crum, announced that he signed an emergency addendum extending to the whole state standards of crisis care announced last week at the state's largest hospital, Providence Alaska Medical Center in Anchorage.
---
---
The new document limits liability faced by providers for crisis-level medical care in all Alaska hospitals.
Moreover, it acknowledges the realities of rationed care statewide, with scarce medical supplies and staff prioritised in a way that denies normal levels of care to some patients for the sake of others, depending on how sick they are and their chances for recovery.
Some critically ill patients, for example, have had to be treated outside intensive care units where they would typically be admitted, Dr Zink said.
To cope with the Covid-19 surge, Alaska has signed an $87 million contract to enlist hundreds of healthcare workers from out of state, officials said.
About one-fifth of Alaska hospital patients are infected with Covid-19, according to state data. But that figure understates the burden placed on the system as a whole as it "squeezes out" capacity to treat victims of car crashes, strokes, heart attacks and other ailments, Mr Dunleavy said.
In April, Alaska had ranked among the top states getting Covid-19 vaccines into the arms of residents, but has since slipped below the national average, with just 58% of residents aged 12 and older fully vaccinated, according to the state database.
The vaccination slump coincided with significant political resistance to public health requirements.
In May, voters in Anchorage, the state's largest city, elected a new mayor, Dave Bronson, who campaigned against health mandates and has repeatedly expressed his refusal to get vaccinated.
Mr Dunleavy has opposed any vaccine mandates.
The Republican governor defended his positions, citing Alaska's third-lowest rate of Covid-19 deaths in the nation per capita.
Melbourne protests fizzle out as daily cases hit pandemic high
Melbourne's streets were largely quiet after three days of anti-lockdown protests, with hundreds of police officers on patrol in the city to prevent another rally as Covid-19 cases in Victoria hit a daily pandemic record.
Police in central Melbourne were checking people's reasons for being outside, footage on social media showed, after a violent protest yesterday in Australia's second-largest city resulted in more than 200 arrests.
A vaccination centre at the Melbourne Town Hall would be shut until Monday after several of its staff were physically and verbally abused on their way to work, operator cohealth said.
"Why would you abuse, as I'm told, why would you spit on people who are doing that sort of work?," Premier Daniel Andrews said in a media briefing in Melbourne, the state capital. "That is ugly, that is uncalled for."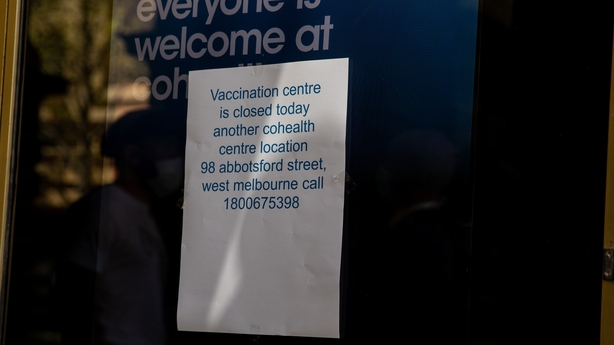 Hundreds of protesters have taken to the streets in the city of 5 million since officials earlier this week ordered a two-week closure of building sites and made vaccines mandatory for construction workers to limit the spread of the virus.
Police and union officials have said extremist and far-right groups joined the demonstrations.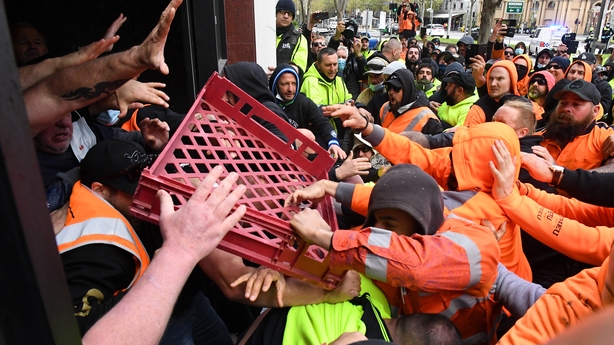 Victoria reported 766 new locally acquired cases, topping its previous pandemic daily high of 725 hit on 5 August last year and four new deaths.
Neighbouring New South Wales reported 1,063 new infections, up from 1,035 a day earlier, and six new deaths.
Australia is fighting a third wave of infections from an outbreak of the Delta variant in its two largest cities, Sydney and Melbourne, and its capital Canberra, forcing nearly half the country's 25 million people into strict stay-at-home restrictions.
Officials have promised to ease lockdown rules once 70% of adults are fully vaccinated, which is expected next month. Some 55.5% of people aged 16 and older are fully vaccinated in New South Wales and about 45% in Victoria.
Dual-dose vaccinations in New South Wales are rising by around 1% a day, state Health Minister Brad Hazzard said, putting it on track to hit 70% by around 8 October.
Officials have pledged to ease lockdown curbs on the Monday after that target has reached.
Australia's total infections topped 92,000, with some 61,000 recorded since mid-June when the first Delta case was detected in Sydney.
Total deaths are just below 1,200, but still lower than in many other comparable countries.
Nobel science, literature prizes to be awarded in winners' home countries

The foundation that organises the Nobel Prizes said that for the second year in a row the winners in science and literature would receive their awards in their home countries, citing the Covid-19 pandemic.
The foundation added that a decision on the Peace Prize, which is traditionally awarded in Norway, had not been made yet.
The Nobel Committee "is still keeping open the possibility of welcoming the year's Nobel Peace Prize laureate(s) to Oslo," it said.
It is to announce the format of the Oslo ceremony by mid-October.
"I think everybody would like the Covid-19 pandemic to be over, but we are not there yet," Vidar Helgesen, Executive Director of the Nobel Foundation, said in a statement.
"Uncertainty about the course of the pandemic and international travel possibilities is the reason why the 2021 laureates will receive their medals and diplomas in their home countries," he continued.
The winners are announced in early October but are usually handed out at large, lavish ceremonies in the two Scandinavian capitals on 10 December, the anniversary of the death of the prizes' founder Alfred Nobel who died 1896.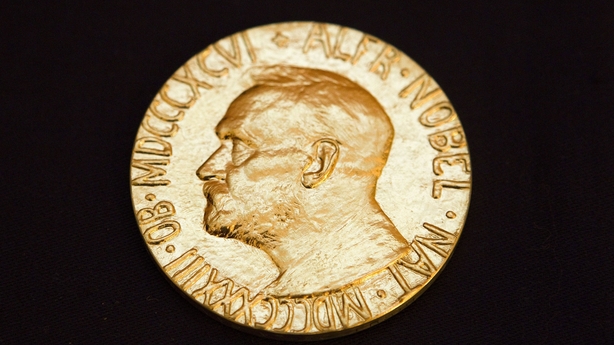 Last year, the foundation also decided to give out the science and literature prizes in the laureates' respective home countries due to the travel restrictions imposed over the pandemic.
The prizes for science are in medicine, chemistry and physics.
Like in 2020, the 2021 ceremonies "will be a mixture of digital and physical events," the foundation said.
The Nobel Prizes, which this year celebrate their 120th anniversary since the first awards in 1901, will be announced between 4 and 11 October.
Medicine will be announced on the Monday, followed by physics the next day and chemistry on Wednesday, October 6.
The highly anticipated literature and peace prizes will be announced on Thursday and Friday respectively, followed by the economics prize created by Sweden's central bank on the following Monday.

Japan doubles Covid-19 vaccine donation pledge to 60 million doses

Japan will double its Covid-19 vaccine donations to about 60 million doses intended for needy countries, Prime Minister Yoshihide Suga said at a virtual summit.
The pledge adds to a previous agreement to provide 30 million doses and $1 billion to the Covax programme, overseen by the GAVI alliance and the World Health Organization.
"Japan has provided approximately 23 million doses of Covid vaccine to various countries and regions across the world, which is the third largest provision of vaccine in the world so far," Mr Suga told the conference.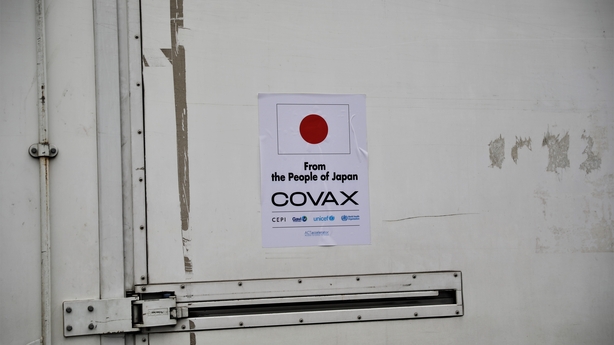 Much of Japan's vaccine donations thus far have been via bilateral agreements with Asian neighbours, outside of the Covax programme.
Japan is giving away most of its domestically produced supply of the vaccine developed by AstraZeneca Plc.
The nation has relied mainly on imported mRNA-type vaccines from Pfizer/BioNTech and Moderna for its inoculation push, which has fully vaccinated about 55% of its population, according to government data.
Ukraine tightens coronavirus lockdown curbs

Ukraine tightened coronavirus measures, restricting large events and occupancy at gyms, cinemas and cultural sites, after a recent steady increase in new infections.
Ukraine imposed a nationwide "yellow" code after cases dropped over the summer, allowing it to lift lockdown restrictions.
This week, however, the government extended a state of emergency that allows authorities to impose curbs until year-end to rein in infections.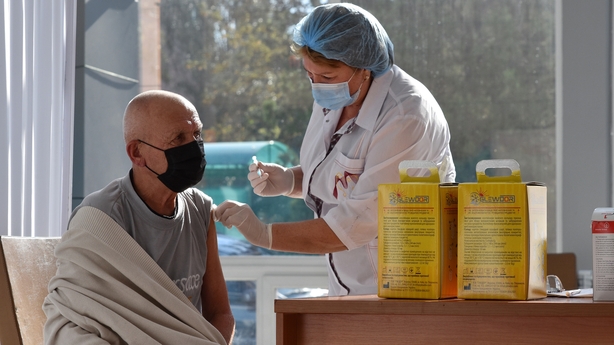 The health ministry has said it plans compulsory coronavirus vaccinations for those in occupations such as teaching and employment in state institutions and local governments.
Ukraine's pandemic tally of infections stands at 2.4 million, with 55,284 deaths.