Germany will stop paying compensation to unvaccinated workers who are forced into quarantine by coronavirus measures as it is unfair to ask taxpayers to subsidise those who refuse to get inoculated, Health Minister Jens Spahn said.
The rules, which will be implemented by the governments of Germany's 16 federal states, will take effect by 11 October at the latest, Mr Spahn said.
The rules will affect people who test positive for the virus and those returning from trips to countries designated "high risk" for Covid-19, which now include Britain, Turkey and parts of France, among others.
Unvaccinated travellers from such countries are required to quarantine for at least five days. Those who have been vaccinated or have recently recovered are not required to do so.
Critics have said such rules would be equivalent to a mandate for Covid-19 vaccinations because many workers cannot afford to stay at home without pay.
"We should see this differently," Mr Spahn told a news conference.
"It's about fairness. Those who protect themselves and others via a vaccination can rightly ask why we should have to pay somebody who ended up in quarantine after a holiday in a risk area."
---
---
There are also privacy concerns. Germany has tough laws regulating data privacy because of its history of Nazi and Communist state surveillance of citizens, and employers usually have no right to ask staff for information on health issues.
Vaccinations are not compulsory in Germany but authorities have been taking measures that make it increasingly inconvenient to be unvaccinated.
Covid-19 tests, required for example to dine in indoor restaurants, will stop being free of charge from 11 October.
Also, some German states are allowing businesses such as restaurants or sports stadiums to choose whether to admit people with negative tests, or only those who have been vaccinated or have recently recovered from Covid-19.
Germany has fully vaccinated 74% of adults, compared to 72.3% across the European Union as a whole, official data show.
Brazil's health minister tests positive for Covid-19 at UN gathering
Brazil's Health Minister Marcelo Queiroga tested positive for Covid-19 after attending the UN General Assembly in New York that was inaugurated by his president, Jair Bolsonaro, according to an official statement.
"The other members of the delegation have been tested and are negative," said the official Brazilian government press release.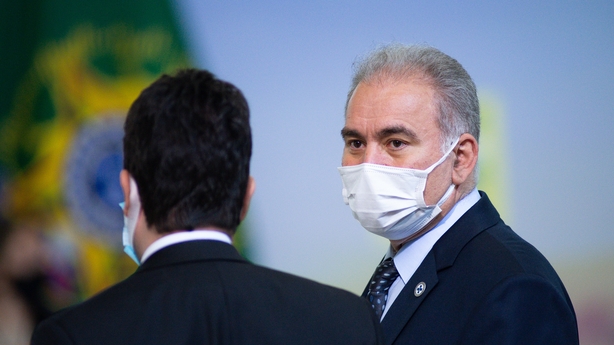 Mr Queiroga, who had received a Covid-19 vaccine, was the second member of Mr Bolsonaro's entourage to test positive for the virus since arriving in New York for the UN gathering.
The 55-year-old health minister will remain in the United States for a period of isolation, even though the rest of the delegation has returned to Brazil.
Mr Bolsonaro, who appeared without a mask on several occasions during the trip, has not been vaccinated and repeated that he would be "the last" Brazilian to receive the vaccine.
Mr Queiroga was with Mr Bolsonaro, who last year survived a bout of the virus, at several events, including a meeting with British Prime Minister Boris Johnson on Monday.
He was "doing well," the statement said.
Mr Queiroga wrote on Twitter that while following "all health security protocols," the ministry "will continue to take firm action to deal with the pandemic in Brazil."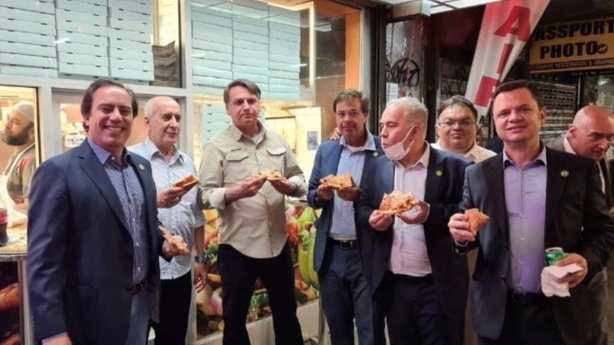 Mr Bolsonaro caused a stir on social media after a photograph showed him taking few precautions against contagion while around others in his delegation, as he ate a slice of pizza from a New York street vendor.
The health minister was the only one in the photo wearing a mask, but he had pulled it down under his chin.
Under fire for his controversial handling of the pandemic, which has claimed more than 591,000 lives in Brazil, Mr Bolsonaro opened the General Assembly with a speech in which he made several misleading or inaccurate statements, some of which related to the pandemic, according to AFP's Factcheck team.
Six billion vaccines given worldwide
More than six billion doses of Covid-19 vaccines have been given around the world, according to AFP.
The vaccination drive has reached a steady rhythm taking 29 days to clock up the sixth billion dose, almost the same speed as the fourth and fifth billion at 30 and 26 days respectively.
In contrast, it took around 140 days to administer the first billion doses.
Nearly 40% (2.18 billion) of the six billion shots have been administered in China. India (826.5 million) and the United States (386.8 million) complete the trio of countries that have given the most jabs.
Among countries with a population of over one million, the United Arab Emirates (UAE) leads the way with 198 doses per 100 habitants, with more than 81% of its population fully vaccinated.
Uruguay comes next with 175 doses per 100 inhabitants, followed by Israel (171), Cuba (163), Qatar (162) and Portugal (154).
Some of these countries, including Israel, the UAE and Uruguay, have started to give booster jabs with the aim of extending immunity among the fully vaccinated.
While most poorer countries have now started vaccination drives, mainly thanks to the Covax scheme, coverage remains very patchy, although injections have picked up in recent weeks after donations by richer countries.
High-income countries, as defined by the World Bank, administered an average of 124 doses per 100 inhabitants compared with just four doses per 100 inhabitants in low-income countries.
Burundi, Eritrea and North Korea have not yet begun vaccination.
Locked-down Melbourne steps up security as Covid-19 protesters gather
More than 200 people were arrested in Melbourne after projectiles thrown by protesters injured two officers during a third consecutive day of demonstrations against virus restrictions.
Golf balls, batteries and bottles were among the items thrown at police during the protests held in defiance of stay-at home orders after a two-week closure of building sites to reign in infections, which rose again in the state of Victoria.
Protesters began gathering in the city centre in separate groups as the state's Police Chief Commissioner Shane Patton vowed to prevent more violent protests but declined to discuss the measures planned to control violence or unruly behaviour.
"I'm not going to talk about the tactics we'll deploy today," Mr Patton said at a media briefing in Melbourne.
"I want them to be completely unaware of what we're going to do and what capacity they may face."
Television footage showed crowds of protesters walking in the middle of streets in different parts of the city, with police sometimes giving chase.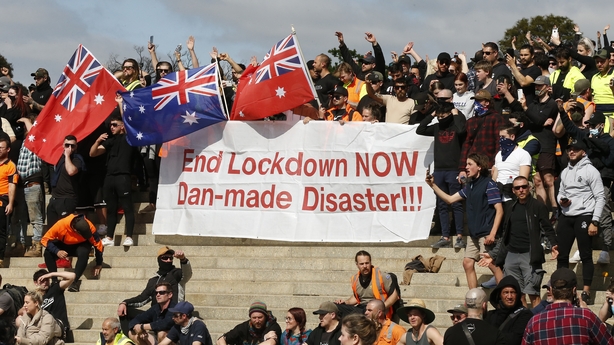 "There has been a couple of arrests so far," Deputy Commissioner Rick Nugent told radio station 3AW.
More than 2,000 people protested yesterday, damaging property, blocking a busy motorway and injuring three police officers after authorities shut construction sites for two weeks. More than 60 were arrested.
Sydney and Melbourne, Australia's largest cities, as well as the capital Canberra have been in lockdown for weeks to contain a Delta outbreak. Melbourne is in its sixth lockdown, the most of any Australian city since the pandemic began.
Authorities are aiming for a staggered reopening in Sydney and Melbourne, easing some curbs when the adult population reaches 70% fully vaccinated, expected next month.
More restrictions will be relaxed when the figure hits 80%.
The rates of people age 16 and older who are fully vaccinated were 54% in New South Wales and 45% in Victoria.
Even as officials pledged more relaxation of restrictions within weeks, the traditional New Year's Eve firework display in Sydney at 9pm was cancelled for a second year in a row. But the midnight fireworks will likely go ahead.
A City of Sydney spokesperson said they want to limit the "mixing of crowds" between the two separate events.
Victoria reported 628 new local cases, the year's biggest one-day rise, exceeding the previous high of 603a day earlier.
A total of 1,035 new infections were recorded in New South Wales, home to Sydney, up from 1,022 yesterday.
Australia's Covid-19 numbers stand at around 90,300 infections, including 1,186 deaths. Eight new deaths were reported in the country.
India to target children for Covid-19 vaccine from Oct - sources
All Indian children aged 12 or older will become eligible for Covid-19 vaccinations from next month, when drug maker Cadila Healthcare launche sits ZyCoV-D product, two sources with direct knowledge of the matter told Reuters.
The world's first DNA-based Covid-19 vaccine, ZyCoV-D won emergency authorisation from Indian regulators last month.
From October, the company, better known as Zydus Cadila, will produce 10 million doses a month.
The vaccine is the only one approved for children in India, which has given a total of 825.9 million doses to adults among its population of nearly 1.4 billion.
Covid-19 sends northern Chinese city into semi-shutdown
China's northeastern city of Harbin, population 10 million, went into semi-shutdown after reporting new locally transmitted Covid-19 cases for the first time since early February.
Three of 16 new local cases reported in China for 21 September were in Harbin, the provincial capital of Heilongjiang, the National Health Commission (NHC) said.
The last reported locally transmitted cases in the city were on 4 February.
Harbin, known for its minus 30 degree Celsius winters, today vowed to complete an initial round of city-wide testing by tomorrow, and told its residents to refrain from stepping outside their homes, unless necessary, before their test results are out.
The city has already told its residents to avoid leaving town unless for essential reasons, and those who do leave must produce proof of negative test results within 48 hours from departure.
Indoors venues such as cinemas, gyms and mahjong parlours were also shut, and tourist sites were ordered to limit visitor traffic at half of their capacity, state television reported yesterday.
The city would also suspend offline classes at all pre-schools, primary schools and high schools for a week from today.
It was unclear if the three new Harbin cases were linked to the current outbreak in the eastern province of Fujian.
In Fujian, the cities of Xiamen and Putian reported a total of 13 new cases, according to the NHC, down from the average daily count last week.