Idaho, the US state with the lowest Covid vaccination rate in the country, has announced it was rationing medical care and would turn patients away from ventilators if they are not likely to recover.
The northwestern state's health department said it had enacted the measure because of "the massive increase of Covid-19 patients requiring hospitalisation" which had "exhausted" existing resources.
"The situation is dire," said health department director Dave Jeppesen in a statement.
"We don't have enough resources to adequately treat the patients in our hospitals, whether you are there for Covid-19 or a heart attack or because of a car accident," he added, calling on more Idaho residents to get vaccinated.
The department's statement explained that under the rationing guidelines, patients admitted to hospital may find beds unavailable or be treated in repurposed settings such as conference rooms.
"Someone who is otherwise healthy and would recover more rapidly may get treated or have access to a ventilator before someone who is not likely to recover," it said.
Only 46% of Idaho's population of nearly 1.8 million have received one or more doses of a Covid-19 vaccine, according to the Covid Act Now tracker.
This puts it at the bottom of the table among 53 US states or territories.
For reference, 63% of the US population has received one or more doses, with table topping Puerto Rico at 77%.
More than 630 people are hospitalised with Covid in the state, compared to around 90 in early July.
Around 20 are dying per day, equal to the worst surge seen in December.
Vaccines, as well as other Covid mitigation measures such as masks and distancing, are politically polarising issues in the US, with uptake much lower in conservative-leaning regions.
Former president Donald Trump carried Idaho with 64% of the popular vote compared to Joe Biden's 33% in the 2020 election.
Iran approves J&J vaccine as fifth wave spreads
Iran's new government has approved the covid-19 vaccine developed by US firm Johnson & Johnson, a senior official said, as the Islamic Republic faces a fifth wave of infections.
The announcement came eight months after Supreme Leader Ayatollah Ali Khamenei banned imports of vaccines made by the United States and Britain - though Iran has since accepted vaccines developed by Western firms but manufactured elsewhere.
President Ebrahim Raisi's administration is under public pressure to broaden its sources of vaccines as infections mount in the deadliest wave it has seen.
"The Johnson & Johnson single-dose corona vaccine has been approved," the head of Iran's Food and Drug Administration, Mohammad Reza Shanehsaz, was quoted as saying by Iranian media.
He did not say where the vaccine would be produced or refer to the ban.
In January, the Ayatollah banned the government from importing Covid-19 vaccines from United States and Britain, saying both countries were "untrustworthy".

He later said the ban was on vaccines made in those countries.
---
---
Mr Shanehsaz said Russia's single-component Sputnik Light vaccine had also been approved.
"Fortunately, the basket of the corona vaccines registered in Iran has become very diverse and large," he added.
Iran is trying to speed up vaccinations by using imported doses - including Sputnik V, India's Covaxin made by Bharat Biotech, and the British-developed Oxford/AstraZeneca shot produced by Russia's R-Pharm group and AstraZeneca-SKBio in South Korea.
Iran also uses its own COV Iran Barakat shot.
The health ministry said 13 million out of a population of 83 million have been fully inoculated.
The ministry today reported 18,021 new infections in the past 24 hours, bringing total cases to 5,378,408 in Iran, the worst hit country in the Middle East. Deaths rose by 6,981 to 116,072.
Vaccine uptake gives hope in Australia
Australia's Victoria state reported its biggest one-day rise in Covid cases of the year as a surge in vaccinations nationwide raised hope for easing restrictions with almost 70% of the adult population having had a first dose.
Victoria, home to the city of Melbourne, detected 514 new infections, exceeding the year's previous daily high of 473 on Monday.
Sydney and Melbourne, Australia's largest cities, have ramped up their immunisation drives as the country struggles to contain a third wave of infections fuelled by the highly infectious Delta variant, putting nearly half of the 25 million population under strict stay-at-home orders.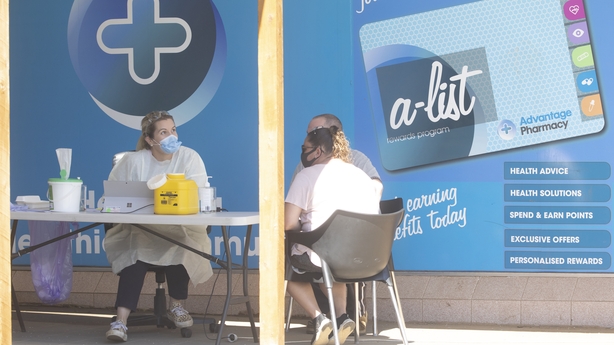 Still, Australia's coronavirus infection rates are far lower than those in many other countries, with some 80,000 cases and1,128 deaths.
Authorities are promising to relax many tough curbs, perhaps next month, after more people get both of their vaccine shots.
"That 70% double dose and 80% double dose mark is within plain sight. Keep going Australia," Prime Minister Scott Morrison said during a media briefing in Canberra.
Under a reopening plan unveiled in July, the federal government will urge states and territories to start living with the virus once those high targets are reached.
To now, 44% of people over the age of 16 are fully vaccinated while 69% have had at least one dose.
Officials in New South Wales, at the heart of the country's worst coronavirus outbreak, implored its residents to get their shots soon as they reported 12 new deaths from the virus, with ten of them people who were not vaccinated.
A total of 1,351 new cases were detected in the state, the majority in its capital, Sydney, up from 1,259.
A nightly curfew in Sydney's 12 hard-hit western suburbs ended last night amid higher vaccinations.
In Victoria, first-dose coverage will hit 70% tomorrow, officials said, when some curbs on travel and outdoor exercise in Melbourne will be eased.
Melbourne's 5 million residents have been stuck in their sixth lockdown, the most in any Australian city since the pandemic began.
An anti-lockdown protest is being planned in Melbourne over the weekend and authorities are looking to avert it by halting public transport and deploying thousands of police.
Putin says 'several dozen' people in his entourage have coronavirus
Russian President Vladimir Putin has said that dozens of people in his entourage tested positive for the coronavirus before he went into self-isolation earlier this week.
The Russian leader, who announced in March he had been vaccinated, started self-isolating on Tuesday after being identified as a coronavirus contact.
"You know that unfortunately I had to cancel my visit to Dushanbe at the last moment," Mr Putin said during remarks to a meeting of the Moscow-led Collective Security Treaty Organisation (CSTO), hosted in the capital of Tajikistan.
"I am very sorry, but this is due to the fact that, as you know, cases of the coronavirus were detected in my inner circle," he said, speaking via video link.
"Not just one or two but several dozen people," he added.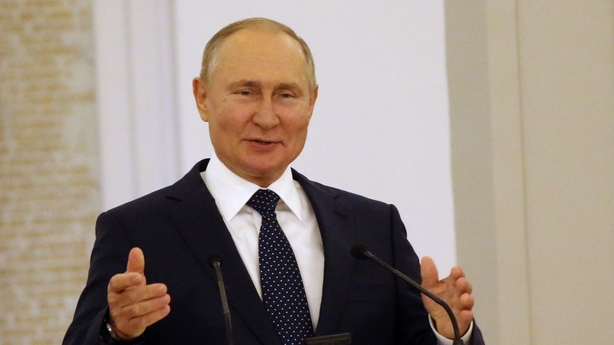 The 68-year-old Russian leader specified in late June that he had been vaccinated with Russia's homegrown Sputnik V after months of secrecy around the issue, but the Kremlin did not show images of the inoculation.
Mr Putin in recent months has resumed his work trips and face-to-face meetings, but many of his contacts are still required to spend two weeks in quarantine.
Russia is among the countries hardest-hit by the coronavirus pandemic - with the fifth-highest number of recorded cases according to an AFP tally - and has struggled to rein in infections despite easy access to vaccines.
Authorities have struggled with a vaccine-sceptic population, with independent polls showing that a majority of Russians do not plan to be inoculated.
Canada's Alberta province brings in vaccine passport
The Canadian province of Alberta has introduced a vaccine passport system to combat a fourth wave of Covid-19 that is close to overwhelming the healthcare system, as Premier Jason Kenney apologised for mishandling the pandemic.
Alberta will impose measures including capacity restrictions for businesses and a ban on indoor dining in restaurants unless patrons can show government-issued proof of vaccination or a negative Covid-19 test taken within 72 hours.
Mr Kenney has repeatedly said his government will not introduce vaccine passports and avoided using that phrase in a lengthy news conference where other measures, including work-from-home and physical distancing mandates, were also announced.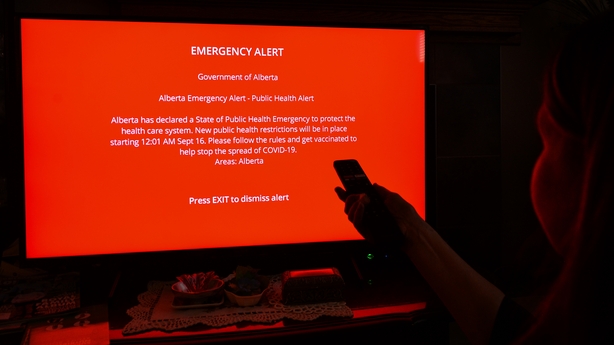 He said he was introducing new restrictions "reluctantly".
The move is a significant change of direction from the United Conservative Party premier, whose government has come under fire for lifting public health restrictions faster than other Canadian provinces this summer after declaring the worst of Covid-19 was over.
"Based on our analysis of other jurisdictions around the world with similar rates of vaccination we believed we could prudently move away from addressing Covid as a pandemic, and towards an endemic. It is now clear that we were wrong, and for that I apologise," Mr Kenney said.
The province has the lowest rate of vaccination in Canada and is leading the country in new Covid-19 cases as the highly infectious Delta variant takes hold.
There are record numbers of Covid-19 patients in intensive care and the province risks running out of those beds in 10 days, Mr Kenney said. Alberta is asking other Canadian provinces if they can provide intensive care beds and front-line staff to help deal with critical staffing shortages.