The HSE has revised downwards the estimate for the number of school children and young people who have been obliged to stay home from school because they have been deemed a close contact of a confirmed case of Covid-19.
It was estimated that up to 16,000 students may have been in this position but it has now emerged that the figure is likely to be substantially lower.
The Health Service Executive has stressed that it is too early to get a clear picture of the situation in schools.
The figure of 16,000 was based on a calculation method that has now been revised. The real figure is more likely to be between 10,000 to 12,000. This figure includes pre-school children.
In a thread on Twitter this evening, Professor Philip Nolan who chairs NPHET's Irish Epidemiological Modelling Advisory Group said that the incidence of Covid-19 among children in the first week of school was the same as or lower than the preceding two weeks.
He said: "There was a marked increase in testing of children as schools reopen, but the percentage positive fell rapidly. Incidence in children, which had risen to very high levels during July, stabilised in August as the force of infection from the adult population decreased.
"If school re-opening is associated with a significant increase in transmission, this will only start to become apparent from this week onwards, but the current reduction in levels of infection in the community reduces the risk for children and schools."
If school re-opening is associated with a significant increase in transmission, this will only start to become apparent from this week onwards, but the current reduction in levels of infection in the community reduces the risk for children and schools. 4/4 pic.twitter.com/BvJjbosA1e

— Professor Philip Nolan (@President_MU) September 9, 2021
At a briefing this afternoon, public health officials also said that the very early indications were that transmission rates in schools are no higher now than they were when schools closed for the summer.
Last year, positivity rates related to school testing hovered at around 3%, meaning that for every close contact tested in relation to a case in a school, just 3% were found to have the virus.
The first statistical report, which will provide the first factual picture for the new term, will be published next week.
At this afternoon's briefing, officials also said that the positivity rate for under-18s in the community also continues to fall, standing at 6% today compared to a high of 13% last week.
While public health officials have said they have not seen anything to indicate that school transmission rates have changed, they have pointed to much higher incidence of Covid-19 among the school-going population at large.
HSE lead for schools Dr Abigail Collins said that before schools closed, around 1,000 people in the 0-18 age cohort were testing positive for Covid every week. By the last week of August, that had risen to up to 4,000 cases.
---
Read latest coronavirus stories
---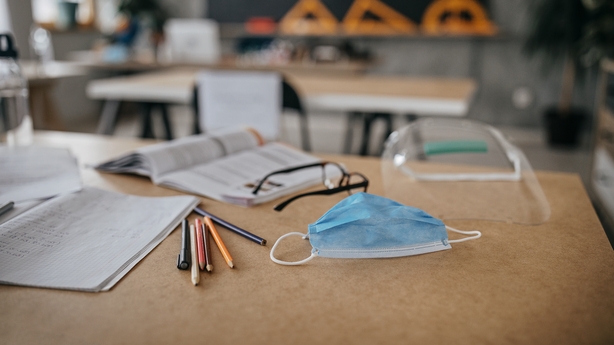 Dr Collins said that they had no reason to believe that the picture in the classroom regarding transmission was any different to what it was before the summer.
"It's just that with very many more cases," she said, adding "there are very many more schools that are coming to us".
Dr Collins said that every case in a school or pre-school setting led to an average of between five and seven others being deemed close contacts and being excluded from attendance as a result.
She said the increase in the incidence of the virus in this age cohort had led to between a three-and-a-half to four-fold increase in the number of children and young people being excluded from school thus far this September.
HSE Chief Clinical Officer Dr Colm Henry said there had been a surge in under-18s coming forward for testing in the community. He said the volume of children coming forward for testing was three times that of other age groups.
A total of 632 secondary schools and 1,011 primary and pre-school facilities have contacted the HSE since schools reopened last week.
The HSE estimates that for every case at secondary school level, three students are deemed close contacts and have to stay at home. For every case in primary schools, an average of seven pupils are close contacts. At pre-school level the average is higher, at ten close contacts per case.
On the basis of these estimates, outlined at this afternoon's briefing, the current number of children and young adults who have been obliged to restrict their movements would be between 10,000-12,000. This includes pre-school children and infants.
This is lower than estimates arrived at earlier this week, including an estimate of 16,000 by yesterday.
Dr Collins stressed that when a case of Covid-19 was identified, that student was immediately taken out of the school setting. If there is transmission, she said, "it takes up to two weeks for the next case to generate, an average of four-seven days, but up to two weeks so it allows time for public health to identify close contacts within the school setting".
It is because of this time lag in any potential transmission being identified through testing that a full picture on this year's transmission rates will not be available for some weeks to come. But next week's figures should give a partial picture at least.
Children who are deemed close contacts are obliged to stay out of school and restrict their movements for 14 days or until a test on day ten is negative. This does not apply to students who are vaccinated.
According to latest data published by the HSE, there were 12 outbreaks of Covid-19 in schools reported last week.
Eleven outbreaks occurred in primary schools, while one was recorded in a secondary school.
Most schools reopened last week after the summer break.
There were 22 outbreaks in pre-school childcare facilities last week.
An outbreak is where two or more related cases are recorded in a setting.