Covid-19 vaccines are expected to be made compulsory for Los Angeles schoolchildren aged 12 and over, the first such requirement by a major education board in the United States.
The vote by the Los Angeles Unified School District - the second biggest in the country - comes as the nation grapples with surging coronavirus numbers, driven by the highly contagious Delta variant.
It also comes as President Joe Biden is set to unveil vaccine mandates for federal employees, as part of a plan to wrestle the Covid-19 caseload under control.
Around 600,000 students attend a public school managed by LAUSD, and the expected passage of the motion at today's meeting could set a precedent for school boards across the country.
The district already mandates regular testing for children, and masks are required on campus, both indoors and out. Staff must be vaccinated.
Under the proposal, all children attending in-person classes would need to have their first dose by 21 November, and their second by 19 December.
A child who turns 12 will have 30 days to get their first shot.
The plan has the support of teachers' unions and many parents, but - as elsewhere in the United States - a significant and vocal minority is strongly opposed to vaccines, despite overwhelming scientific evidence that they are safe and effective.
Sydney pubs to reopen next month
Sydney's cafes, restaurants and pubs are set to reopen in the second half of October after months of strict lockdown.
The announcement came even as Prime Minister Scott Morrison warned higher case numbers will follow the easing of curbs and leaders must "hold their nerve".
Authorities said Sydney bars and eateries, as well as gyms, across the city of five million people will be able to reopen at reduced capacity within days New South Wales (NSW) reached a 70% double-vaccination target, now expected around mid-October.
Stay-at-home orders for the fully vaccinated will be lifted on the Monday after the target is achieved, the officials said.
The plans come as daily infections linger near record levels in NSW amid a spread of the highly transmissible Delta variant, with the state registering 1,405 new local cases today, down from 1,480 a day earlier. Five new deaths were recorded.
"Living with Covid means you have a cautious and staged reopening once you get to those high rates of vaccination in your adult population," NSW state Premier Gladys Berejiklian said during a media briefing in Sydney.
Ms Berejiklian expects cases to rise when restrictions ease and warned of localised lockdowns if "there is a concentration of disease in any suburb."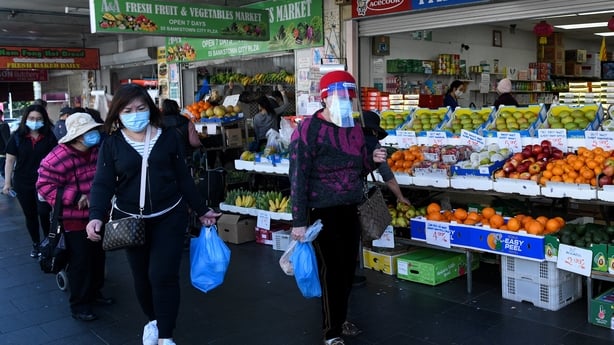 Lockdown rules in several regions outside greater Sydney have been lifted from Saturday after low case numbers there.
Under the plan, pubs and cafes in Sydney could reopen before schools, which will begin classes for younger aged-groups from 25 October.
"(School reopening) date is fixed because we need to provide certainty and planning for school communities ... but for adults, we have the capacity to be more flexible," she said.
Ms Berejiklian had initially pursued a Covid-zero strategy to quell an outbreak of the highly contagious Delta variant that began in mid-June, but has since shifted to focusing on increasing inoculation rates.
About 43% of the population above 16 in the state, Australia's most populous, have been fully vaccinated, slightly higher than the national average of 40%.
Japan to extend measures in Tokyo
Japan said it will extend emergency restrictions in Tokyo and other regions until the end of this month to curb infections and prevent hospitals from being overwhelmed, saying it was too early to let down its guard.
Japan has been struggling with a fifth wave of the virus and last month extended its long-running curbs until 12 September to cover about 80% of its population.
However, the number of severe cases and the strain on the medical system have not eased sufficiently in Tokyo and surrounding areas to allow restrictions to be lifted.
The government will extend the measures until 30 September, including for Osaka, Economy Minister Yasutoshi Nishimura said after meeting with an advisory panel, which ratified the plan.
Japan's emergency curbs have centred on asking restaurants to close early and refrain from serving alcohol.
Some signs of improvement around the nation mean that two prefectures out of 21 will move from the state of emergency measures to more targeted restrictions, while a number of other prefectures will remove all curbs.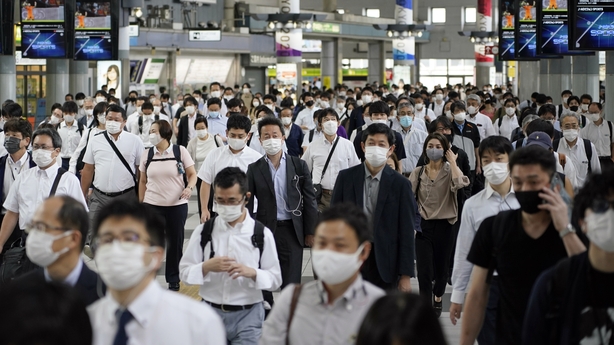 "I believe we're starting to see results, but it's still too early to lower our guard," Health Minister Norihisa Tamura said at the meeting.
The plan will be formalised at a government task force meeting later on Thursday and announced by Prime Minister Yoshihide Suga at a news conference.
The Nikkei daily, meanwhile, reported that the government is moving towards easing international entry restrictions by reducing the quarantine time for people returning from overseas to ten days from the current 14 if they have had vaccines approved by the Japanese government.
Local media said other measures, such as allowing restaurants to extend their opening hours and easing restrictions on alcohol sales, could be introduced as the number of vaccinations in the nation rise.
Japan's vaccine roll-out took place later than with many other nations but roughly half of the population has now been fully vaccinated.
Tokyo's new daily coronavirus infections totaled 1,834 yesterday.
The country has reported around 1.6 million cases in total and 16,436 deaths, although the death rate has declined in the latest outbreak.
Remote learning setting back millions of South Asian children - UNICEF
Hundreds of millions of children in South Asia are suffering because the coronavirus has closed their schools but they lack online devices and connections for remote learning, according to UNICEF.
Authorities should prioritise the safe reopening of schools because even before the pandemic, almost 60% of children in the densely populated region were unable to read and understand a simple text by the age of 10, the United Nations children's agency said.
The repeated school closures since last year had affected 434 million children in South Asia and a substantial proportion of them were learning significantly less compared with pre-pandemic levels, UNICEF said in a report based on research in India, the Maldives, Pakistan and Sri Lanka.
In India, 80% of children aged 14-18 reported lower levels of learning than when physically at school.
In Sri Lanka, 69% of parents of primary-school pupils said their children were learning less or a lot less.
In Pakistan, 23% of younger children did not have access to any device for remote learning.
In India, 42% of children aged between six and 13 reported no remote learning during school closures.
South Asia, with nearly two billion people, has reported more than 37 million Covid-19 infections and over 523,000 deaths.
Thai device tests for coronavirus in armpit sweat
Thai researchers are developing a sweat-based mobile virus detector, and have road-tested it on shopkeepers at a Bangkok food market.
"From the samples, we found that people infected with Covid-19 secrete very distinct chemicals," said Chadin Kulsing from Bangkok's Chulalongkorn University.
"We used this finding to develop a device to detect the specific odours produced by certain bacteria in the sweat of Covid-19 patients.
Dr Chadin - who said the test was 95% accurate - hopes it might be rolled out as an affordable alternative to more expensive swab tests that require lab processing.
It is however still in the development stage, and the research behind it is yet to be published or peer-reviewed.
The scientists adapted a device usually used to detect toxic chemicals in the environment.
Subjects place a cotton swab under their arms for 15 minutes, before the swab is put in a glass vial and sterilised with UV rays.
"The technician then draws an appropriate amount of the sample using a suction hose, and pressurises it into the analyser to check the results," Dr Chadin said.
Sample collection takes 15 minutes and the results are ready in 30 seconds.
The sweat tests received the thumbs-up from Bangkok market vendors, who said it was much more pleasant than nostril swab tests.
Thailand, battling its third and worst Covid wave, reported 16,000 new cases Thursday, taking the total since the start of the pandemic to nearly 1.34 million.