Covid-19 vaccines for healthy children aged between 12 and 15 are not being recommended by the British government's vaccine advisers.
The Joint Committee on Vaccination and Immunisation has announced that it is widening the so-far limited roll-out to more children in this age bracket who have underlying health conditions.
But it is not recommending mass vaccination of children aged between 12 and 15.
The UK vaccination programme is being extended from what had been considered the most at-risk children, to include children with chronic major heart, lung, kidney, liver and neurological conditions.
It means about 200,000 more children across Britain will be invited for vaccines.
The decision comes exactly a week after Britain's Department of Health and Social Care confirmed preparations were under way to ensure the NHS was ready to offer coronavirus jabs to all 12 to 15-year-olds in England from early September.
The decision not to recommend Covid-19 vaccines for all children aged between 12 and 15 will make it "more difficult" to guard against educational disruption, a school leaders' union has warned.
Geoff Barton, general secretary of the Association of School and College Leaders, said the union was "disappointed" that vaccine advisers had decided against a mass roll-out of the age group.
He warned: "We understand that this decision has been made after making an assessment of the balance of risks and with all the available evidence, and we respect that decision.
"Nevertheless, the upshot is that this would make it more difficult during the autumn term and beyond to guard against educational disruption caused by transmission of the virus."
Meanwhile, a new study in the US suggests Delta does not cause more severe childhood Covid.
The paper by the Centers for Disease Control and Prevention analysed hospital records from across an area covering around 10% of the US population, between 1 March 2020 and 14 August 2021.
The percentage of patients admitted to intensive care was 26.5 pre-Delta and 23.2 post; the percent placed on ventilators was 6.1 pre-Delta and 9.8 post; and the percent who died was 0.7 pre-Delta and 1.8 post.
The study also found that between 20 June and 31 July, 2021, unvaccinated adolescents were more than 10 times more likely to be hospitalised than those who were vaccinated.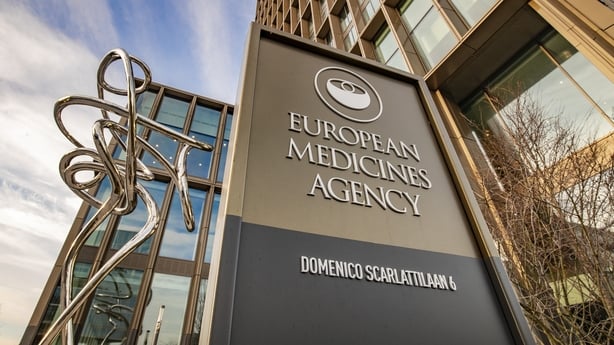 EU reviews risk of rare inflammation after vaccination
Europe's medicines regulator has said it is reviewing if there is a risk of a rare inflammatory condition after inoculation with Covid-19 vaccines, following a report of one case with Pfizer/BioNTech's shot.
The European Medicines Agency's safety committee is looking into multisystem inflammatory syndrome (MIS) after a 17-year-old male in Denmark reported the condition, the regulator said, adding that the teenager had since fully recovered.
This condition has also been reported after some other Covid-19 vaccines, the regulator added.
MIS has also been previously reported in people following infection, the agency said. However, the Danish teen had no such history.
The syndrome is a serious but rare condition in which different body parts become inflamed, including the heart, lungs, kidneys, brain, skin, eyes, or gastrointestinal organs.
In its response, Pfizer said it reviews all possible adverse events thoroughly, along with regulatory authorities.
"It is important to understand that a careful assessment of MIS is ongoing, and it has not been concluded that mRNA COVID-19 vaccines cause MIS," a Pfizer spokesperson said.
The regulator said at present there is no change to its recommendations for the use of the Pfizer vaccine, as well as other shots.
Five cases of MIS were reported in the European Economic Area as of 19 August after the Pfizer vaccine, while one case was reported with each of Johnson & Johnson's and Moderna's vaccine, the regulator said.
Meanwhile, the European safety panel is also looking into cases of blood clots in veins, or Venous Thromboembolism, with J&J's vaccine.
---
---
UK to send four million Pfizer doses to Australia
The UK will send four million Covid-19 vaccine doses to Australia, Prime Minister Scott Morrison has announced, as his country raced to halt a deadly virus outbreak.
Mr Morrison said the planes delivering Pfizer vaccine doses were "on the tarmac" in the UK and would deliver "four million doses of hope" within weeks.
More than half the country's 25 million people are under stay at home orders, with Sydney, Melbourne and the national capital Canberra in prolonged lockdowns.
New South Wales (NSW) reported its worst day of the pandemic, with a record 1,431 cases and 12 new deaths.
NSW Premier Gladys Berejiklian warned residents to brace for a spike in numbers as the next two weeks will "likely to be our worst in terms of the number of cases".
The rest of the country enjoys a mostly Covid-free life, but those states have closed borders to stop the Delta variant entering their jurisdiction.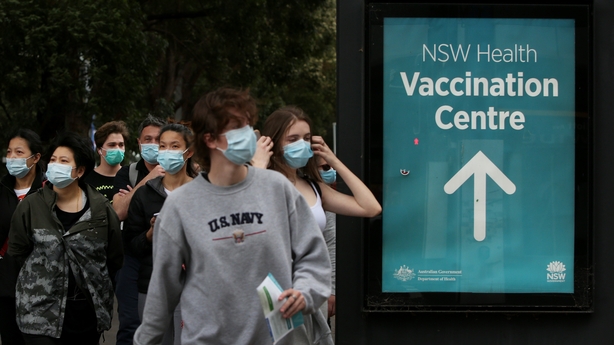 Australia has a steady supply of the locally produced AstraZeneca vaccine, but residents have been hesitant to take it due to rare but highly publicised instances of the vaccine causing blood clots.
About 40% of Australian adults are fully vaccinated, well behind most rich nations, and the last 18 months have been marked by on-off restrictions.
As part of the swap deal, Australia will transfer four million Pfizer vaccine doses to the UK at a later date.
The most populous state of New South Wales reported 12 more deaths today, with the daily toll expected to jump as more than 1,000 people now contract the virus each day.
Victoria, home to Melbourne, reported 208 new cases, up from 176 a day earlier. One new death was recorded in the state.
A total of nearly 58,200 cases and 1,032 deaths have been confirmed in Australia since the pandemic began, far lower than many comparable countries.
Guam halts vacation-and-vax tours as virus cases rise
The US Pacific territory of Guam has suspended a programme allowing international visitors to receive a Covid-19 vaccination while enjoying a tropical holiday due to a surge in virus cases.
The Guam Visitors Bureau halted the "Air V&V" - vacation and vaccination - scheme, launched in July, in a bid to restart the island's pandemic-devastated tourism industry.
Infection numbers that once made Guam an attractive destination have jumped because of an outbreak of the highly transmissible Delta variant, with 910 confirmed cases in the past week.
Health experts have ruled out a link between the vaccination scheme and the Delta outbreak, noting it was carried out with strict testing and safety protocols.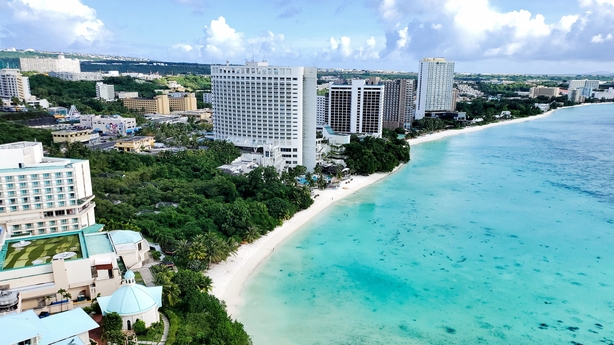 Guam Visitors Bureau president Carl Gutierrez said all arrivals linked to the programme had originated from Taiwan, but the last were on 22 August.
"Since Taiwan is the only organised Air V&V, there are no more announced Taiwan flights," he said.
Guam increased Covid-19 containment restrictions last week, shutting down schools and imposing restrictions on public gatherings.
Businesses are still permitted to operate at full occupancy, but only the vaccinated are allowed entry into bars, restaurants and other public facilities.
The island of 170,000 has recorded more than 10,000 cases and 150 related deaths since the start of the pandemic.