Israel has said it would offer Covid vaccinations to students on school grounds as it announced the school year would open on time next week, despite surging coronavirus cases.
"Pupils will be vaccinated on school grounds during school hours, subject to parental approval," a government statement said, confirming classes would begin on 1 September.
Israeli leaders say they are trying to avoid repeating disruptive school closures amid the Covid-19 pandemic.
The country has seen a steep rise in coronavirus infections after months when its vaccine campaign drove down cases.
The health ministry said today that 6,467 new Covid cases were recorded in Israel a day prior, with 1,142 people hospitalised.
About 30 percent of children aged 12-15 have received two vaccine doses in Israel, far less than any other age group.
The school reopening plan would also require pupils younger than 12 to bring parental approval to perform a coronavirus test on the first day of school.
---
---
Further, high school classes in cities with high rates of transmission would require 70 percent of students to be vaccinated or move to online learning.
Some in government had opposed vaccines in schools, with Education Minister Yifat Shasha-Biton saying in July that students could feel peer pressure to get vaccines.
Already, the new wave has pushed the government to issue new restrictions on gatherings and to launch a third booster vaccine to people aged 40 and up.
Today's plan comes a day after Israel launched a national serological survey focused on children aged three to 12, who are not yet eligible for the Covid vaccine but might have developed antibodies after having had an unrecorded case.
WHO chief says Covid-19 booster shots should be delayed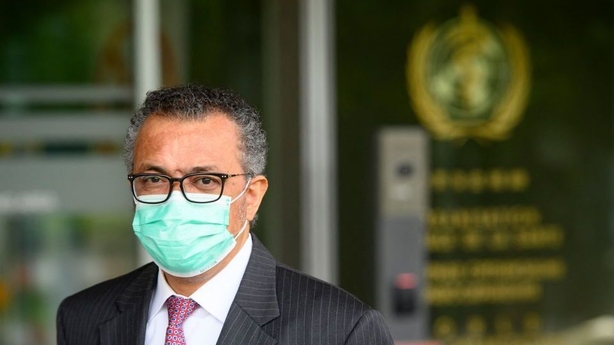 The Director General of the World Health Organization has said that Covid-19 booster shots should be delayed as priority should be given to raising vaccination rates in countries where only 1% or 2% of the population has been inoculated.
Dr Tedros Adhanom Ghebreyesus said if vaccination rates are not raised globally, stronger variants of the coronavirus could develop and vaccines intended as booster shots should be donated to countries where people have not received their first or second doses.
"In addition, there is a debate about whether booster shots are effective at all," Dr Tedros told a news conference in Budapest with Hungarian Foreign Minister Peter Szijjarto.
Those whose immune system is compromised should get a booster shot, though they represent only small percentage of the population, he added.
The WHO said last week current data does not indicate that Covid-19 booster shots are needed and that the most vulnerable people worldwide should be fully vaccinated before high-income countries deploy a top-up.
The Unites States announced last week it plans to make Covid-19 vaccine booster shots widely available starting on 20 September as infections rise from the coronavirus Delta variant.
Hungary has already started widely distributing booster shots, with anyone eligible four months after they received their second dose of a coronavirus vaccine.
Spanish court rejects bid to reimpose Barcelona curfew
A Spanish court has rejected a request by the regional government of Catalonia to reimpose a virus curfew in Barcelona and dozens of other cities, arguing the measure was "disproportionate" as infections have fallen.
The Catalan government on Friday sought court approval to impose a nightly curfew in municipalities of 20,000 residents or more where infection rates exceed 125 cases per 100,000 inhabitants over a seven-day period.
This would apply to 62 municipalities, including Barcelona and popular beach resorts like Lloret del Mar, Salou and Cambrils.
The request came a day after Catalonia's top court refused to extend a nightly curfew imposed in mid-July in most municipalities in the northeastern region which is home to some 7.8 million people.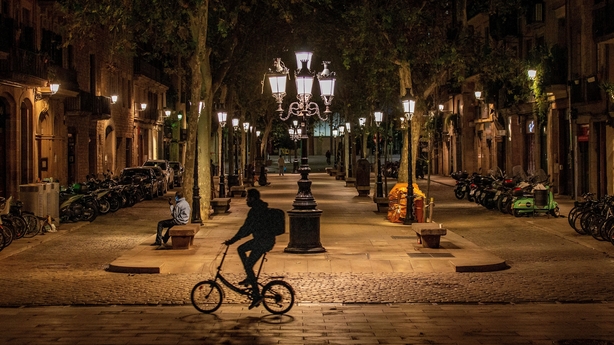 The High Court of Justice of Catalonia had given the green light to extend the curfew three times, but it argued the measure was now only justified in 19 municipalities.
This morning, it ruled that the new request for a curfew that would have applied only to Catalonia´s largest cities "was even more unnecessary and disproportionate".
"The control of social interactions is not a measure which should be authorised by the courts," the High Court of Justice of Catalonia argued.
Health is the responsibility of regional governments in Spain, but measures affecting freedoms, such as freedom of movement, must be authorised by the courts.
The head of the regional government of Catalonia, Pere Aragones, said the curfew was "not a matter of public order, it is a health issue."
"And therefore we need to have instruments to prevent new infections, especially now that they are going down," he said during with Catalan TV shortly after the court ruling.
Catalonia had an infection rate of over 1,000 cases per 100,000 inhabitants when it imposed the curfew in mid-July, double Spain's national average.
But as of Friday, that figure had fallen to 302, lower than the national average of 345, according to health ministry figures.
China reports no new locally transmitted Covid cases
China's health authority has reported that there were no new locally transmitted cases of Covid-19 for the first time since July, offering more signs the current outbreak that began late last month maybe tapering off soon.
The latest outbreak was driven mainly by infections first detected on 20 July among a few airport workers in the eastern city of Nanjing who had been contracted to the highly transmissible Delta variant, first identified in India.
Since then, more than 1,200 people in China have been confirmed to be infected, though not all of them were cases of the Delta variant.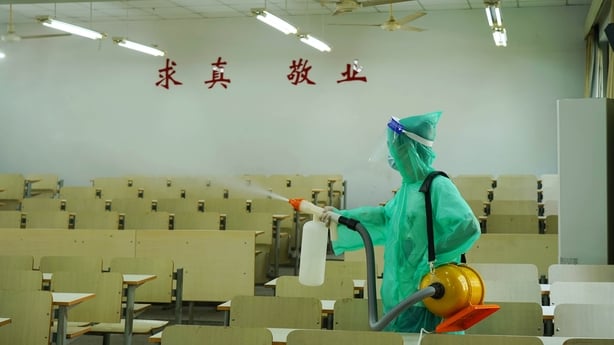 The outbreak has spurred local authorities across the country to impose tough counter-epidemic measures including mass testing for millions of people to identify and isolate carriers, as well as treat the infected.
There have been no deaths reported in the current outbreak, which has largely focused on the cities of Nanjing and Yangzhou in the province of Jiangsu, near the financial hub of Shanghai.
Across China, new local cases fell to the single-digits last week, after peaking in early August.
But over the weekend, Shanghai placed hundreds of people under quarantine after infections were found in cargo workers at one of its two airports, sparking concern of a fresh outbreak in the city.
Shanghai has reported no new local infections since then.
Anger as religious group flouts Sydney lockdown

Australian police have criticised a Sydney church for flouting the city's Covid-19 lockdown by holding a service for 60 people in a pandemic hotspot.
The church is part of Christ Embassy, an international religious group headquartered in Lagos, Nigeria.
After being tipped off by residents yesterday, police moved in on the Christ Embassy Sydney church, issuing a fine of AUS$5,000 to the organisation and Aus$1,000 fines to 30 church goers.
"It is always disheartening and disappointing when you see people blatantly take it upon themselves to contradict what we know works, to contradict what we know is keeping people out of hospital," New South Wales premier Gladys Berejiklian told a news conference.
"That is the key: to keep people out of hospital, to make sure that we keep people as safe and as healthy as possible. And we know the vaccine is having such a huge impact on that."

The whole of greater Sydney is currently under stay-at-home orders, as Australia's largest city struggles to contain a Delta variant outbreak that now tops 800 new cases a day.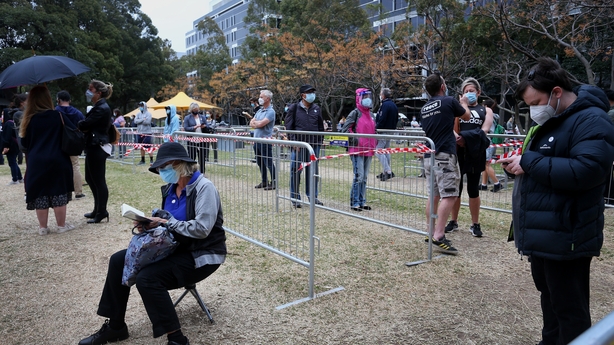 Residents are only allowed to leave home to shop for essential items, exercise, in health emergencies or for a handful of other reasons.

The state's deputy police commissioner Gary Worboys said the church service was a "disappointing" event that would "anger, no doubt, a lot of people".

The Sydney church's website showed a video of Prime Minister Scott Morrison explaining in April 2020 that churches could broadcast or stream services and that people presenting such services should follow workplace rules and abide by social distancing protocols.

The rules have since been tightened to ban all in-person services.

Mr Morrison has said the country must begin to ease strict restrictions once vaccination rates increase.
Some states have flagged they may not stick to a national plan that would include relaxing border controls, worried about a surge in cases in the country's southeast, with Sydney breaking new one-day records for infections.
Nationally, 30% of people above 16 are fully vaccinated, while 52% have had a least one dose.
Vaccinations are running at a record pace but the target of 80% fully vaccinated will not be reached until December at the current rate.
Vietnam deploys troops to enforce lockdown in largest city
Vietnamese soldiers were deployed on the streets of Ho Chi Minh City to help enforce a lockdown in the country's business hub.
It has become the epicentre of its worst coronavirus outbreak so far during the pandemic.
The city began movement restrictions early last month, but infections have continued to surge after authorities said there had not been strict enough enforcement of the curbs.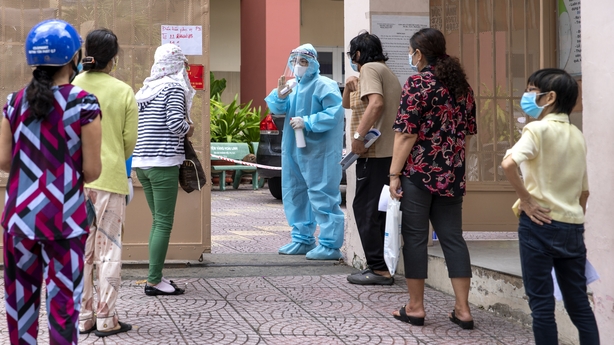 The government on Friday said a tighter lockdown would begin today, prohibiting people from leaving their homes, even for food.
Witnesses said soldiers were delivering food to residents of the city and images broadcast by state media showed armed soldiers manning checkpoints and checking documents.
Ho Chi Minh City has recorded a total of 176,000 Covid-19 infections and 6,670 deaths, accounting for half of Vietnam's overall cases and 80% of fatalities, according to the health ministry.
Vietnam has over recent weeks sent 14,600 additional doctors and nurses to the city and its neighbouring provinces to support its overwhelmed medical system, the ministry said.
Patients with mild or no symptoms have been told to self isolate at home.
Just 1.8% of Vietnam's 98 million people have been fully vaccinated - one of the lowest rates in the region.
Israel finds vaccine booster significantly lowers infection risk
A third dose of Pfizer's Covid-19 vaccine has significantly improved protection from infection and serious illness among people aged 60 and older in Israel compared with those who received two shots, findings published by the Health Ministry showed.
The findings were on par with separate statistics reported last week by Israel's Maccabi healthcare provider, one of several organisations administering booster shots to try to curb the Delta coronavirus variant.
Ministry officials said that among people aged 60 and over, the protection against infection provided from ten days after a third dose was four times higher than after two doses.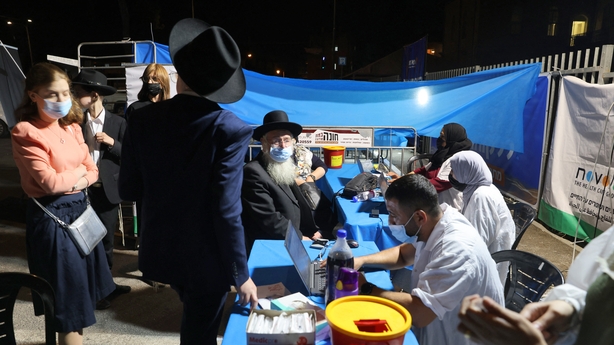 A third jab for over 60-year-olds offered five to six times greater protection after ten days with regard to serious illness and hospitalisation.
In recent weeks, the health ministry has said immunity has diminished over time for seniors and younger people as well.
Most vaccinated people who fell severely ill in Israel were over 60 and with underlying health conditions.
Israel started administering third jabs to over 60-year-olds on 30 July. On Thursday it dropped the age of eligibility for a booster to 40, and included pregnant women, teachers and healthcare workers below that age.
Third doses are given only to those who received their second shot at least five months ago.
Taiwan's president leads way in first domestic Covid-19 vaccine

President Tsai Ing-wen got vaccinated with Taiwan's first domestically developed Covid-19 vaccine, giving her personal stamp of approval as the island begins rolling out the shot whose approval critics say has been rushed.
The health ministry last month approved the emergency use of Medigen Vaccine Biologics Corp's Covid-19 vaccine, part of a broader plan for inoculation self-sufficiency as delays in vaccine deliveries from global drug companies have affected Taiwan and many other countries.
President Tsai, who had held off using vaccines from Moderna or AstraZeneca, the current mainstay of Taiwan's vaccination programme, received her Medigen shot at a hospital in central Taipei, demonstrating her confidence in the safety of the vaccine.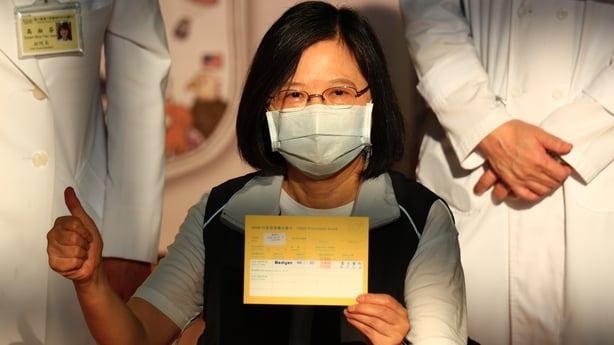 She chatted to medical workers as they prepared her shot, the whole process being broadcast live on her Facebook page, and gave a short response of "no" to a shouted question from reporters about whether she was nervous.
The government said the initial experience of the pandemic last year, when basic supplies such as face masks were in short supply, made it realise they had to be able to rely on themselves for critical materials.
Medigen, whose Chinese name literally means "high-end", rejects claims its vaccine is either unsafe or that it has been sent to market with undue haste, saying it is effective and well tested.
"We have done so many experiments, everyone has seen how safe our vaccine is," Medigen's Chief Executive Officer Charles Chen told Reuters.
The recombinant protein vaccine has been developed in collaboration with the National Institutes of Health in the United States, and the government has ordered an initial 5million doses. It said nobody will be forced to get it.
The vaccine has yet to finish clinical trials and no efficacy data is available, but the government said studies so far have shown that antibodies created by the shot have been "no worse than" those created by AstraZeneca's vaccine.
Around 40% of Taiwan's 23.5 million people have received at least one shot of either of the two-dose AstraZeneca or Moderna vaccines, though fewer than 5% are fully vaccinated.
Taiwan has reported 15,932 infections since the pandemic began, including 828 deaths.
Increase in Covid-19 cases likely - Swedish Health Ministry
Sweden is likely to see Covid-19 infections gain momentum in the coming months while the current curbs to limit the spread will need to be maintained until a higher proportion of the adult population is vaccinated, the Health Agency said.
Sweden, which has opted against lockdowns and mostly relied on voluntary measures, has experienced a lull in the pandemic during the summer with few deaths and hospitalisations.
However, cases have risen in recent weeks and that trend is expected to continue as schools reopen and people return to work.
"All our three scenarios point to increased spread during the autumn," the Health Agency said in a statement.
"More people are assumed to need hospital and intensive care, but at significantly lower levels than before during the pandemic."
While infections have been lower during summer, the rapid spread of the highly infectious Delta variant has seen authorities urge Swedes to remain on their guard, especially as colder weather forces people indoors.
It said that current restrictions and recommendations, mainly to limit social interactions, isolate if sick and work from home if possible, should be kept in place until more people had received Covid jabs.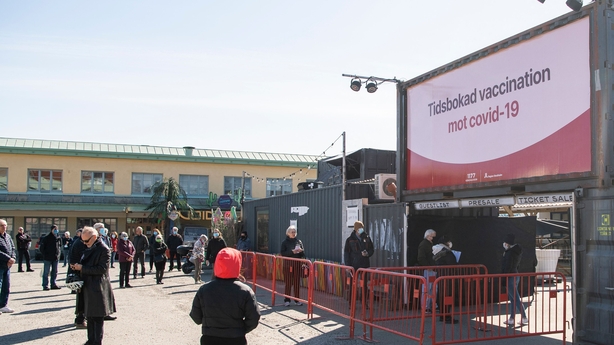 Around 65% of the adult population is fully vaccinated.
"When the vaccination coverage rate is high enough so that healthcare does not risk being overloaded the Public Health Agency considers it reasonable to phase out most infection control measures, despite a spread of the virus," it said.
Sweden has seen significantly higher deaths per capita than its Nordic neighbours during the pandemic but lower than in most European countries.