Olympic host city Tokyo has asked hospitals to prepare more beds for Covid-19 patients, as the number of cases in the Japanese capital hit a daily record high of 2,848.
Daily infections in the city, which has seen an influx of overseas visitors for the games, doubled to 1,429 yesterday from a week earlier.
That was the highest number for a Monday since the pandemic began and followed a similar record set on Sunday.
Infection numbers tend to dip following weekends and holidays when testing capacity shrinks so experts and policymakers were closely watching today's numbers, due to be released in the afternoon, to get a clearer picture of the situation.
Japanese Prime Minister Yoshihide Suga asked people to not go out unless necessary to watch the Olympics on television.
He said that only 2% of the infection numbers reported today by Tokyo are in people over 65.
With hospitals admitting growing numbers of patients, Tokyo aims to raise the number of beds to 6,406 by early next month from the current capacity of 5,967, local media reported.
Health experts had warned that seasonal factors, increased mobility, and the spread of variants would lead to a rebound in Covid-19 cases this summer.
Kyoto University professor Yuki Furuse earlier projected that new daily cases in Tokyo could rise to 2,000 in August, potentially maxing out hospital beds in Tokyo and the area.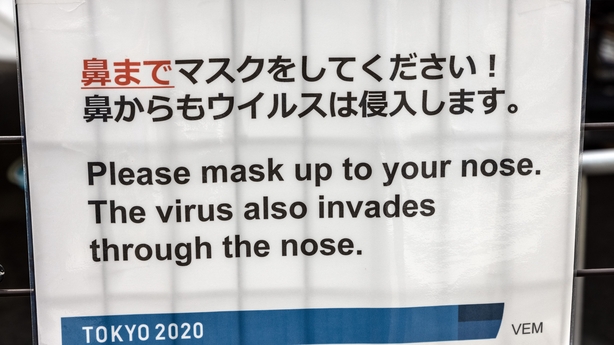 While vaccinations are boosting protection for the oldest citizens most likely to need emergency care, just 36% of the population has received at least one shot, a Reuters vaccination tracker shows.
Many Japanese had wanted the games postponed again or cancelled, fearing the influx of athletes and officials could add to the surge.
The Games are being held under tight quarantine rules to prevent the spread of the virus, but 155 cases have emerged involving athletes and others.
A strict "playbook" setting out rules to avoid contagion mandates frequent testing for the virus, restricted movements and wearing masks by athletes and others in most situations.
US veterans agency requires Covid vaccines for health workers
The US Department of Veterans Affairs (VA) has announced that it would require more than 100,000 health care personnel to get Covid-19 vaccines, signaling a change in the Biden administration's attitude to mandates as the Delta variant fueled a new nationwide wave.
The move came as part of a broader shift as California and New York City said official workers would need to get vaccinated or take weekly tests, with California extending the requirement to private-sector health jobs.
"Whenever a Veteran or VA employee sets foot in a VA facility, they deserve to know that we have done everything in our power to protect them from Covid-19," said VA Secretary Denis McDonough.
"With this mandate, we can once again make - and keep - that fundamental promise."
The VA is the first federal agency to impose a mandate, a step President Joe Biden's administration had been reluctant to take until now.
The statement added that four unvaccinated VA employees had died in recent weeks.
Personnel such as physicians, dentists, podiatrists, optometrists, registered nurses and others now have eight weeks to be fully vaccinated.
Earlier this month, VA officials said more than 70% of the agency's 300,000 employees were fully vaccinated. The new order applies to 115,000 people, according to the Military Times.
California's order will apply to almost 240,000 state workers and hundreds of thousands more private-sector health workers, with full compliance required by 21 August, according to a news release by Governor Gavin Newsom's office.
New York's order will go into effect from 13 September and apply to more than 300,000 city personnel, including police, fire fighters and teachers, Mayor Bill de Blasio said.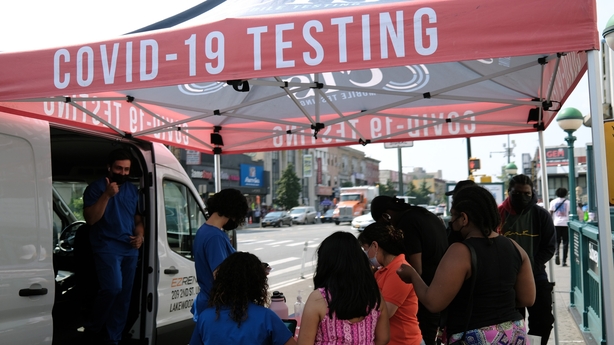 San Franciso Mayor London Breed meanwhile said anyone hired by the city or county would need a vaccine before they can begin their job, extending the scope of a mandate on existing city workers announced last week.
The US is in the midst of a surge driven by Delta, the most contagious variant identified to date, which now accounts for more than 89% of US cases, according to estimates.
Some 52,000 people are being infected every day, according to the Covid Act Now tracker, though with 80% of elderly people fully vaccinated, hospitalisations and deaths are not at the level of previous waves.
Hotspots include the states of Arkansas, Florida - which accounts for almost a quarter of all new cases - Louisiana and Missouri.
They have all lagged behind the national vaccination rate, but White House coronavirus coordinator Jeff Zients told reporters last week that these states were recently registering higher immunisation rates in light of the summer surge.
'Success story': Bhutan vaccinates most of population after donations

Bhutan has inoculated most of its eligible population with second doses of Covid-19 vaccinations in a week, in a speedy rollout hailed by UNICEF as a "success story" for international donations.
More than 454,000 shots were administered over the past week in the remote Himalayan kingdom - just over 85% of the eligible adult population of more than 530,000 people - after a recent flood of foreign donations.
UNICEF's Bhutan representative, Will Parks, hailed the ambitious vaccination drive as a "great success story for Bhutan".
"We really need a world in which the countries which have surplus vaccines really do donate to those countries that haven't received (shots) so far," he said.

The tiny nation had quickly used up most of the 550,000 AstraZeneca jabs donated by India in late March and early April for first jabs, before the neighbouring country halted exports over a massive local surge in infections.
Faced with a growing time gap between first and second doses, Bhutan launched an appeal for donations.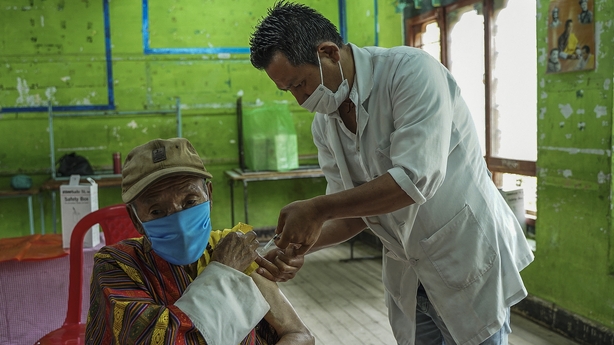 Half a million Moderna doses donated by the United States via Covax - the distributor backed by the World Health Organization and the Gavi vaccine alliance - and another 250,000 AstraZeneca shots from Denmark arrived in mid-July.
More than 150,000 AstraZeneca, Pfizer and Sinopharm shots are also expected to arrive in the South Asian nation of 770,000 people from Croatia, Bulgaria, China and other countries.
The government has meanwhile bought 200,000 Pfizer doses that are expected to be delivered later this year.
Bhutan, wedged between India and China and famous for measuring gross national happiness, has reported just under 2,500 Covid-19 infections and two deaths so far.
The country's rapid roll-out of jabs stands in contrast with other South Asian nations, which have also been hit by India's suspension of vaccine exports.