Iceland has said it would end all nationwide measures to control the spread of Covid, 15 months after first rolling out restrictions, saying vaccination progress had enabled the move.
"It's a strange feeling, having so often been here ... to announce tougher measures, but today's the day we're going to lift them," Prime Minister Katrin Jakobsdottir said at a press conference.
The decision marks the end of rules around social distancing, mask-wearing, limits on public gatherings and the opening hours of bars and restaurants from tomorrow.
Iceland first introduced virus restrictions in March 2020, and Health Minister Svandis Svavarsdottir said the easing of measures signalled a return to normal life.
"We're reinstating the society we're used to living in", she said in a statement.
Iceland is the first nation in Europe to lift all restrictions, in line with a four-stage timetable it had previously laid out.
The full removal of curbs was planned for the second half of June, when around 75% of people over 16 were expected to have received at least one vaccine dose.
By yesterday, that figure stood at almost 88%, or 295,000 out of Iceland's total 365,000 people.
Iceland will keep up restrictions at its borders, requiring a negative PCR test of travellers on arrival and a further check after a five-day quarantine for the unvaccinated.
Vaccinated arrivals or those who have overcome a previous Covid-19 infection will be free of the requirement to submit to a test on arrival in Iceland from 1 July.
Moscow records daily virus toll, orders workers home
Moscow authorities have reimposed work-from-home restrictions as the Russian capital posted a new daily record for Covid-19 deaths due to a surging outbreak of the Delta variant.
In a decree published on his website, the city's mayor Sergei Sobyanin ordered that businesses cut their number of in-office workers by 30% from Monday.
Vaccinated employees would be excluded, the decree said, adding that all workers aged over 65 as well as those with pre-existing conditions would have to work from home.
The new measures come as Russia has seen a big rise in new cases since mid-June driven by the highly infectious Delta variant first identified in India.
In Moscow, the epicentre of Russia's outbreak, the variant represents 90% of new infections, Mr Sobyanin said.
Authorities reported 20,393 infections across the country today, including just under 8,000 in the capital.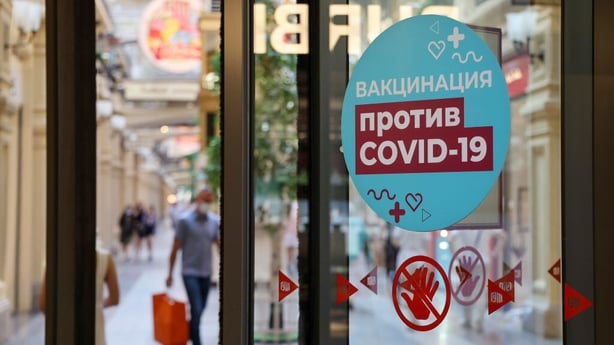 Moscow also recorded 98 coronavirus deaths, its highest one-day toll since the start of the pandemic.
The Delta variant has been surging among a population that has largely rejected vaccines, despite jabs having been available for free since early December.
Just 21.2 million out of a population of about 146 million has received at least one dose of a vaccine, according to the Gogov website, which tallies Covid-19 figures from the regions and the media.
With Russia's vaccination campaign faltering, Mr Sobyanin earlier this month ordered 60% of all service industry workers in Moscow - just over two million people - to be fully vaccinated by 15 August.
Head of the health watchdog Rospotrebnadzor, Anna Popova, said that 18 regions across Russia have now introduced some form of compulsory vaccination.
Russia, with 132,064 coronavirus deaths officially recorded, is the hardest hit country in Europe.
Under a broader definition for deaths linked to Covid-19, statistics agency Rosstat said at the end of April that the country had seen at least 270,000 fatalities since the pandemic began.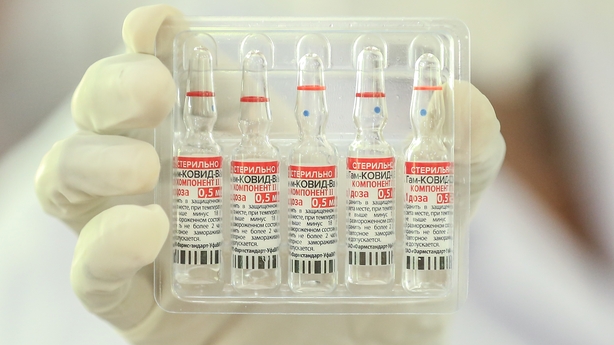 Meanwhile, Russia has launched into circulation its fourth vaccine against Covid-19, the one-dose Sputnik Light, the Kommersant daily reported.
Sputnik Light deploys just the first dose of Russia's flagship Sputnik V vaccine, which uses an initial shot and booster separated by a gap of at least 21 days.
The decision to approve and deploy Sputnik Light was driven by the fact that the first component of the standard vaccine was produced in significantly larger quantities than the second dose, Kommersant cited a government sources as saying.
Reuters previously reported that the second dose of Sputnik V is more volatile and harder to produce.
Israel resumes indoor mask requirement amid virus spike
The Israeli health ministry has reimposed a requirement for masks to be worn in enclosed public places following a surge in new cases of Covid-19 since it was dropped ten days ago.
Head of Israel's pandemic response taskforce, Nachman Ash, told public radio the requirement came after four days of more than 100 new cases a day, in a country which prides itself on one of the world's most successful vaccine rollouts.
Mr Ash said the rise in cases was likely due to the highly contagious Delta variant.
"We are seeing a doubling every few days," Mr Ash said.
"Another thing that's worrying is that the infections are spreading. If we had two cities where most of the infections were, we have more cities where the numbers are rising and communities where the cases are going up."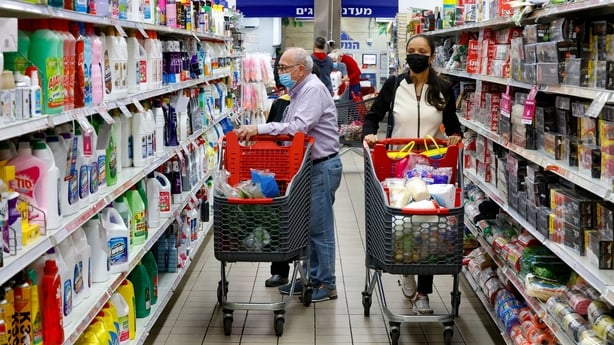 Some 5.2 million people have received both doses of the Pfizer/BioNTech vaccine, after Israel obtained millions of doses.
Mr Ash said despite the increased number of positive cases, he did not yet see a parallel rise in hospitalisations or deaths.
"It's clear it's a factor of time, that not enough time has passed," he added. "But we hope the vaccines will protect us from a rise in hospitalisation and difficult cases."
The health ministry urged Israelis to wear masks in crowded outdoor spaces too, including at pride events scheduled for this weekend.
---
---
Meanwhile, thousands partied in the streets of Tel Aviv at the city's first Pride event since the pandemic.
Organisers called it the "largest parade of its kind held worldwide since the outbreak of Covid-19".
Tel Aviv Mayor Ron Huldai hailed the event's return, saying in a statement that Pride events were "a long-standing tradition, centred on a message of equality, acceptance, and human and civil rights."
With Israel still largely closed to tourists due to the pandemic, this year's march was smaller, but the celebrations were just as enthusiastic.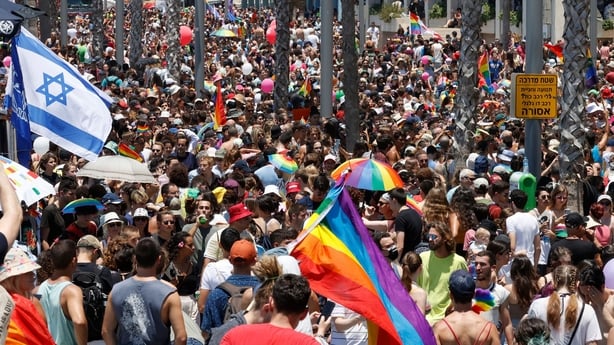 On Wednesday, Israel already delayed plans to allow the renewed entry of individual tourists and said it could take other steps to counter the spread of the Delta variant.
Prime Minister Naftali Bennett warned on Tuesday of a "new outbreak" of coronavirus in Israel after a rise in infections he said was likely due to returning travellers carrying the variant.
Indian state tightens curbs over fears of new virus variant
India's richest state Maharashtra has tightened restrictions, citing fears of a "more severe third wave" as the country recorded its third death caused by a new coronavirus strain.
The announcement comes days after India's health ministry called Delta Plus a "variant of concern", citing its increased transmissibility and ability to bind to lung cell receptors more easily.
India has recorded 48 cases of the variant so far, with Maharashtra reporting 21 infections, which is higher than any other state.
Three people have died after contracting Delta Plus, including one in Maharashtra, the state's health department spokesman Ajay Jadhav said.
Under the new guidelines, shopping centres and theatres in Maharashtra, home to financial hub Mumbai, will remain closed, while restaurants will be permitted to operate on weekdays at 50% capacity until 4pm.
Gyms, salons and shops will also have to shut their doors at 4pm, while a limit of 50 guests will be imposed on weddings.
The curbs come less than a month after the state eased restrictions in most districts as coronavirus cases declined following a devastating second wave in the country.
Infections and deaths in India soared to record levels in April and May, overwhelming health services in some places and prompting lockdowns in most of the country.
India has recorded more than 30 million infections since the pandemic began, with Maharashtra accounting for around a fifth of the total cases.
'Brutal' third wave hits Africa as vaccination slows
Africa is facing a vicious coronavirus resurgence, with unprecedented hospital admissions and fatalities pushing health facilities to the brink as the continent falls far behind in the global vaccination drive.
With just under 5.3 million reported cases and around 139,000 deaths among its nearly 1.3 billion people, Africa is still the world's least-affected continent after Oceania, according to an AFP tally.
So far African nations have been spared disasters comparable to Brazil or India.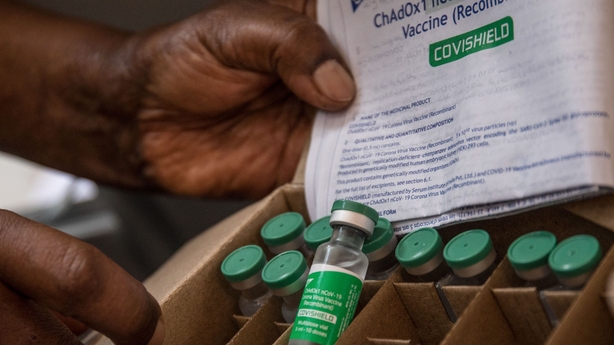 But the pandemic is resurging at an alarming rate in at least 12 countries, with continental cases expected to hit a record peak in around three weeks.
"The third wave is picking up speed, spreading faster, hitting harder," World Health Organization Africa director Matshidiso Moeti warned.
"The latest surge threatens to be Africa's worst yet".
Africa Centres for Disease Control and Prevention (Africa CDC) director John Nkengasong described the third wave as "extremely brutal" and "very devastating".
Liberia's President George Weah warned the wave is "far more alarming than a year ago" as hospitals overflow in his country.
Compounding Africa's third wave are immunisation hitches, the spread of more transmissible virus variants and winter temperatures in the Southern Hemisphere.
The Delta variant has so far been reported in 14 African countries, making up the bulk of new cases in the Democratic Republic of Congo and Uganda, according to the WHO.